7 Tips for Your Intentional Relationship with Christ
It's the end of the day. How do you feel? Exhausted? Overwhelmed? 'UP TO HERE!' (imagine my hand held high above my head).
When my day is done, sometimes exhaustion overwhelms me so I can barely think of what to serve for dinner much less make it (or even order it. sad, sad). I know I'm not the only one who has felt this way.
From the minute my alarm sounds until the minute my head hits the pillow, it seems that it is go, go, go. Get myself ready, get my daughter ready, make sure my son is ready, my husband is ready, work all day, run errands, pick up the house, fix dinner, do dishes. We all know the drill, right?
How, in days like those, are we supposed to nourish our relationship with Jesus? There's just NO TIME! I'm TOO BUSY!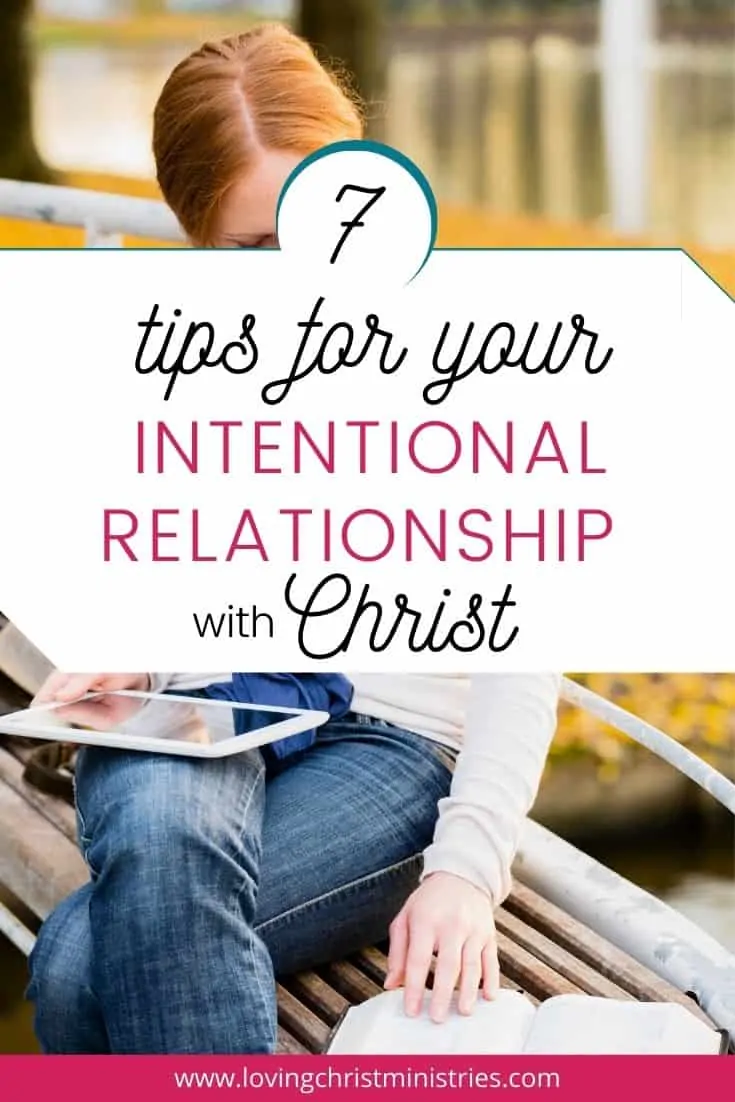 Fortunately for us, Jesus always has time. Always. He waits for us, patient, steady, strong. In the days when we think we're too busy to connect, He's there. When we feel overwhelmed, stressed, and exhausted, physically mentally and spiritually, He's there. We run and run and then wonder why we are so stressed out. It's because we don't see Him there!
Christ has not pulled away. We have. It's up to us to make an intentional effort to nourish and grow our connection with Him. If we don't make the choice to do that, we will suffer and we will have done that to ourselves.
So HOW can we be intentional and just WHAT should we do?
These are the things that help me:
1. Find a sacred space. Oh, it doesn't need to be fancy or anything like that. It just needs to be quiet. Isolated. A space free of clutter is best. Clutter in your physical area causes clutter in your mind. I'm not judging, mind you. I tend to be a packrat. In my sacred space, though, in the corner of my bedroom, I've packed all the 'things' away except for a candle or two, my Bible, and a journal. This is where I go when I need my own space. No one else is allowed to be there with me except for God.
2. Light a candle. There's something therapeutic about flickering flames. It doesn't matter if it smells good or not. Just the burning flame brings calm.
3. Read a scripture or two or a line or two from a devotional or a motivational book. I recommend Never Alone: Exchanging Your Tender Hurts for God's Healing Grace. Sometimes, meaningful reading jogs our thoughts and touches something deep in our hearts. Take time to reflect over what you've read.
4. Pray. Thank Him for the small things. And the big things. Tell Him what's worrying you. Ask Him for healing for yourself and others. Don't be afraid to tell Him everything. Yes, He knows anyway. But you'll feel better for having made those things tangible by putting them in words even if the words are through thought. It's easier to give tangible to God than it is the intangible.
5. Listen. No matter what, don't leave this one out. Be still and listen to what He tells you. You might hear Him through your thoughts and ideas. Or it might come through your heart or your 'gut' as you feel peace or joy, as you 'know' what next to do. Quiet, stillness. Take time to listen.
6. Journal. Write down what you heard when you were listening. No matter how small it may be, write it down. It's wonderful to look back and reflect on later. It will remind you that your relationship is a two-way deal.
7. Thank Him. He's real. He's here. He's doing huge things for us when we let Him, so tell Him thanks. Appreciate and be grateful for Him and that will bleed over into your daily life.
Girls, if you need to schedule this time on your calendar to get you started, do it! It's that important. It doesn't even have to take a long time. Maybe some days you can only manage 10 minutes. Other days you can manage more. As long as you manage the time!
We will never think we have the time; that's why we must make it. Schedule it, prepare the area, follow the steps.
Keeping our minds sharp, learning how to be a quick thinker, and applying our knowledge and focus on Jesus will make our days mean so much more.
Know Him and know how much He loves you because you are magnificent, and you are His. Always. Remember this at the end of each day.
If you liked this post, try these others about connecting with God:
Only the Next Step (when you're feeling overwhelmed)
How do you hear God's Subtle Voice?
Psalm 46:10 He says, "Be still, and know that I am God; I will be exalted among the nations, I will be exalted in the earth."
Matthew 6:33 But seek first his kingdom and his righteousness, and all these things will be given to you as well.
Want to remember this? Post 7 Tips for Your Intentional Relationship with Christ to your favorite Pinterest board!