Coming up with activity ideas for women's retreats and meetings is one of my favorite things to do. However, hearing others' ideas gets me excited too.
There are so many ideas out there that it's difficult to gather them all together.
However…I decided to try! 🙂
A few months ago, I sent a request to my blog subscribers to share with me their favorite retreat activity ideas so I could share them with you. Oooooh, they sent me wonderful ideas!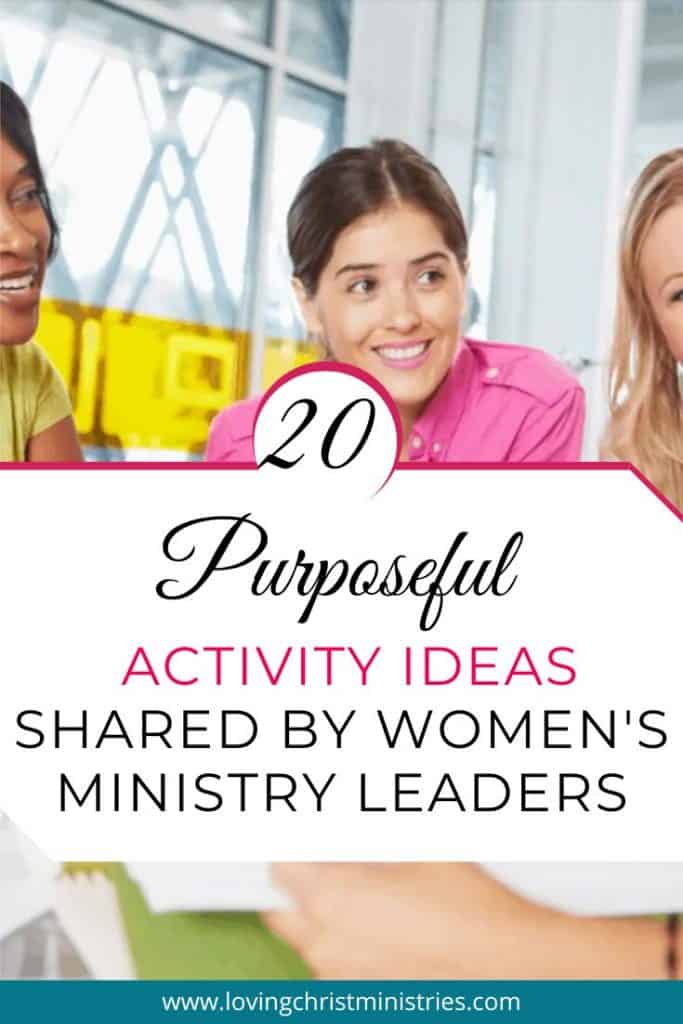 Activity Ideas Shared by Women's Ministry Leaders
1. Outdoor Collage
Members of our women's group always have quiet time during a retreat. One year we took cardboard about 6″x7″ and while roaming outside made a collage of things that we found outdoors.
Then, we explained what it meant to each of us at the time and why we included each item in our personal collage (there was sticky paper on the cardboard so that what we picked up made a nice picture).
It was amazing the different items and reasons we saw and heard from our ladies at the evening session.
~Sent in by Linda( Bascomb UMW in Woodstock , Ga)
2. Building a Home
Thanks for your mail, mine is very simple, we had an interactive session on home building with particular attention on child upbringing.
It was very rewarding as different ideas were shared.
~Sent in by Grace (Power of Pentecost Ministries, Benin Edo State, Nigeria.)
3. Boutique Time
One of the things I enjoyed besides the great food at lunch was the "boutique" time we had before the last session began.
We were given time to browse through clothing and wonderful gifts for upcoming gifts for Christmas!
Really enjoyed the downtime with like-minded believers plus getting much-needed shopping done. I, also, loved my shopping benefited my precious sisters!!!
~Sent in by Darlene
4. Our Worth to God
Last fall at our retreat, we focused on our worth to God. We chose several scriptures which emphasized this, printed them out and hung then in the chapel where we had our final gathering.
We ask women to get up and take a stand by one of the scriptures that really spoke to her during the conference then went around the room giving the attendee's a chance to share.
It was truly a beautiful time of sharing and the highlight of a great retreat.
~Sent in by Marilyn Lisenbee, Central Baptist Church, Quincy, Illinois
5. Salt Covenant
As ladies walk in, hand them a small bag filled with salt. Read some scripture.
Then, have a lovely large glass bowl and they each come forward and pour their salt in the bowl while stating why they came on the retreat or if it's towards end of retreat they state what they will take away from the retreat.
Once everyone pours salt, it's mixed and everyone is bonded because you can't pick your original grains of salt out. Then, everyone pours back in the mixed salt.
~Sent in by Patty
6. Journaling
We gave out journals to be used during the retreat and then to take home.
On the inside of the front and back covers we glued a printed list of quotes, readings, song titles and writing prompts and other resources that were used during the retreat.
The feedback we got on that idea was very positive.
The women liked having easy access to resources and follow up writing prompts for use after the one day retreat was over.
We gave quiet time for journaling twice during the retreat, and we included several other prompts for use during the remaining weeks of Lent.
~Sent in by Maryanne Juchem
7. Bad Girls of the Bible
We did bad girls of the Bible, and we made a body scrub for Bethesba.
~Sent in by Nanette (here are some sites with directions to make body scrub – Homemade Sugar Scrub, Sugar Scrub Recipe)
8. Nature Walk and Scavenger Hunt
We took a nature walk to have quiet time with God.
We also went on a scavenger hunt to find items in different Bible passages such as water, rocks, plants, a book, etc.
The passages were like riddles we had to solve to find the items. We then took selfies with our partner and the items as proof we found them.
~Sent in by Paula
9. The War Room
We did a mini bible study on 'The War Room'.
It was impactful because it helped increase my prayer life, and helped me focus on seeking His presence in a new way.
~Sent in by Linda
10. Beach Retreat
Our ladies had taken a beach retreat in the fall of the year at Fripp Island SC.
We stayed in a couple of houses on the island and of course the weather was beautiful while we were there which was a plus.
We had a great guest who shared with us about perfect peace which was our theme for the retreat.
Everything was great on the island!
Then it came time for our last session and we all packed up and left the island and met at a place called the Chapel of Ease…it is an historic ruin of an old church…just beautiful!
We had our last session there, very short, and were able to sing a couple of songs together, share some experiences that meant something to each of us from our retreat and then end our time by praying over each other before we ended.
It was a very holy experience…the Holy Spirit had time to work in hearts over the weekend and then we were able to pray together for the peace that we all long so much for.
It was wonderful for us all!
This might not be doable for everyone because of location but I am sure that there are many places like this all over that could be used to finish up a retreat…some historical place that has religious meaning where you could end up your time together.
It was awesome for our ladies! Thanks for letting me share! Photos attached for you to see what the place looked like!
~Sent in by Norma
11. The Perfect Heart
Read the story of the perfect heart. Give the ladies a paper heart. Have them write their answers to the following questions on their heart:
Write down a person or persons that have hurt you deeply
Write down a time that you felt hurt or you failed Jesus
Write down if you have ever felt unwanted, unloved and or unworthy
Have the ladies stand in a circle and give them a small bag.
Go around the circle and have each person tear a piece of their heart and drop in another's bag.
Once everyone has gone around the circle, go back to another heart and glue the pieces of everyone's heart to their new heart.
The purpose is that we give a piece of our heart to those we meet and share our lives with.
~Sent in by Lorraine
12. Special Ladies
Our retreat committee decided that we wanted to let our ladies know what we thought was special about each one.
It's been quite a few years ago, but I can remember 2 ways that we did this.
One year we all made and decorated a craft paper book (like a yearbook) and then left it out on the table all day; we all wrote in each one.
Another year we drew names ahead of time and bought "our lady" a mug and told, in a group session, why we chose that mug for her.
Quite a few tears were shed, as some ladies had no idea of the good qualities others saw in her – quite uplifting.
~Sent in by Sharon – I'm at Calvary Chapel Villages in Wildwood, FL now – then I was at the Free Methodist Church in Lebanon, OR
13. Bonfire Bonding
At this time of the year I believe a great women's retreat is simply sitting around a bonfire sharing their hearts and bonding over Jesus!
~Sent in by Marcy
14. Hope in Jesus
At our weekend Ladies' Retreat this past Spring, our "theme" was Jesus Our Hope.
As a wrap up for the weekend, the retreat coordinators asked the participants to write on a card something that was negatively impacting our spiritual life.
Something they felt they had hoped for/prayed, that they were still waiting on the Lord to remove from their life.
Be it an addition, attitude, toxic relationship, whatever. We were asked not to disclose these things, but to give them to the Lord for once and for all, and we asked them to put them through a shredder.
As each lady shredded her card, we gave them each a bracelet with a charm that said HOPE on it. (the committee made the bracelets for less than $2 each)
All the participants commented how meaningful that was for them.
~Sent in by Jody
15. Perfectly Imperfect
We did a "Perfectly Imperfect" craft night which everyone enjoyed very much.
This is based on Kintsugi is the Japanese art of putting broken pottery pieces back together with gold — a metaphor for embracing your flaws and imperfections and strength after you have gone through a trial.
NOTE: We (Loving Christ Ministries) did this activity, too. We called it Beautifully Broken Things. Click HERE to find directions and experience with it.
~Sent in by Kimberly
16. Handling Life's Lemons
Another theme was "When Life gives you Lemons, make lemonade".
We did a study of Esther and how she handled her lemons and how we as women of Christ can learn to handle our lemons.
All items at the party were lemon themed. Lemonade, lemon desserts, lemon décor, all yellow, etc. It was very cute.
~Sent in by Kimberly
17. Quiet Time
After one of our session we had time to journal, pray or just spend time with God..the lights were turned down dim, Christian music playing (softly), there were a few wooden crosses in the room..
there were boxes that we could write prayers and put in the box for our prayer team to pray over, also there was another box that was used for us to write things we need to let go, forgive or just lay down at God's feet the burdens we have, to give it to God.
It was very powerful.
~Sent in by Tammy Spencer Bey
18. Purse Auction
We enjoy a "Purse Auction" each church donates a purse or purses in excellent to new condition and we bid on them, all the proceeds go to our children's home.
It is wonderful to see all the purses lined up on the table, some are stuffed and other not.
It is a great way to raise funds during the conference for such a worthy cause.
Personally, I feel it is how our church community can help one more way.
~Sent in by Joya Lea Hartley, Church of God South Carolina
19. Staying Connected
I begin holding a ball of string and pass it to a lady that I am not "super close" with.
After I pass it to her, I tell her great qualities I see in her/how God is and can use her, etc. she then holds her piece of the yarn and passes to someone else.
What ends up happening is these ladies begin to minister and encourage one another.
~Sent in by Kari Boyer
20. Garden Stones
We painted large stones to place in our garden. Many ladies painted hope, faith, or love on theirs.
Others painted favorite verses.
It was fun to talk about why each word, verse, or saying was important to us as we worked.
~Sent in by Janice
Aren't these activity ideas amazing? You can do these just as described or tweak them to fit your event.
Women's Ministry Activity Ideas from Loving Christ Ministries
We have quite a few ministry activities here on the Loving Christ blog, too. Be sure to take a look at these:
Will You Share Your Activity Ideas for Women's Retreats?
If you have an activity idea, whether it's something simple or complex, please consider sharing it here so I can add it to the page.
The more ideas we have, the better resource this page is! You can email your activity idea to me at julie(at)lovingchristministries.com or submit it in a comment below.
Here are more retreat planning posts:
How to Plan and Organize a Women's Retreat
101 Retreat Theme Ideas for Christian Women
Start Here – 5 Practical Retreat Planning Forms
Our Most Popular Retreat Crafts
Planning Food for a Women's Retreat
Want to remember this? Post 20 Purposeful Activity Ideas Shared by Ministry Leaders to your favorite Pinterest board!