At a Christian women's retreat, it's a great idea to offer breakout sessions throughout the day or weekend.
Breakout sessions allow the ladies to create or learn something new. It's a great time for them to nurture relationships with one another as they can have casual conversation with new and old friends.
We have had breakout sessions last both 45 minutes and one hour. The one hour time block seemed to be the best.
When we tried to do a double session for longer projects, we found that the ladies weren't as interested. They seem to like the variety of changing up each hour.
Related Post: How to Schedule Breakout Sessions
Polymer clay pens are quick and simple to make and are perfect for your next retreat. Everyone will be thrilled with their useful and super cute takeaway.
Transform wooden frames and plaques into inspirational chalkboards. Write prayer concerns , bible verses, or anything to encourage your throughout the day.
Add some cute decorations and a magnet, and you can hang them on any magnetic surface. Let your creativity come out and join us in this breakout session.
The cross. Simple in its design ~ the intersection of two straight lines or line segments. Four right angles. Found in many designs of human architecture and of nature as well. North and South, East and West.
And most importantly for us as Christians, a symbolic reminder of the excruciating death and glorious resurrection of Jesus, on our behalf ~ the greatest gift.
The world breaks everyone, then some become strong at the broken places. ~Ernest Hemingway
Kintsugi is a Japanese method of artful pottery repair using gold to fill the cracks of a broken piece. The pieces are considered more beautiful and valuable than before because of their brokenness and careful mending.
Brokenness, in one form or another, inevitably enters every life ~ broken dishes, broken bones, broken dreams, hearts, spirits. Psalm 147:3 assures us that our Father heals the brokenhearted and binds up their wounds.
Depending on how we learn to view our brokenness and healing, we can come to see ourselves as even more beautiful and stronger than we'd have been if our brokenness and mending had never occurred. Kintsugi is a beautiful physical representation of this concept.
In this breakout session we will enact the "breaking", "mending" and finally the "gilded-beautification" of our own personal piece of pottery as we contemplate the ways in which brokenness has appeared in our lives and the ways in which our Father can recreate us, working all things, even broken things, for our good and His glory. Recommended : Mended by Angie Smith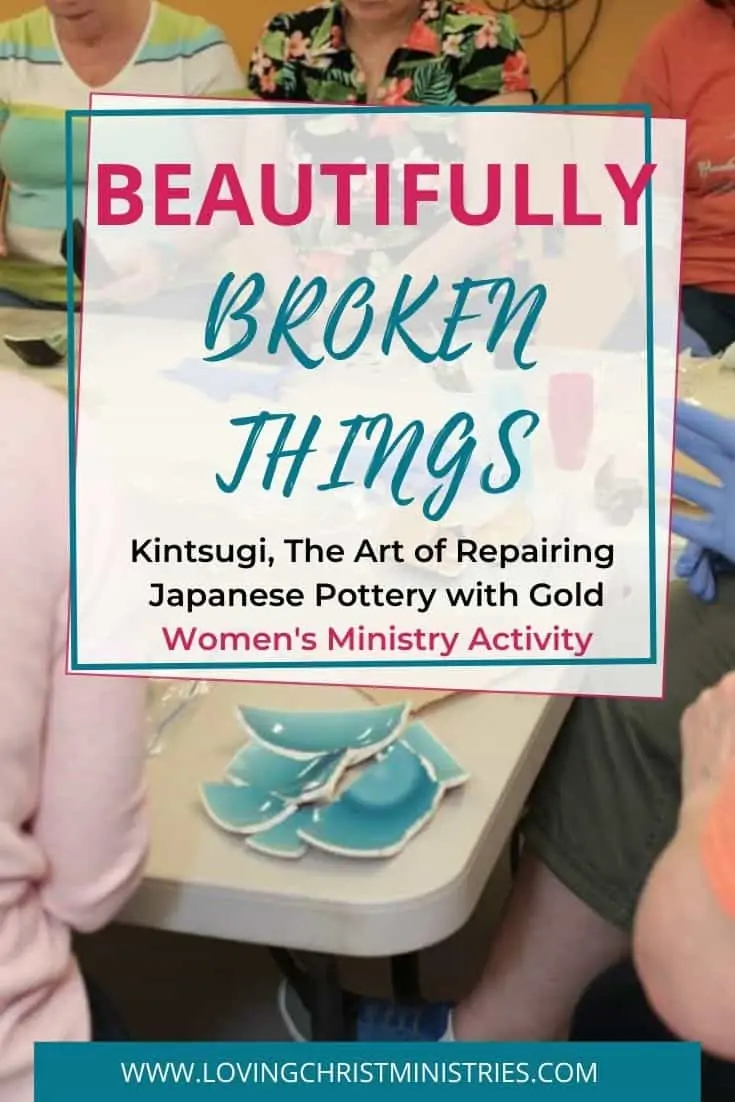 If you've ever wanted to learn how to make a Granny square, this is the right group.
We'll be crocheting Granny squares to put together to make a lap blanket for a person at the nursing home. It will be a fun activity for the beginner to the experienced.
Related Post: Advice for Breakout Sessions Leaders
Photo Fun
Capture God's beauty through a different lens. Bring your camera (fancy or phone).
Making T-Shirts
Make fun and creative sublimation shirts and display your faith for the world to see.
Raising Chickens
With the cost of eggs, we've seen lots of interest in raising chickens in backyards. Use these chicken coop plans to run a session on making a coop, starting with the right chickens, and how to care for them.
Can You Jam with God?
Experience the sweetness of God's grace. Join us as we learn about the canning process and make sugar-free strawberry jam. The first 12 participants will get to take home samples. Others are invited to be a part of the demonstration
Walk with God
Stop, watch, and listen for God during our peaceful hike through nature's beauty.
Verse/Prayer Jars
Bottle up your favorite bible verse or quote in a decorated jar. Decorate with your own style and display.
It's About Time
Is your life balanced? Do you feel like you're crazy busy but don't have time for what's important in your life? Do you constantly think about what ISN'T getting done? Ever wonder what the Bible says about time? If this is you, then you need to attend this session.
Prayer Journaling
Do you find that your mind wanders during your prayer time? Do you have a desire to deepen your fellowship with God? Have you ever told someone you would pray for them and forgot to do it? Starting a prayer journal may help you! In this session we will briefly discuss prayer journaling as a regular practice, and end with some personal writing time. Notebooks will be provided or feel free to bring your own writing supplies.
Finding Spirituality in Clay Work
Can "spirituality" really be found in a lump of clay? We'll explore the experience and possibilities of how "playing in the mud" can be life-changing!
Publishing
If your bucket list has "writing a book" on it, what are you waiting for? Today's publishing options are better than they have ever been and publisher rejection is no longer an obstacle. This session will include a short presentation on the publishing process, your seven publishing options, short cuts and ways to decrease the time between starting a book and having it on the market. A handout will be given with many little known resources to speed up the process, cut expenses if you want to self-publish, and get help if you get stuck.
Bible Jeopardy
Come join a fun, team-jeopardy style bible trivia game. Join a team and challenge your new and old friends in an exciting game while you test your bible knowledge. You never know how much you know until you are questioned and put on the spot. In this case, you get to use your friends (both new and old). It's all fun and games with a chance of possible prizes. Hope to see you there.
Living Without
Do you or a loved one have an allergy that you must cook around? Or do you just know people that you would like to invite over but not sure what to cook for them because of their allergies? In this breakout session you will learn how to cook for those living without. We will share recipes and try foods…yes I said eat! Come join in and taste your way to a new way of living.
Make and Take Bird's Nest Charms (pictures and description coming soon)
How to Schedule Breakout Sessions
For ideas on how to most effectively schedule breakout sessions check out our article, How to Schedule Breakout Sessions.
Advice for Breakout Session Leaders
Our Advice for Breakout Session Leaders article comes with a free letter template for you to send your leaders.
More ideas for retreat actitivies:
In addition to the sessions on this page, you can find more activities for your retreat at 20 Activity Ideas for Christian Women's Retreats.
These are just some of the retreat breakout session ideas we've used at our retreats. Feel free to change things up to make them fit for you.
These hobbies for women in their 20s would also work well for retreat breakout sessions.
If you have other ideas, I'd love to hear about them in the comments below.