How to Cancel a Retreat (Free Checklist)
With cancellations sometimes needing to take place, I know many ministry leaders may be wondering how to cancel a retreat if they have one scheduled in the next few months.
Even if you have no current events scheduled, you might want to bookmark this post in case you need it in the future.
If that's the case, my retreat cancellation checklist should help you know if you have everything covered.
Reasons You May Need to Cancel a Retreat
National and State Emergency Situations
Honestly, I've never seen this happen so close to home. However, this is currently what we in the United States and others world-wide are dealing with.
Often there are things beyond our control, so we need to be prepared to make decisions based on what's best for those involved.
Personal Emergency
No pandemic needs to be declared for us to have a personal emergency. Perhaps you need to cancel a retreat due to a specific need.
A personal reason for cancellation may be harder as we don't want to let others down, but cancelling can be the better choice for all involved.
Unexpected Illness
Illness could strike you, your family, your team, your speakers, and others. Depending on your plan and schedule, not having any or all of your leaders could highly affect the outcome of the retreat.
You might choose to cancel if key people are affected and you know the retreat may be negatively impacted.
Not Enough People Register
When Brooke and I began planning retreats we were so worried no one would come. After much discussion and prayer, God placed on our hearts that if only one person came then when should do our best to ensure that person came to know Christ more fully.
What we didn't realize was that many ladies procrastinate when registering. We had over a dozen last minute registrations come in. Had we cancelled, we would have missed them.
However, you can't count on those last minute ladies, and you may be concerned about cost especially if you need registrations to help cover what you've spent.
If that's the case, you may want to cancel your event.
How to Cancel a Retreat Checklist
Click on How to Cancel a Retreat or on the image below to open and download your free checklist.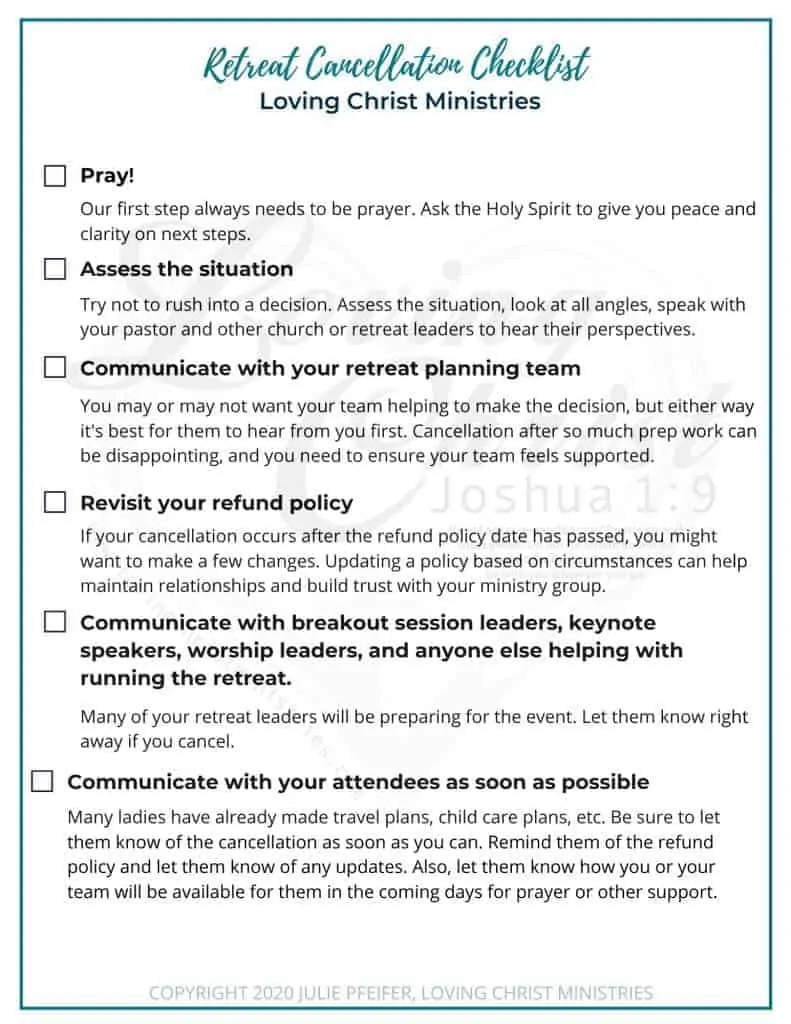 Pray!
Our first step always needs to be prayer. Ask the Holy Spirit to give you peace and clarity on next steps.
Fully assess the situation
Try not to rush into a decision. Assess the situation, look at all angles, speak with your pastor and other church or retreat leaders to hear their perspectives.
Communicate with your retreat planning team
You may or may not want your team helping to make the decision, but either way it's best for them to hear from you first. Cancellation after so much prep work can be disappointing, and you need to ensure your team feels supported.
Revisit your refund policy
If your cancellation occurs after the refund policy date has passed, you might want to make a few changes. Updating a policy based on circumstances can help maintain relationships and build trust with your ministry group.
Communicate with breakout session leaders, keynote speakers, worship leaders, and anyone else helping with running the retreat.
Many of your retreat leaders will be preparing for the event. Let them know right away if you cancel.
Communicate with your attendees as soon as possible
Many ladies have already made travel plans, child care plans, etc. Be sure to let them know of the cancellation as soon as you can. Remind them of the refund policy and let them know of any updates. Also, let them know how you or your team will be available for them in the coming days for prayer or other support.
Communicate with sponsors
Our church members and local businesses have helped sponsor our retreats by donating money or supplies. If you have sponsors, let them know about the cancellation and ask how they would like you to use their donations.
Develop a plan to minister to your group going forward
Determine how you can continue to serve the ladies in your ministry group and share an outline of your plan with them.
Write thank you notes
Even if the retreat has been cancelled, write thank you notes to your team members, retreat leaders, sponsors, and church. They've all spent time planning, preparing, and praying.
Follow up a few weeks later
A few weeks after the cancellation, follow up with the ladies who had registered to attend. Check in on them, see how they are, and ask how you can help them. Maintaining these relationships draws women closer together and gives them a safe place to be.
Pray!
Just as we begin with prayer, end with it also. Thank the Lord for opportunities, clarity, and your ministry.
More Resources for Women's Retreats
101 Retreat Theme Ideas for Christian Women
20 Inspiring Scriptures for When You Dare to Dream
16 Scriptures about Joy
20 Scriptures to Know God Speaks to You

More Scriptures for Women's Retreats
WANT TO REMEMBER THIS POST? SHARE IT TO YOUR FAVORITE PINTEREST BOARD!