41 Christmas Fellowship Ideas for Women's Ministry
The holiday season is a perfect time to gather with leadership team and ministry group and celebrate the joy of Christmas. As a believer, you understand the importance of fellowship and community in your spiritual journey.
Christmas fellowships offer a unique opportunity to form deeper relationships with your church family, honoring Christ's birth and spreading the love of the season.
Whether you're part of a ministry team or planning festive gatherings with friends, Christmas fellowship ideas can help you create special memories that will be cherished for years to come.
Embrace the spirit of the holiday by organizing activities centered around family, faith, and generosity. From exchanging heartfelt gifts to serving the community, there are countless ways to make this Christmas fellowship uniquely meaningful for you and those around you.
Planning Your Christmas Fellowship
Invitations and Preparations
During the Christmas season, it's important to plan a fellowship event that encourages interaction and reflection on the true meaning of Christ's birth. Start by preparing and sending out invitations to your guests early.
While it's the most wonderful time of the year, many Christian women feel overwhelmed with all there is to do. Even though a Christmas event sounds fun, they may not feel like spending time at one if they haven't had plenty of notice and time to prepare. This is true for younger women and older women. It's a good thing to let them know early.
A fellowship event with ministry 'sisters' can make a positive impact for all involved.
Crafting the Program
A well-crafted program will help guide your guests and keep the focus on the true meaning of the Christmas season. Be sure to include time for:
Sharing: Encourage attendees to share personal stories, experiences, or testimonies related to Christmas.
Scripture reading: Allocate time for reading passages from the Bible that focus on Christ's birth and its significance.
Prayer: Dedicate moments for prayer, both individually and as a group, to emphasize the importance of faith during this season.
Fellowship activities: Include a mix of fun activities and games that bring everyone together in a friendly environment.
Connect with Christ this Christmas
Our Connect with Christ this Christmas Bundle will help you and your ministry group take the time to focus intently on Jesus. I created this bundle as a way for church friends to celebrate Christ during this upcoming season.
It's packed with activities designed to guide you through internal reflection and strengthen your relationship with Him.
You can get a copy of it here: Connect with Christ this Christmas Bundle (40+ Pages)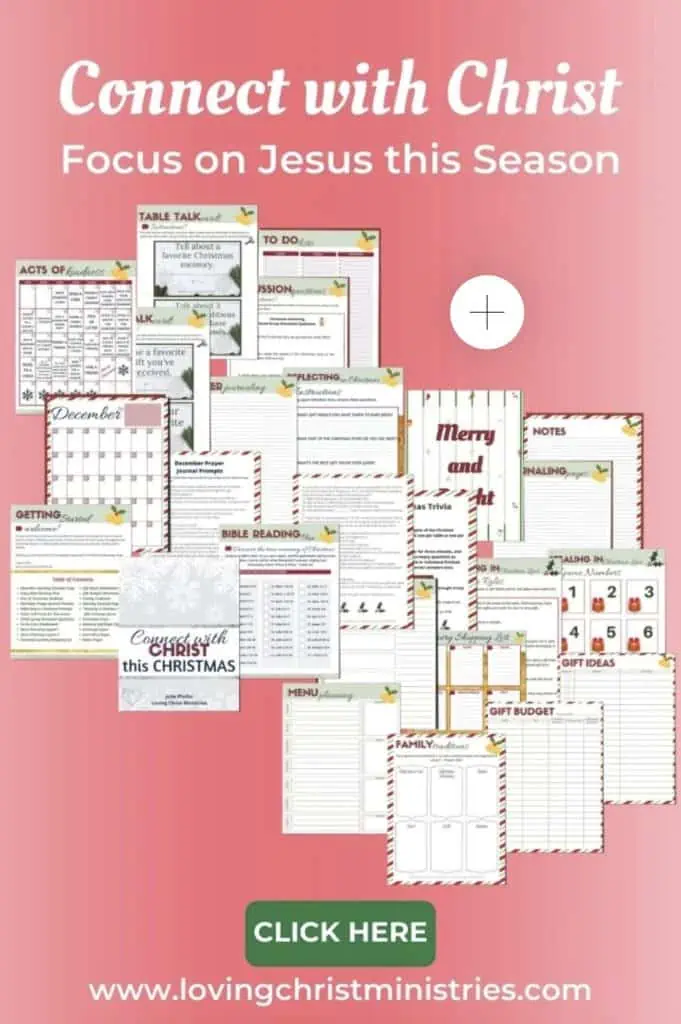 The Bible Study Session
During the Christmas season, it's essential to focus on the real reason for the season, which is the birth of Jesus Christ. A Bible study session can be a great way to bring your fellowship group together and create a friendly atmosphere to discuss the significance of this event.
In your Bible study session, consider starting with a prayer to invite God's presence and guidance. This will set the tone for your discussion and help everyone open their hearts to receive the message that the scripture holds.
As you explore various passages related to the Christmas story, discuss how each event unfolded and the roles that different characters played. For example, you can examine the scriptures about the angel who announced the birth of Jesus to Mary or the journey of the wise men following a star to find the newborn king.
Here are some great Bible passages to consider for your study session:
Luke 1:26-38: The angel Gabriel announces the birth of Jesus to Mary
Matthew 1:18-25: Joseph's dream about the birth of Jesus and his role as a father
Luke 2:1-20: The birth of Jesus in Bethlehem and the shepherds' visit
Matthew 2:1-12: The wise men's journey to visit Jesus and present their gifts
During your Bible study discussions, encourage each group member to share their personal insights and perspectives on the scripture. This open and friendly environment will allow everyone to connect on a deeper level with the story of Jesus' birth and the reason for the season.
Christmas Games and Icebreakers
Christmas Icebreaker Questions
During the holiday season, you want to bring people together and create a warm, friendly atmosphere. One of the easiest ways to do this is through Christmas icebreaker questions. These questions are designed to spark conversations and help people get to know each other better. Some examples of Christmas icebreaker questions include:
What's your favorite Christmas tradition?
What was the best gift you ever received for Christmas?
Would you rather have a white Christmas or a warm, sunny holiday?
This list provides 150 great ideas to get your group chatting during holiday parties and meetings.
The Ultimate Christmas Game Round-Up
There is an incredible variety of games to bring fun and laughter to your next Christmas gathering. The different options include:
Wrap It Up Game: Participants race against time to wrap presents using their non-dominant hand.
Christmas scavenger hunt: Create a list of festive items that guests need to find around the venue.
Festive charades: Hold a classic game of charades using only Christmas-themed clues.
The Great Christmas Candy Pass
The Great Christmas Candy Pass is a delightful game that combines elements of teamwork and friendly competition. Guests sit in a circle, passing along a wrapped piece of candy according to the host's cues. For example, players might pass it to people wearing Christmas sweaters or those who can name a holiday song. The game continues until all the candy has been distributed to players.
To make the game more enjoyable, consider adding festive twists, such as using holiday-themed candies or asking participants to dress up according to Christmas themes.
So, try these Christmas icebreakers and games to keep your holiday gatherings entertaining and engaging. Your guests are sure to have a great time, and lasting memories will be made.
41 Creative, Faith-Filled Christmas Fellowship Ideas
The Christmas season is a wonderful time to come together and celebrate faith, friendship, and community. If you're looking for some fresh ideas to spice up your women's ministry events during the holidays, here's a list of 41 fellowship activities that can help make this Christmas memorable:
1. Christmas Cookie Exchange
Everyone brings a dozen Christmas cookies and swaps.
2. DIY Ornament Making
Create Christmas ornaments together. Try out some of our felt Christmas ornaments, too.
3. Christmas Carol Sing-along
Either go caroling or sing together at your gathering.
4. Secret Santa Gift Swap:
A fun and affordable way to exchange Christmas gifts. For a fun way to present your gift exchange, try out our Biblical Left Right Christmas Game: 5 Free Printable Stories.
5. Advent Calendar Creation:
Make Advent calendars as a group.
6. Bible Trivia Night
Christmas edition, focusing on the nativity story.
7. Candlelight Prayer Vigil
Spend time praying for various needs and thanksgivings.
Each member brings a potluck dish, possibly tied to a Christmas theme.
9. Christmas Movie Night
Watch a Christmas movie that inspires faith or good cheer.
10. Christmas Scavenger Hunt
Participants will have a great time look for Christmas-themed items or Christmas scriptures around the church or neighborhood.
11. Recipe Swap:
Share your favorite holiday recipes.
12. Book Exchange
Swap faith-based books or Christmas stories.
13. Christmas Coffee Fellowships
Gather together for coffee, cocoa, or hot tea. Add in scones and other treats, and your small groups will have so much fun.
14. Christmas Bingo
Create Bingo cards with Christmas-related words.
15. Christmas Skits
Perform short Christmas plays or skits.
16. Gratitude Journals:
Make and decorate journals focused on thankfulness.
17. Bible Studies
Get together for a Christmas season based Bible study.
18. Virtual Gathering
Use Zoom or Google Meet for ladies who can't make it in person.
19. Christmas Devotional
Take turns sharing short Christmas devotionals.
20. Letters to Soldiers
Write letters to troops overseas.
21. Music Night
Local musicians can perform Christmas or worship songs.
22. Christmas Quiz
A quiz night with questions about the season and its history.
23. Escape Room
A Christmas-themed escape room challenge.
24. Nutcracker Ballet
Attend a local performance.
25. Christmas Tree Decorating
Get together with your Bible study group and decorate the tree at church, in the community, or in people's homes.
26. International Christmas
Learn how Christmas is celebrated in other cultures. This is a good time to look into Operation Christmas Child, too.
27. Gingerbread House Making
Divide into teams for a little friendly competition.
28. Hiking
For the adventurous, a nature hike to reflect on God's creation.
29. Community Service
Volunteer at a local food bank or shelter.
30. Tea Party
A Christmas-themed afternoon tea.
31. Photo Booth
Set up a booth with Christmas props for memorable photos.
32. Floral Arranging
Make table centerpieces for the holiday season.
33. Pet Toy Making
Create simple toys and donate them to animal shelters.
34. Talent Show
Showcase various talents within your group.
35. Game Night
Try out our 31 Best Minute to Win it Christmas Games.
36. Memory Lane
Look at old photos and discuss the history of your group or church.
37. Candy Cane Hunt
Like an Easter egg hunt, but with candy canes.
38. Nature Walk
Reflect on the beauty of God's creation during the winter.
39. Hot Cocoa Bar
Customize hot chocolate with various toppings.
40. Concert Night
Attend a local Christmas concert or host your own.
41. Year-End Review
Celebrate the accomplishments and milestones of the past year within the ministry.
I hope these ideas offer inspiration as you plan your holiday events. Enjoy your fellowship this Christmas season!
Wrap-up and Closing
As the joyous evening of your Christmas fellowship comes to an end, make sure to leave lasting impressions on your guests. Use this time to reflect on the laughter and memories you created with friends, extended family members, and everyone who attended your gathering.
Encourage everyone to share their favorite moments of the evening with the group. This can open up some heartfelt conversations and allow guests to bond more closely. As the evening winds down, maintain a friendly and inviting atmosphere, ensuring everyone feels comfortable and appreciated.
One enjoyable way to conclude your festive event is with a simple activity like playing a gratitude game. Have your friends and extended family members think of something they're grateful for this Christmas season, then take turns sharing their thoughts out loud. This will inspire uplifting emotions and remind everyone about the true reason for the season.
Before parting ways, show your gratitude by offering a warm and heartfelt farewell to your guests. Extend a personal greeting to each person, expressing your appreciation for their presence, and wish them a Merry Christmas.
Remember, your goal is to create lasting memories that will be cherished by all. By wrapping up your Christmas fellowship with a warm and pleasant conclusion, you're ensuring that everyone not only enjoyed their time together but looks forward to future gatherings with you and your loved ones.
Frequently Asked Questions
How can a church make its Christmas fellowship memorable?
To make your church's Christmas fellowship memorable, focus on creating a warm and welcoming atmosphere. You can do this by using festive decorations, incorporating traditional carols and hymns, and planning activities that encourage meaningful conversations and connections. Consider involving members of the congregation in planning and executing the event to create a sense of ownership and investment in the celebration.
What are unique women's ministry Christmas party ideas?
For a unique women's ministry Christmas party, try incorporating activities that allow for reflection on the season and personal growth. Consider an ornament exchange with a twist, where each participant brings a meaningful ornament and shares its story.
You can also organize a creative craft session that allows attendees to learn a new skill and make beautiful keepsakes. Another idea is to hold a festive tea party that encourages attendees to share their testimonies and experiences from the past year.
How can a women's group incorporate a Christmas lesson in their gathering?
Incorporating a Christmas lesson in a women's group gathering is a great way to add depth and meaning to the celebration. Choose a theme surrounding the birth of Jesus, such as the role of women in the Christmas story or the topic of hospitality.
Coordinate your chosen theme with related scripture readings, discussion questions, and a short devotional or teaching segment.
What are some ideas for a church Christmas dinner program?
A church Christmas dinner program can include elements like a festive meal, a dessert buffet, and activities such as games and trivia to keep attendees engaged. For the program itself, incorporate a mix of entertainment and meaningful segments. This can include performances by your church choir, a short sermon or teaching related to the season, or testimonies from members of the congregation. Don't forget to allow time for mingling and conversation in your program to foster a sense of community.
What activities can be done on Christmas Eve in church services?
Christmas Eve is a special time for church services. Here are some activities to consider for your Christmas Eve service:
Candlelight ceremony: Distribute candles to attendees and dim the lights, then have everyone light their candles while singing "Silent Night" or another beloved Christmas hymn.
Nativity reenactment: Involve children and adults in a nativity play that tells the story of Jesus' birth.
Scripture readings: Schedule members of the congregation to read passages from the Bible related to the Christmas story.
Special music performances: Invite guest musicians, soloists, or choirs to perform Christmas songs and hymns.
Communion service: Incorporate a special communion service into the Christmas Eve worship to remember the sacrificial love of Christ.
WANT TO REMEMBER THIS POST? SHARE IT TO YOUR FAVORITE PINTEREST BOARD!