This Colorful Candy Confession icebreaker continues to be one of our most popular games for our women's retreats.
I tease the ladies that it's because they get to eat the candy afterward. At least, that's why I love it so much. 🙂
This icebreaker works best with groups of about 6 – 10. If you have more than that, you may want to divide them into smaller groups or else it will take a long time, especially if they pick five pieces.
Related Post: 101 Retreat Theme Ideas for Christian Women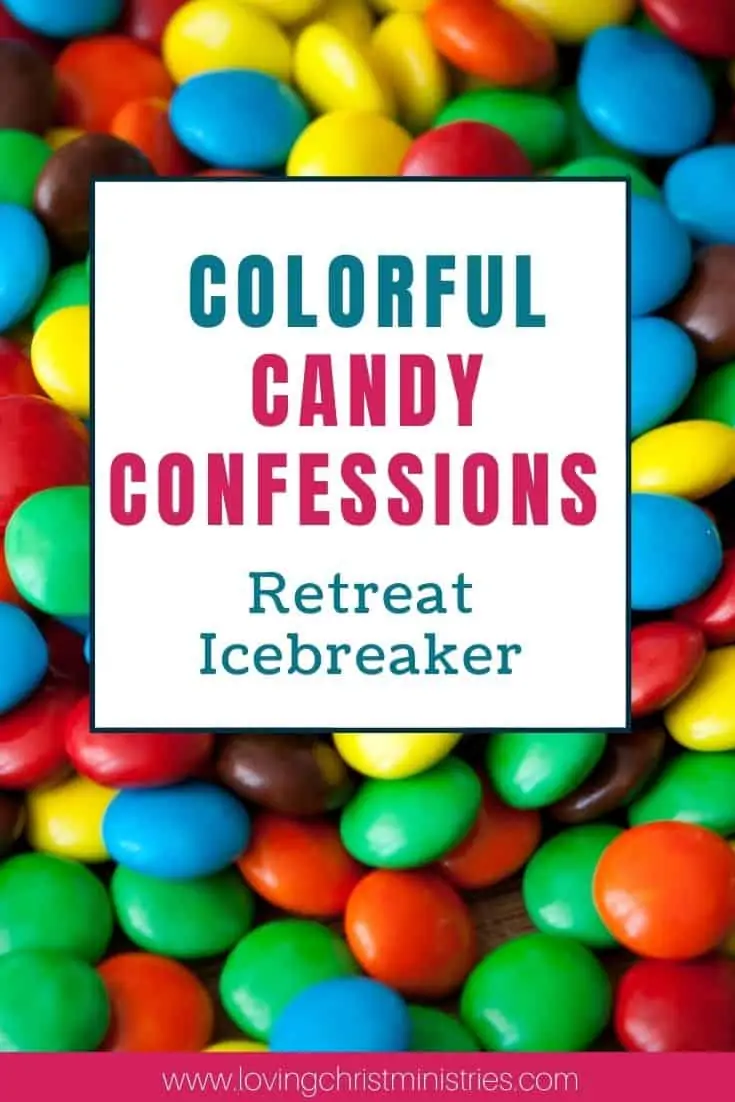 Supplies needed:
Enough colorful candy for each participant to have 5 pieces – I use Starburst since they're individually wrapped, and I buy plenty extra to put out on the tables along with other candies and gum for the ladies while they're listening to our speaker(s).
However, you can use any multi-colored candies you want.
A large piece of poster board or poster paper (or you can write on a chalkboard or whiteboard)
---
Directions:
Pass around the container of candy and have the ladies choose between 2 and 4 pieces of any colors they want. Make sure you tell them not to eat it…yet.
On the poster board, write the following (I'm using the colors of Starburst, but you may need to adjust for whatever candy you've chosen to use):
Red – Favorite memory
Pink – What you wanted to be when you were young and why (and did that come to pass)
Orange – Greatest achievement to date
Yellow – Wildcard – tell anything about yourself you want
Have each lady take a turn. She should say her name and tell facts about her life depending on what colors of candy she chose. When she's told something for each piece taken, her turn is finished.
If she chose two or more of the same color, have her tell multiple facts about that color topic or share an extra 'wildcard'.
This Colorful Candy Confessions icebreaker moves along pretty quickly but still gives meaningful insight to each lady and helps the others relate more closely. When everyone finishes, let them eat their candy!
Have fun!
Free Printable Copy of the Candy Confessions Topics
Want a printable copy of these? Just click HERE to open and download printables for our favorite icebreakers.
Don't Forget the Door Prizes
We gave tickets for door prizes to all participants. We've offered the actual prize after an activity or extra tickets to go in a bucket for door prizes later. These items always make popular door prizes at our events:
Tickets for Door Prizes (in case you want to have door prize drawings at certain times rather than a prize after every activity)
Door Prize Ideas – Check out this post of our 30 most popular door prizes
Here are some more ideas for popular door prizes:
If you'd like to check out some of the other icebreakers we use, try these links:
Get to Know You Icebreaker (with free printable)
Balloon Scriptures Icebreaker (with free printable)
Want to remember this? Post this Colorful Candy Confessions article to your favorite Pinterest board!