For many years, I didn't dare to dream. Not for long anyway. My dream wasn't practical. I couldn't make a living with it right away. It wasn't responsible.
When I fully understood Christ within me and His gift for all of us who believe in and accept Him fully, I knew my dream came from Him. That was the beginning of this blog and the faith I want to share with others.
Learning It's Okay to Dare to Dream
In the Dare to Dream free retreat theme, you'll find a way to bring women together so they can begin or continue the journey towards understanding that Christ within them will give them the courage to pursue things they've only considered.
They'll come together and support and encourage one another and be lifted up and moved forward towards their dreams.
The Dare to Dream scriptures are below. If you'd like to print these verses, click the link at the bottom of the post to open and download a free copy.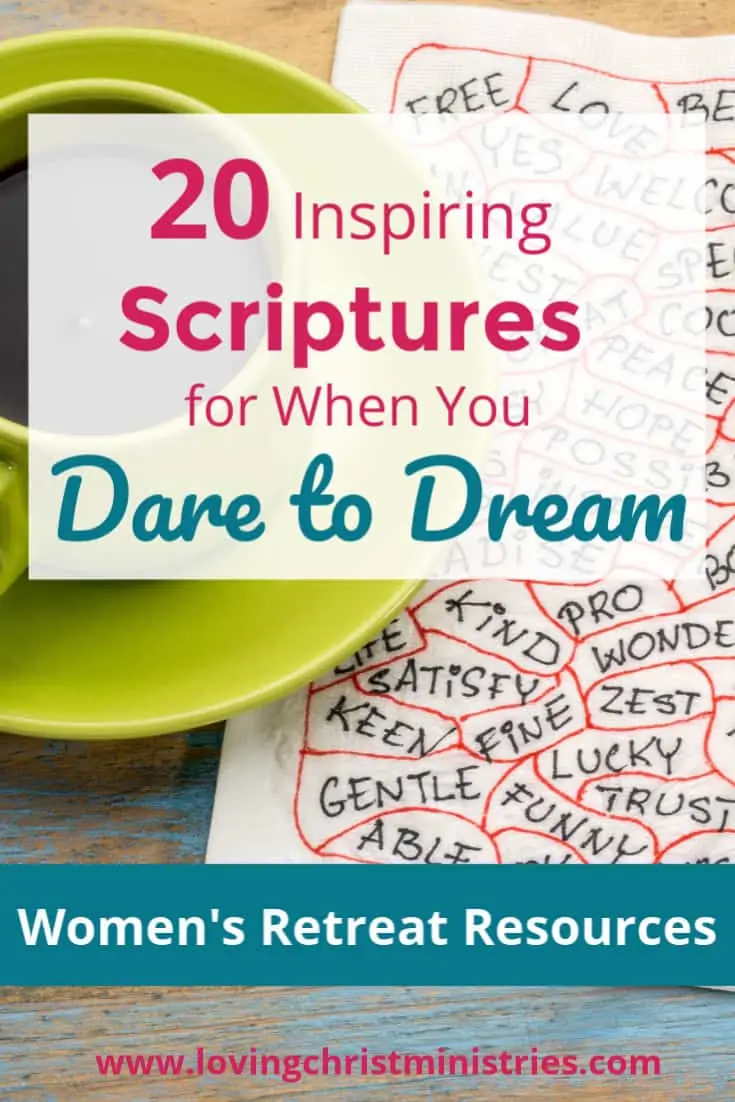 Scriptures to Encourage You to Dare to Dream
Acts 2:17
In the last days, God says, I will pour out my Spirit on all people. Your sons and daughters will prophesy, your young men will see visions, your old men will dream dreams.
Genesis 40:8
We both had dreams," they answered, "but there is no one to interpret them." Then Joseph said to them, "Do not interpretations belong to God? Tell me your dreams."
Number 12:5-6
Then the Lord came down in a pillar of cloud; he stood at the entrance to the tent and summoned Aaron and Miriam. When the two of them stepped forward, he said, "Listen to my words: "When there is a prophet among you, I, the Lord, reveal myself to them in visions, I speak to them in dreams."
Ephesians 4:1-3
I therefore, a prisoner for the Lord, urge you to walk in a manner worthy of the calling to which you have been called, with all humility and gentleness, with patience, bearing with one another in love, eager to maintain the unity of the Spirit in the bond of peace.
1 Corinthians 1:26
Remember, dear brothers and sisters, that few of you were wise in the world's eyes or powerful or wealthy when God called you.
Proverbs 16:3
Commit to the Lord whatever you do, and he will establish your plans.
Philippians 4:13
I can do all things through Him who strengthens me.
Hebrews 4:12
For the word of God is living and active, sharper than any two-edged sword, piercing to the division of soul and of spirit, of joints and of marrow, and discerning the thoughts and intentions of the heart.
Matthew 17:20
He said to them, "Because of your little faith. For truly, I say to you, if you have faith like a grain of mustard seed, you will say to this mountain, 'Move from here to there,' and it will move, and nothing will be impossible for you."
Ephesians 3:20-21
Now to him who is able to do immeasurably more than all we ask or imagine, according to his power that is at work within us, to him be glory in the church and in Christ Jesus throughout all generations, for ever and ever! Amen.
Habakkuk 2:2-3
And the Lord answered me: "Write the vision; make it plain on tablets, so he may run who reads it. For still the vision awaits its appointed time; it hastens to the end—it will not lie. If it seems slow, wait for it; it will surely come; it will not delay.
Proverbs 16:9
The heart of man plans his way, but the Lord establishes his steps.
Hebrews 11:1
Now faith is the assurance of things hoped for, the conviction of things not seen.
Isaiah 54:2
"Enlarge the place of your tent, and let the curtains of your habitations be stretched out; do not hold back; lengthen your cords and strengthen your stakes.
Psalm 20:4
May He grant you your heart's desire and fulfill all your plans!
Ecclesiastes 5:3
For a dream comes with much business, and a fool's voice with many words.
Proverbs 15:22
Without counsel plans fail, but with many advisers they succeed.
Hebrews 10:35-36
Therefore do not throw away your confidence, which has a great reward. For you have need of endurance, so that when you have done the will of God you may receive what is promised.
Philippians 3:14
I press on toward the goal for the prize of the upward call of God in Christ Jesus.
Ephesians 2:10
For we are his workmanship, created in Christ Jesus for good works, which God prepared beforehand, that we should walk in them.
When you dare to dream, embrace scripture to keep yourself focused and help you move forward. Click HERE to download these scriptures.
More Resources for Women's Retreats
101 Retreat Theme Ideas for Christian Women
20 Inspiring Scriptures for When You Dare to Dream
16 Scriptures about Joy
20 Scriptures to Know God Speaks to You

More Scriptures for Women's Retreats
WANT TO REMEMBER THIS POST? SHARE IT TO YOUR FAVORITE PINTEREST BOARD!