Deep Icebreaker Questions for Christian Women's Retreats
Having thought-provoking, deep icebreaker questions strengthens bonds among Christian women who already know one another.
So many times, we think of icebreakers as being silly games. In fact, we have quite a few icebreaker games here on the Loving Christ site. Funny icebreaker games help bring together women who may not know each other well.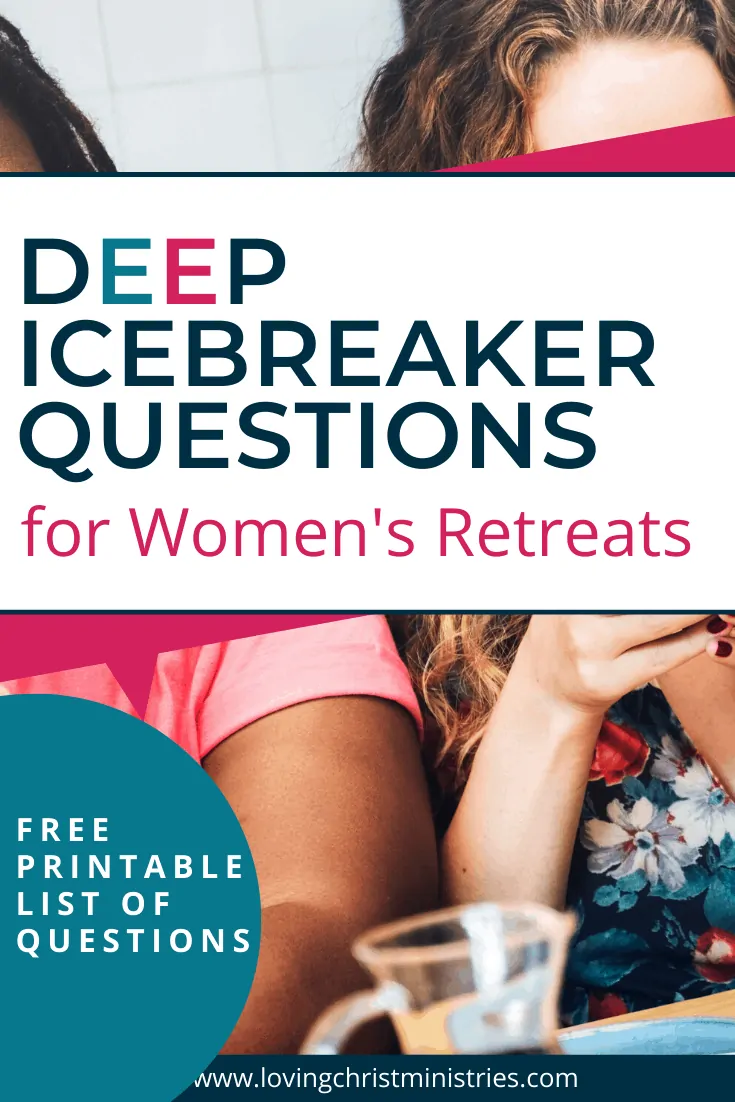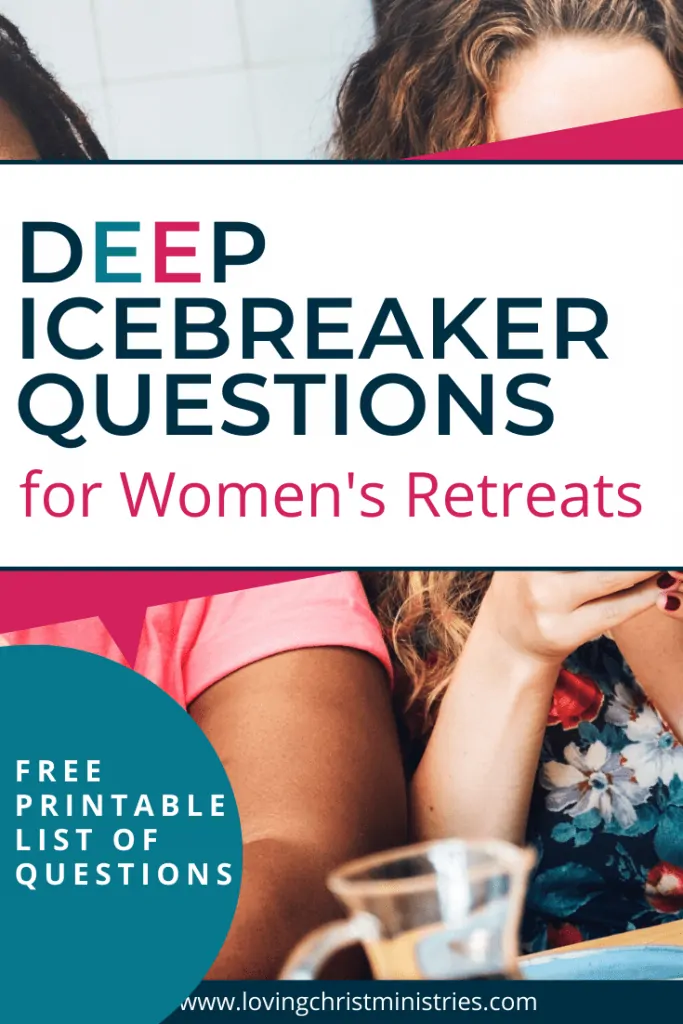 We're usually more comfortable with new people when we laugh together and those icebreaker games work perfectly at generating lots of laughter. Once people become closer, deeper discussion can take place. This usually happens toward the end of a retreat.
What about those who already know each other well, though? Silly icebreakers and laughter still bring people close together, so it's definitely okay to start with light-hearted icebreakers.
However, when an already tight-knit group comes together, you may want to start off a little deeper. That's when these deep icebreaker questions will come in handy.
29 Deep Icebreaker Questions for a Women's Retreat
Who inspires you to be a better person?
When did your life change for the better?
What is one song that speaks to your heart?
What is a comfort item you had as a child?
Describe your favorite spiritual place and tell why it's your favorite.
What have you accomplished that makes you proud?
What job have you hated the most?
What job have you loved the most?
What one thing have you done within the past week to make someone's life better?
If you were going on a spiritual retreat, what three things would you take and why? (besides your Bible)
What's your favorite memory of your childhood best friend?
Describe a perfect day.
Share what you think heaven will look and feel like for you.
Name and tell about a spiritual hero in your life.
What's your saddest childhood memory?
What spiritual lesson has a grandparent taught you?
When were you the loneliest?
What book has influenced you the most? (besides the Bible)
What spiritual traditions do you have?
Tell us about what you consider most beautiful in life.
What specific life lesson changed you the most?
What prayer do you most often pray?
If you could only change one, would you change world hunger or world peace?
Share about a time you answered God's call.
Are you truly content with what you have and what you do in your life?
Tell us about a time you grieved.
What scripture has changed you and why?
What an experience that had a big spiritual impact on you and why?
When was a time when someone showed you deep compassion/love like Jesus?
Printable Questions
Click HERE to open and download these deep icebreaker questions. They're formatted without numbers and with extra space so you can cut them if needed.
Ways to Use These Deep Icebreaker Questions
Print them, cut them in strips, fold, and place in a container for women to draw from (this works best for a quick icebreaker)
Give the list of questions to everyone and have individuals pick which they want to share.
Have ladies use the list as journal prompts during quiet time and then have time to share what they feel led to share.
Choose 3-5 of the questions and spend time in discussion letting each person share answers for all.
When to Use the Questions
For groups who know each other well, use these at the beginning of an event. For Bible study, a tight knit group, our leader would ask two or three at the beginning of our study.
For groups with new people, save these questions for later in the event to allow everyone to feel more comfortable with each other first.
Schedule these questions for a devoted sharing time mid to late event for any group.
Be prepared for tears, hugs, and bonding with these deep icebreaker questions. Ladies will walk away from these sessions with closer connections to one another and to Jesus. It's a beautiful thing and just what we want for them!
If You're Looking for Icebreaker Games, try these:
Balloon Scriptures (our most popular) (with free printable)
Get to Know You (with free printable)
WANT TO REMEMBER THIS POST? SHARE IT TO YOUR FAVORITE PINTEREST BOARD!