As I put together this printable Easter planner, my emotions overwhelmed me.
I love Easter. It's absolutely my favorite holiday even over Christmas. Celebrating the birth of Christ fills me, of course. I don't mean that I don't love Christmas, too.
It's just that Easter and the promise of Christ risen on earth and within me drives my faith.
Christ died for ME. He died for YOU.
I can't think of anything more humbling, beautiful, or grace-filled than that!
Ways to Use the Easter Planner
Whether using the planner personally or sharing it with your ministry group (which I highly encourage), you will find so much use out of it.
If you haven't already, you might want to grab our free Lenten printables to go along with the Easter planner. With those and with the planner, you can easily countdown to Easter.
The planner provides space to plan baskets, schedules, meal planning, and much more. You'll even get extras like wall art, scripture readings, and bookmarks.
Grab your Easter Planner HERE.
Here are all the pages included in the Printable Easter Planner
Title/Cover page
10 Passages to Read on Easter
Easter Grocery Checklist
Easter Must Take Photos Checklist
March Planner
April Planner
Easter Checklist/Timeline
Easter To Do List
Easter Menu Worksheet
Easter To Bake Worksheet
Easter Recipe Form (Print as many as needed)
Easter Shopping LIst (2 formats)
Easter Weekly Planning Page
Easter Daily Planning Page
Pre-Easter Schedule
Easter Daily Schedule
Easter Budget
Easter Expenses
Easter Party Planner
Easter Party Invitation
Easter Guest List
Easter Games
Easter Fun Activities
Easter Egg Hunt Planning Page
Easter Decor Planner
Party Reminders Page
Easter Notes Page
Easter Wall Art
Easter Bookmarks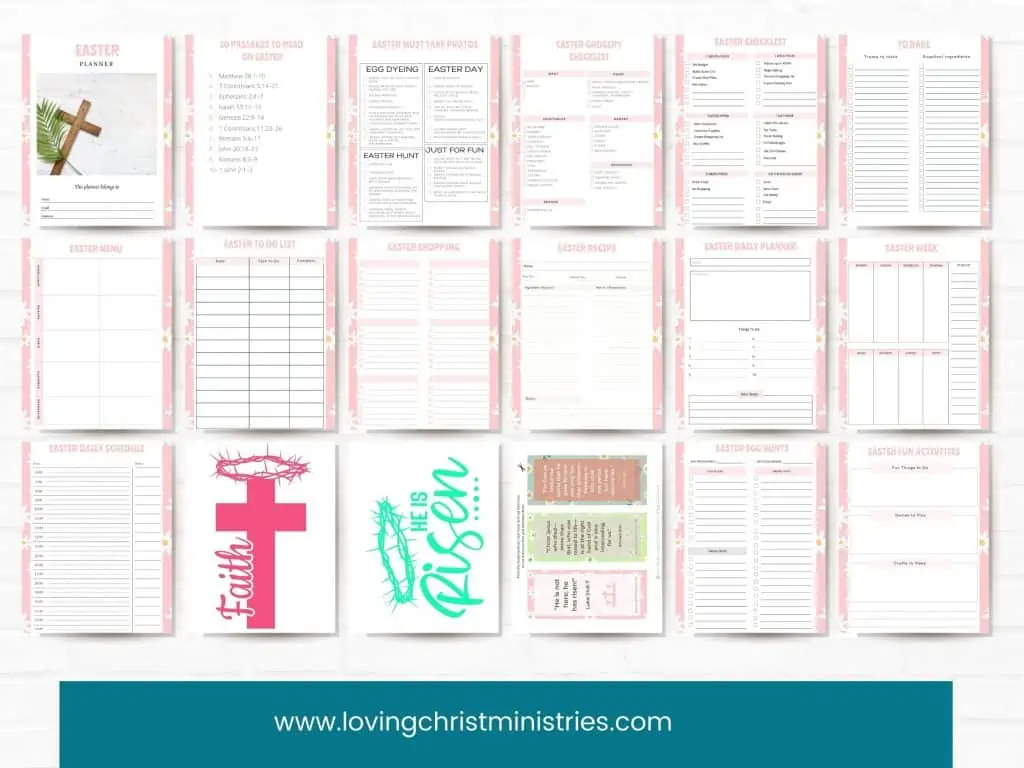 Grab your Easter Planner HERE.
Easter Traditions
Throughout the years, my family and I have followed certain Easter traditions. Creating this free planner helped me keep things organized.
This year, I wanted to share it with you. I added some color and a spring print to it and put it in the Loving Christ shop. It's free, though.
Hop over and get your copy. I really think you'll love how organized it is.
So, speaking of Easter traditions, let me tell you a little about ours.
Easter morning, we would wake up super early. The kids looked through their Easter baskets and then we'd head to church.
The youth group at our church was always in charge of the Easter Sunrise Service, and at least one of our children was involved every year. Some years all three were a part of the service.
Then, we'd eat breakfast in the Fellowship Hall with our church family. Following that, we'd attend service together.
My husband made our special Easter meal every year – leg of lamb with asparagus and new potatoes. Some years, we used pita pockets and stuffed those. So delicious!
After our meal, we all gathered around the TV to watch Jesus Christ, Superstar.
We LOVE that movie! (What's the buzz? Tell me what's happening)
After the movie, we love to participate in various activities together including things like playing games, going on hikes, or challenging one another in an outdoor Easter scavenger hunt.
Now, our children are grown, and our traditions have changed.
They still get baskets which they love. I considered stopping baskets as they got older, but instead I began finding items they'd like as adults.
You can see the things I stuff their baskets with in the post, 29 Easter Basket Ideas for Grown Children.
We also still attend the regular service at church, have our meal, and sometimes watch the movie.
This is why I still love to use my printable Easter planner. With it, I can remember everything I need to take care of.
What traditions do you have for Easter Sunday? Which church service do you attend? Do you have a special meal?
No matter how you celebrate Easter, I know our printable Easter planner will help you.
Be sure to hop over to the store and download a free copy of it!
How to Use These Printables
These printable Easter planner pages are great to use when preparing for the Easter season. You can plan meals, parties, egg hunts, and more.
For the 30+ pages, I like to print them out, hole punch them, and add them to a 3-ring binder. Some readers have mentioned they like to slip their pages into plastic sheet protectors. I think that's a great idea, too.
The pages are perfect to help you focus and stay on track this Easter season. Be sure to make special note of the 10 scripture passages for Easter, too. They're great for quiet time or for a family or ministry group read aloud.
I pray that your Easter season is full of Christ's love and grace.
Grab your Easter Planner HERE.
More Easter Printables and Resources
29 Frugal Easter Basket Ideas for Grown Kids
Free Easter Sticker Printables
Free Song of Solomon Spring Coloring Page
WANT TO REMEMBER THIS POST? SHARE IT TO YOUR FAVORITE PINTEREST BOARD!