How to Make Faithful Frames and Prayer Plaques
Making prayer plaques has been one of our most popular retreat crafts. These frames are easy to make and are so cute.
The women at our last retreat had such a great time making these faithful frames and prayer plaques.
They're super simple to create which makes them one of our most popular breakout sessions.
The ladies enjoyed putting together their frames and being able to visit as they worked.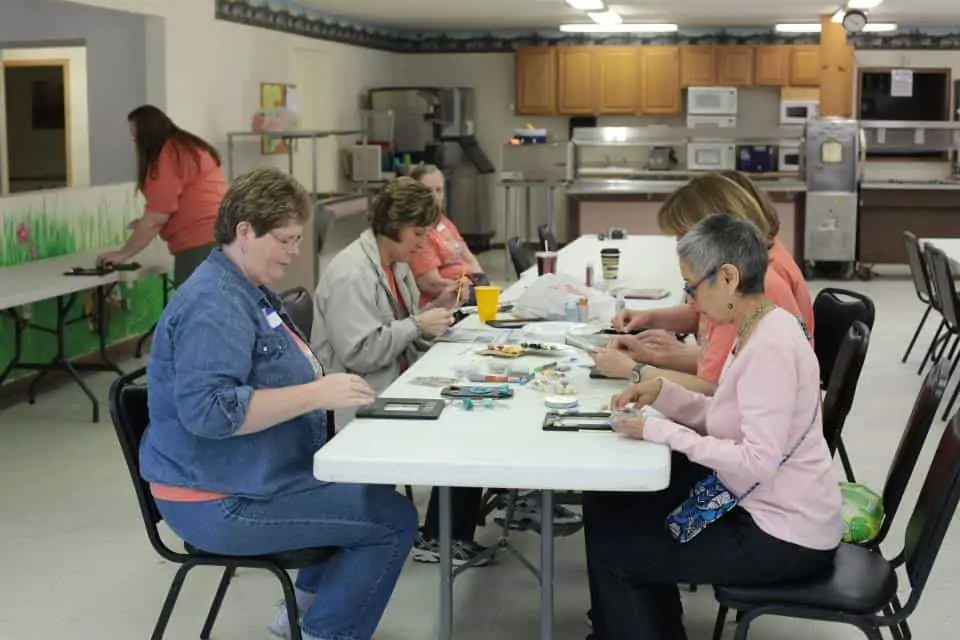 We used this description in our program to entice the ladies to join this session:
Transform wooden frames and plaques into inspirational chalkboards. Write prayer concerns , bible verses, or anything to encourage your throughout the day. Add some cute decorations and a magnet, and you can hang them on any magnetic surface. Let your creativity come out and join us in this breakout session.
Supplies Needed:
Wooden frames in different shapes such as circles, squares, etc. (we got ours from Michael's, but most large craft stores would have them)
Small can of Chalkboard Paint
Various sized paint brushes or paint sponges
Stick on bows, letters, flowers
Circle magnets
Glue
Directions:
Use the chalkboard paint to paint an area on the frame. You can use this area to write messages or favorite bible verses.
Add stick on bows, letters, or flowers to decorate.
Glue a circle magnet on the back to hang it on the fridge.
That's all there is to it!
The ladies get a cute, practical takeaway they can use for daily encouragement.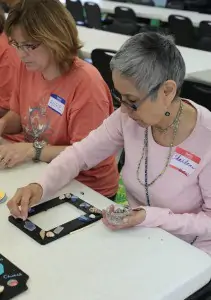 Ideas for Using the Prayer Plaques
Memorize Scripture
I love to write a scripture of the week at the top, and my daughter and I work to memorize it. I have to admit, she's better than I am. However, as I tell her, the most important thing is to keep scripture first and foremost in our lives. I don't 'think' that's just an excuse for not being able to memorize as many as I would like. Always a work in progress, right?
Beautiful Display
Hang your faithful frame in a prominent position in your house. It'll be a great conversation starter. It'll also make any space homey and comfortable while giving visitors a quick look at your faith and how important it is to you.
Notes/Lists
Use your plaque to leave notes for a family member or keep track of needed shopping list items.
More Breakout Sessions
Find more breakout session ideas by checking out the Christian Women's Retreat Breakout Session idea page.
We also have fun, quick, and easy icebreakers.
Want to remember this? Save How to Make Prayer Plaques to Your Favorite Pinterest Board.