With a fall retreat theme, we want to focus on the changes God makes within us when we allow Him to move through us.
I've put together all of these resources to help those who are looking for an impactful theme for a fall retreat.
Read through all of the sections. Feel free to take what you need from this post or use it all. I know everyone's needs are different.
Fall Retreat Theme Thoughts/Narrative
In the fall, as the leaves change to yellows, oranges, reds, and browns, we are reminded how Christ's love for us changes us as well into beautiful, colorful creations in Him.
That's easy to forget when we get caught up in the busyness of life. With this retreat, we'll take time to focus back on our relationship with the One who loves us best.
Many of us already recognize God's love and love Him, too. However, our busy schedules often take us away from focusing on that love we share, and we don't live our lives in honor of our love.
Just like in any relationship, love requires nurturing and attention. That's why it's important to re-focus our attention and make a commitment to Christ, letting Him know how much we love Him.
The "Fall" in Love with Jesus All Over Again Women's Retreat Theme helps women recognize the love God has for her and shows her not only how to love Him deeply in return but also to allow that love to guide her day.
Fall in Love with Jesus Scriptures
I have been crucified with Christ. It is no longer I who live, but Christ who lives in me. And the life I now live in the flesh I live by faith in the Son of God who loved me and gave himself for me. – Galatians 2:20
But God, being rich in mercy, because of the great love with which he loved us, even when we were dead in our trespasses, made us alive together with Christ— by grace you have been saved. – Ephesians 2:4-5
More scriptures for Fall in Love with Jesus can be found here.
These verses show us that God's love surrounds us every moment. We are assured that His love is:
-Steadfast and unchanging
-Comforting
-Revealed to us through Jesus Christ
-Poured into us through the Holy Spirit
-Encouraging us to love one another
Fall in Love with Jesus Upgrade Bundle
Buy the Fall in Love with Jesus Theme Bundle by clicking HERE or on the image below.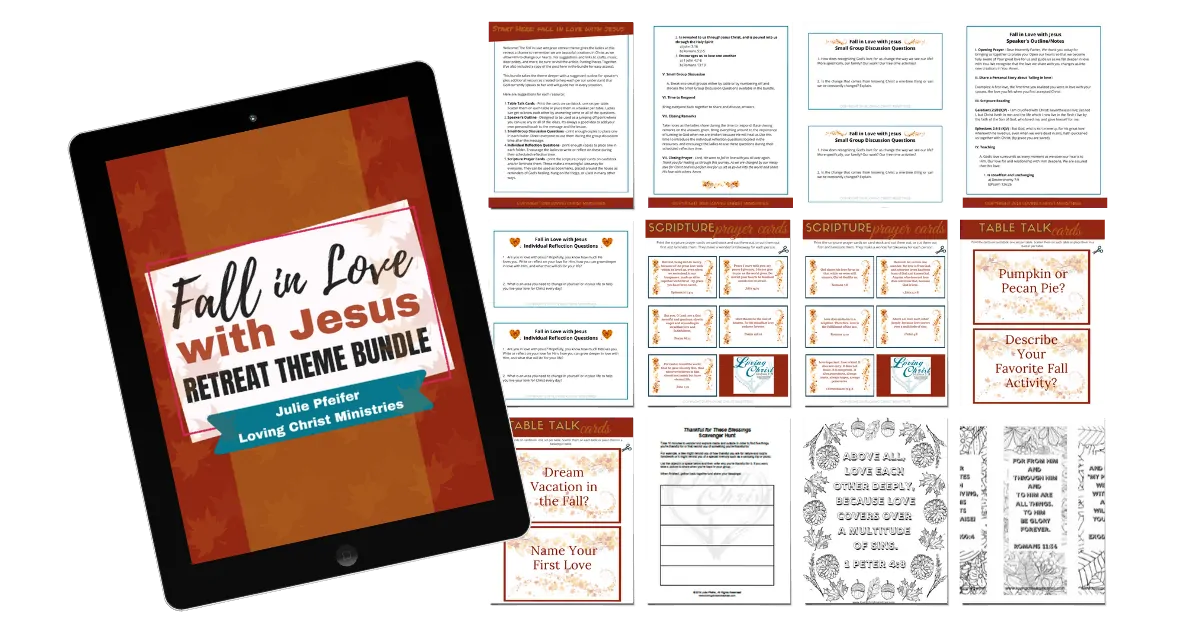 Fall Retreat Theme Crafts and Activities
Decorations for the Fall Theme
"Fall" in Love Songs
Change Me – Tamela Mann
Change My Heart Oh God – Vineyard Worship
All Things New (Live) – Hillsong
Your Love Never Fails – Newsboys
Glorious Day (Living He Loved Me) – Casting Crowns
Door Prizes
52 Weeks Through the Bible: Fall in Love with the Book That Changed Everything
30 Most Popular Door Prizes for Women's Retreats
Fall Decorations
Polyester Poppy Burlap Tabletop Floral Decor
200 Assorted Artificial Fall Maple Leaves of Autumn Colors – Great Autumn Table Scatters and Fall Decorating
Crepe Paper Streamer Hanging Party Decorations Kit, 240-Feet, Burgundy Maroon, Orange, Ivory, 1-Pack, 3-Rolls, Fall Autumn Colored Wedding Baby Bridal Shower Birthday Supplies
Fall Maple Leaf Garland – 6 Feet – Colors Range from Dark Red Hues to Vibrant Orange – Perfect Fall Decoration
Closing Prayer
Lord, We want to fall in love with you all over again. Thank you for leading us through this journey. As we our changed by our messy love for Christ and His perfect love for us, let us go out into the world and share His love with others. Amen
More Retreat Themes and Retreat Resources:
101 Retreat Theme Ideas for Christian Women
Free – Finding Joy in Jesus Women's Retreat Theme
16 Scriptures about Joy for a Women's Retreat
10 Best Worship Songs about Joy
20 Scriptures to Help You Fall in Love with Jesus
How to Plan and Organize a Christian Women's Retreat
Fall in Love with Jesus Upgrade Bundle
Buy the Fall in Love with Jesus Theme Bundle by clicking HERE or on the image below.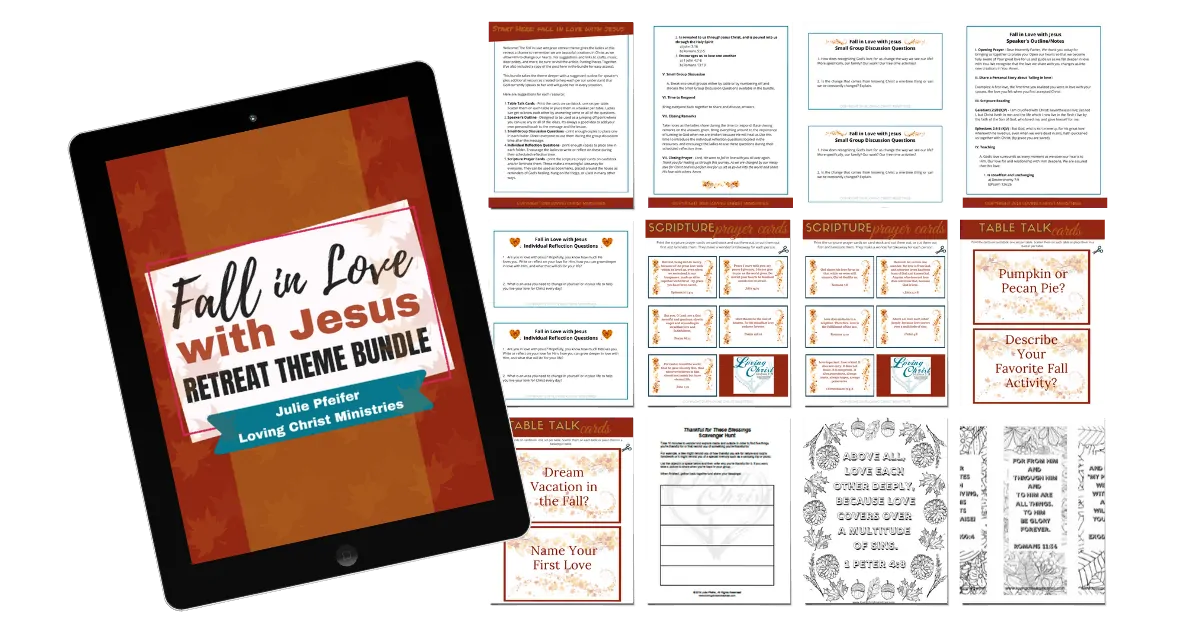 Want to remember this? Post this Fall in Love with Jesus Free Retreat Theme to your favorite Pinterest board!