February Printables for Women's Ministry Leaders
As we head into February, I can't wait to share with you the printables I've created to make your life easier.
I don't know about you, but February always seems like a long month to me. I know it's actually the shortest month, but it goes on for..ev..er!
Here in mid-Missouri in the U.S., we get lots of cold weather. In fact, it's been down around 10 degrees (Fahrenheit) recently.
Brrr!
Bring on the warmer days, please!
I've been thinking about the goals I want to set for February and am pleased that they are an extension of my New Year's goals still, and I'm on track.
Writing goals down makes such a difference. If you aren't writing yours down, I encourage you to start now. I use my Intentional Christian Life Planner to write mine down but any planner or binder with blank notebook paper will work!
When I got the idea for this post, I wanted to come up with printables that will help you and your ministry group with your daily walk with God.
Every printable on this page is a direct download. You are welcome to copy them and share them with the ladies in your women's group, too!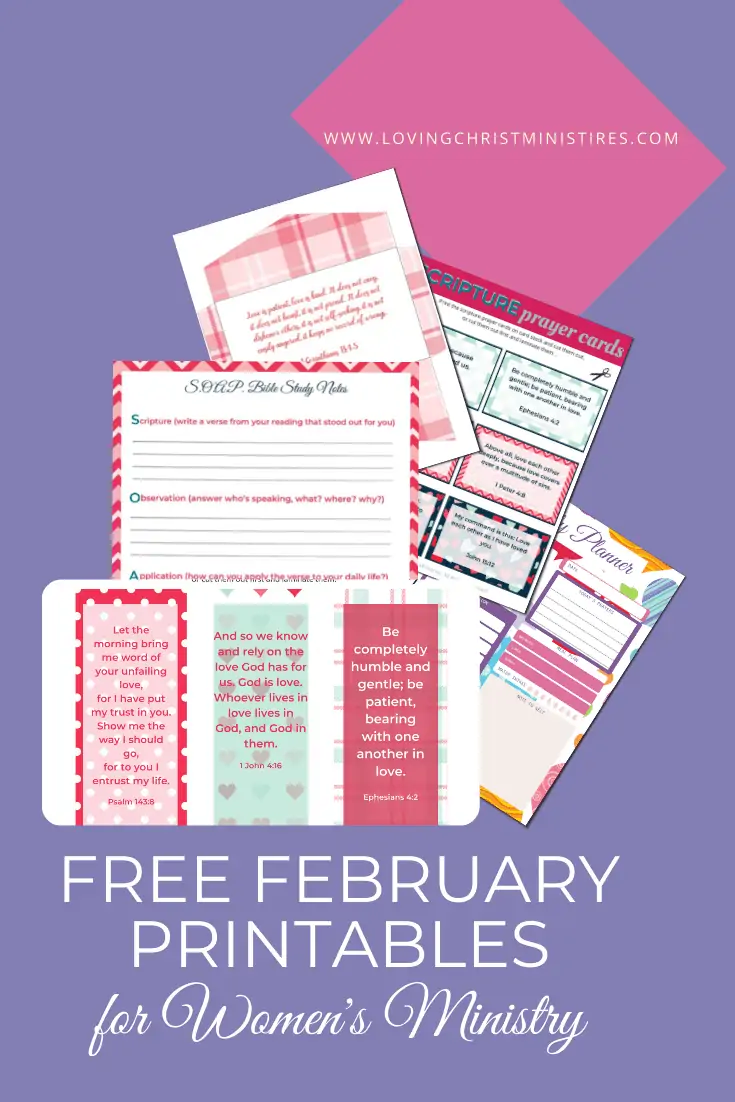 February Printables
Sermon Notes
I like to take notes when I listen to a sermon. Writing down what I hear makes the information 'stick' a little longer.
If you haven't taken notes during church before, start here with this pretty Sermon Notes printable page.
Bible Study Notes
I love the S.O.A.P. method of Bible study when I simply want to pick up my Bible and read. The S.O.A.P. method helps with retention and guides you to think more deeply about the passages you read.
Here's a February printable focused on studying the Bible using the S.O.A.P. method.
Prayer Journal Pages
If you've been around my blog for any length of time, you know I'm crazy about prayer journaling!
Our prayer journal prompts here at Loving Christ are some of our most popular downloads.
Along with prompts, it's really nice to keep track of who and what to pray for. With this prayer journal page, you can keep track of those very things!
God's Conversation Hearts
Use these cute conversation heart tags from God to decorate Valentine's this year. They'll add a fun spark to any gift.
Cash Envelopes
This cash envelope is a great way to collect offering or share a monetary gift with someone. Simply cut out the pattern, fold the tabs in and add a little clear tape to keep everything in place.
To-Do Lists
I can never have enough to-do lists. How about you? I keep my to-do lists in my planner which comes with me everywhere I go. Use this page as an insert to your planner, in a binder with the other printables, or as a standalone.
Daily Planner Page
If you don't have a daily planner, use this page to help you stay organized and on track to meet your daily goals.
Bookmarks
Print these festive February bookmarks on cardstock or print, cut out, and laminate. They are great for any book, but I really love to use them to mark special places in my Bible.
How to use these Printables
Click on the text link or on the image. This will open your printable in a new window. Click the download button to save the PDF file to your device
Grab a 3 ring binder, hole punch your printable pages, and keep everything together. Here's a bonus printable that will give you a binder spine cover so you can keep things organized in your office space.
Have a happy, whole, faith-filled, warm February!'