Fabulous Four Corners Icebreaker for Women's Retreats
One of our favorites is the Fabulous Four Corners icebreaker! This icebreaker allows participants to get up and move, meet new people, and laugh hard!
Being able to use unlimited topics means this activity never gets dull. We've used it at multiple retreats and have always been able to keep it fresh with new topics.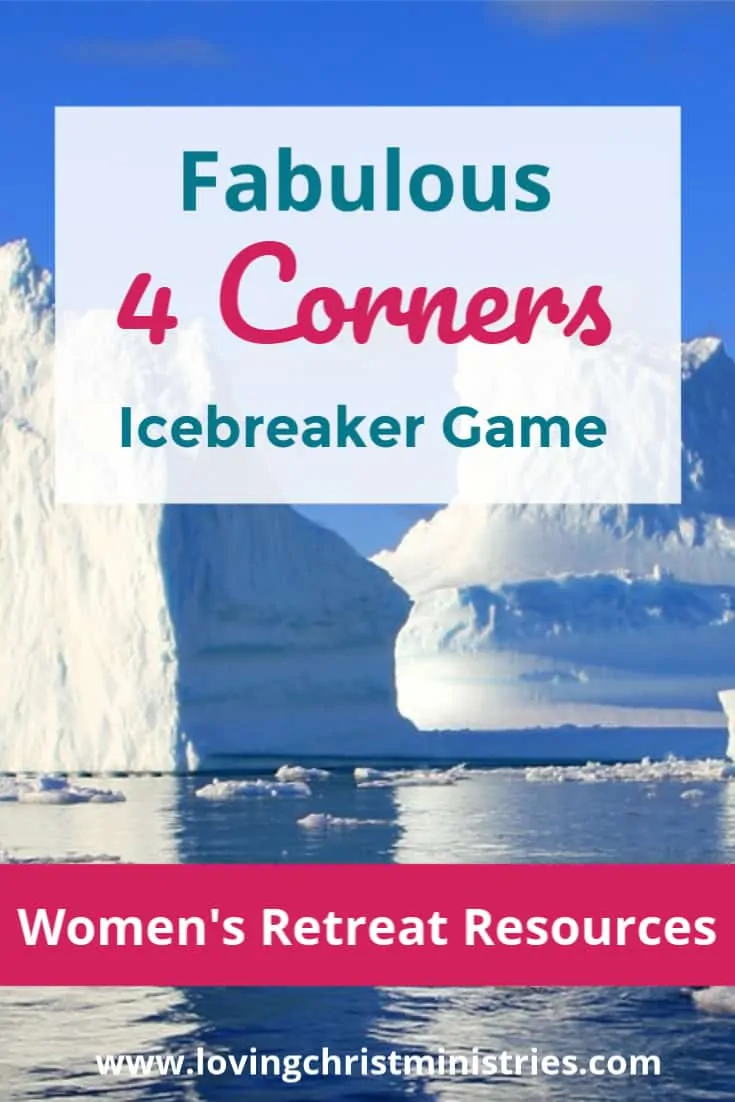 Here's how to play Four Corners:
Announce four topics, one for each 'corner', and have each lady go to the topic corner that best fits her.
When all of the ladies have had a chance to get to a corner, give them a subtopic to discuss among themselves. Below are some examples, but feel free to make up your own.
We always give the ladies several minutes so that everyone has a chance to introduce themselves and talk about the sub-topic.
Ideas for topics/subtopics (but feel free to choose your own!):
Favorite drink: soda, water, tea, coffee
Subtopic: Share daily morning habits (how much soda, coffee, etc?).
Favorite movie genre: comedy, romance, drama, action
Subtopic: Which specific movie is your favorite?
Favorite sport: football, baseball, basketball, soccer
Subtopic: Share a favorite sporting event memory.
Favorite ice cream: chocolate, vanilla, strawberry, cookies and cream
Subtopic: Share your favorite place to get ice cream.
Favorite cuisine: Mexican, Italian, Chinese, American
Subtopic: Have you ever traveled overseas and eaten your favorite cuisine there? Share.
LEAST Favorite household chore: ironing, bathrooms, dishes, laundry
Subtopic: Share a funny or frustrating housecleaning story.
Favorite flowers: roses, daisies, tulips, wildflowers
Subtopic: Share a time you received your favorite flower.
Favorite season: summer, fall, winter, spring
Subtopic: Share specifics about why you chose your favorite season.
Favorite holiday: Christmas, Easter, Thanksgiving, your birthday
Subtopic: Share a favorite holiday memory.
Favorite color: red, pink, blue, green
Subtopic: What feelings do your favorite color evoke?
Where would you prefer to go: mountains, beach, city, stay home
Subtopic: Share a favorite vacation memory.
Favorite superhero: Wonderwoman, Spiderman, Batman, Superman
Subtopic: What's the first thing you'd do as superhero?
If you had the day to yourself: sleep, watch movies, shop, read
Subtopic: When was the last time you had a day to yourself?
Big adventure: skydiving, surf boarding, bungee jumping, zip lining.
Subtopic: Have you been on your big adventure? Share. If not, do you plan to?
You can have as many rounds as you have time for. We usually do no more than 3 rounds; it depends on the size of the groups.
When finished, either have the ladies sit with the group they ended with (that keeps them mixed up so they can get to know more people) or let them go back to their original seats.
Free Printable Copy of the Four Corners Topics
Want a printable copy of these? Just click HERE to open and download printables for our favorite icebreakers.
**Be sure and check out Icebreaker: Four Corners from Women's Ministry Toolbox, too!
Additional Ideas to Go Along with the Four Corners Icebreaker Game
We gave tickets for door prizes to all participants. We've offered the actual prize after an activity or extra tickets to go in a bucket for door prizes later. These items always make popular door prizes at our events:
Tickets for Door Prizes (in case you want to have door prize drawings at certain times rather than a prize after every activity)
Door Prize Ideas – Check out this post of our 30 most popular door prizes.
Here are some more ideas for popular door prizes:
Have fun!
If you'd like to check out some of the other icebreakers we use, try these links:
Get to Know You Icebreaker (with free printable)
Balloon Scriptures Icebreaker (with free printable)
Color Candy Confession Icebreaker