Getting to Know You Form for Women's Ministry
When you first bring a group of ladies together for a Bible study or other women's ministry event, this Getting to Know You form will be perfect to hand out.
Group leaders will be able to have a quick overview of the ladies attending an event or session.
With questions beyond the basics, ladies will have a chance to share more deeply with top 'bucket list' or dreams/goals items plus pressing prayer concerns.
Two Form Formats to Choose From
When searching for getting to know you forms online, it's hard to find any that perfectly fit your needs.
You might find one that's close to having everything you want to ask, but it may be missing one or two important pieces of information for you.
That's why I'm offering the Getting to Know You form in the same way I offer retreat planning forms in Your Complete Guide to Planning a Christian Women's Retreat and a la carte in the Loving Christ shop.
You have two options for the Getting to Know You form.
Print a PDF copy of the pre-made Getting to Know You form
Simply click HERE or on the image below to open and download the PDF version of the form.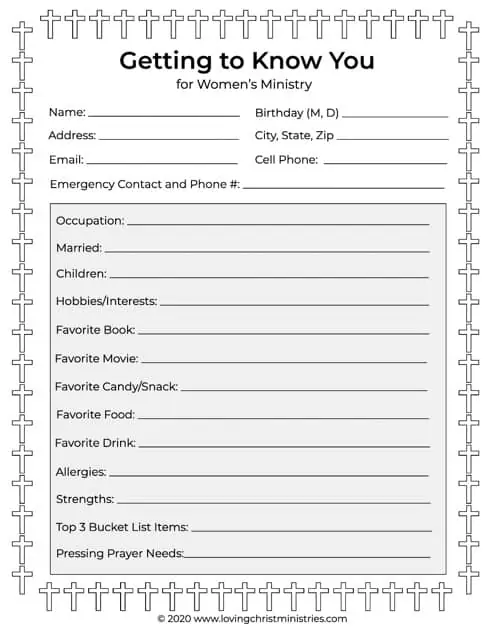 Customize the Getting to Know You form template
If you want to customize the form to suit your specific needs, you can do that easily as well.
Visit the Loving Christ store and purchase the customizable template. You'll receive an immediate link to make your own copy of the template. Edit the template however you need.
Steps to Customize:
Click the link
Sign in with your Google account if needed (free)
Click the Make a Copy button
Edit any part(s) of the form you want
More Getting to Know You Resources
Icebreakers and Activities
Deep Icebreaker Questions for Christian Women's Retreats
WANT TO REMEMBER THIS POST? SHARE IT TO YOUR FAVORITE PINTEREST BOARD!