Grateful for God Women's Retreat Theme
In the Grateful for God retreat theme, you'll find thoughts, ideas, recommended scriptures, activities, songs, and more.
Feel free to use the ideas you need and leave the rest…or use them all.
As always, if you have ideas to add, please comment in the comment section below the post or send an email to julie (at) lovingchristministries (dot) com.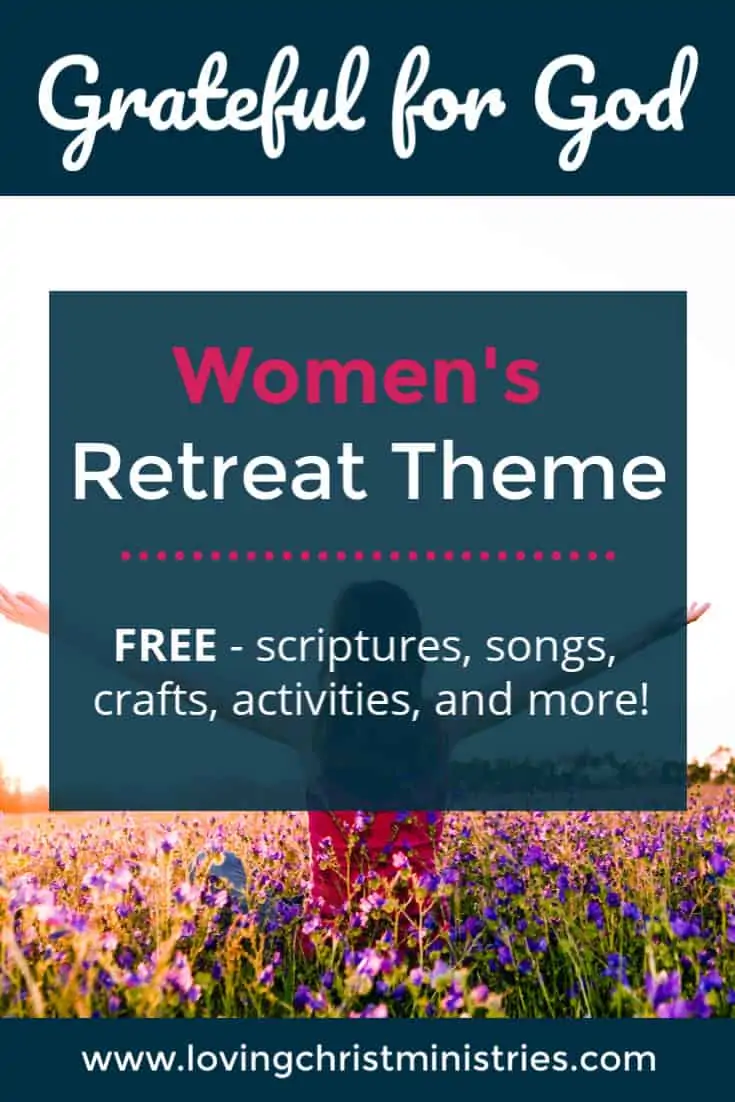 GRATEFUL FOR GOD NARRATIVE
One definition of 'grateful' is to express gratitude. To 'express' gratitude, action is required. We are thankful for what God means in our lives and for all the blessings He provides.
Along with being thankful, we should be grateful, too. It's important to show how appreciative we are by our actions.
God yearns for us to feel His all-encompassing love and then to take that love and demonstrate it in various ways each day.
Along with sharing kindness with others, God also wants us to be kind to ourselves.
It can be easy to lose focus on that perspective. God created each of us in His image and He made each of us unique.
When you ponder that fact, you realize what a special inexpressible gift that is. While we 'experience' gratitude for God and all that He has done and continues to do, let's also practice the skill of 'expressing' gratitude for God.

GRATEFUL FOR GOD SCRIPTURES
Romans 11:36 For from him and through him and to him are all things. To him be glory forever. Amen.
Psalm 28:7 The Lord is my strength and my shield; My heart trusts in Him, and I am helped; Therefore my heart exults, And with my song I shall thank Him.
Hebrews 13:15 Through him then let us continually offer up a sacrifice of praise to God, that is, the fruit of lips that acknowledge his name.
1 Timothy 4:4-5 For everything God created is good, and nothing is to be rejected if it is received with thanksgiving, because it is consecrated by the word of God and prayer.
2 Corinthians 9:15 Thanks be to God for his inexpressible gift!
GRATEFUL FOR GOD ICEBREAKERS
If you are grateful for yummy candy as well as getting to know each other better, this tasty game is for you.
I Am Grateful for…:
Ask the ladies to place their chairs in one big circle and have a seat. Ask them to go around in the circle and share something they are grateful for just using one word.
You can make it more challenging by having a rule of not repeating a word. Go around the circle as many times as you would like.
An additional part of this icebreaker could be that you ask them to expand on their answers so the ladies can learn more about each other.

GRATEFUL FOR GOD RETREAT ACTIVITY
Praying for others is an important part of God's plan of having an attitude of gratitude. This activity is a special way for the ladies to feel closer to one another throughout this retreat.
Magazine Treasure Hunt:
Provide a magazine for everyone to look through and clip out pictures of things that make them feel grateful. Ask each lady to use adhesive to paste their pictures on a blank page.
After pages are completed, have a discussion regarding the finished creations and whether or not you feel it aligns with the focus of being grateful for God and what He wants your focus to be.

GRATEFUL FOR GOD SMALL GROUP DISCUSSION QUESTIONS
What, to you, is the difference between feeling thankful and feeling grateful? Or is there a difference to you?
How does your list of things to be grateful for change throughout your lifetime?
Do you find yourself feeling grateful 'for' God or grateful 'to' God? Explain the meaning of the difference to you.
GRATEFUL FOR GOD CRAFTS
Grateful Bracelet Reminder
Provide charms and bracelet cord. The ladies choose charms to symbolize what they are grateful about and make their own bracelet. It will be something tangible they can use to remind them to focus on God's blessings.
Gratitude Lights Up My Life
Provide slips of paper and have each person write something designating why they are 'Grateful for God'. Fold the paper in half. In a circle, say a prayer over these things and then lift them up to the Lord by sending them up in a sky lantern (these are biodegradable). This is a wonderful closing ceremony activity.
GRATEFUL FOR GOD SONG SUGGESTIONS
Grateful – by Elevation Worship (listen to it on YouTube HERE)
Thank You – by Hillsong Worship (listen to it on YouTube HERE)
Thankful – by Josh Groban (listen to it on YouTube HERE)
GRATEFUL FOR GOD DOOR PRIZE IDEAS
GRATEFUL FOR GOD CLOSING PRAYER:
Dear Lord, not only are we grateful to you, we are also grateful for you. As long as we let you in, you impact our lives with such meaning and depth that it's indescribable. Thank you for allowing us to spend time here together discussing the importance of expressing our gratitude for you. We want to focus every day on doing something positive for ourselves and for others to honor your name. When we arrive back at our respective homes and the energy of this gathering is a memory, please help us remain diligent in achieving that goal. Amen
Looking for more Thanksgiving theme ideas?
Enter His Gates with Thanksgiving
101 Retreat Theme Ideas for Christian Women
Want to remember this? Post this Grateful for God Theme to your favorite Pinterest board!