How to Make Money Selling Christian Printables
Do you want to make money selling Christian printables?
Would you like to know how to make money selling printables from your Christian blog or website?
Selling printables from my blog has been one of my most profitable income streams. You can turn this stream into a profit for you as well.
Examples of the Money I've Made Selling Printables
I really don't like to share numbers, but after many requests, I've decided being transparent is the best way I can demonstrate to you that you really can make an income by selling Christian printables.
I love selling printables because I don't have to ship anything! Customers receive their product immediately, and transactions typically run seamlessly.
Today, I want to share with you how I began selling printables and how I turned them into my biggest money maker for my part-time blog.
In this post, I'll answer these questions about selling printables:
Why should you sell Christian printables?
What types of printables should you sell?
What programs should you use to create your printables?
Which platform is best for selling printables?
In case you're wondering why I'm sharing the actual amounts with you, it's because I always appreciate transparency from online content creators. When I first started blogging, I would read income reports and would always prefer to read actual numbers.
Plus, seeing the 'proof' helped me understand that they really knew what they were talking about. That was definitely motivating!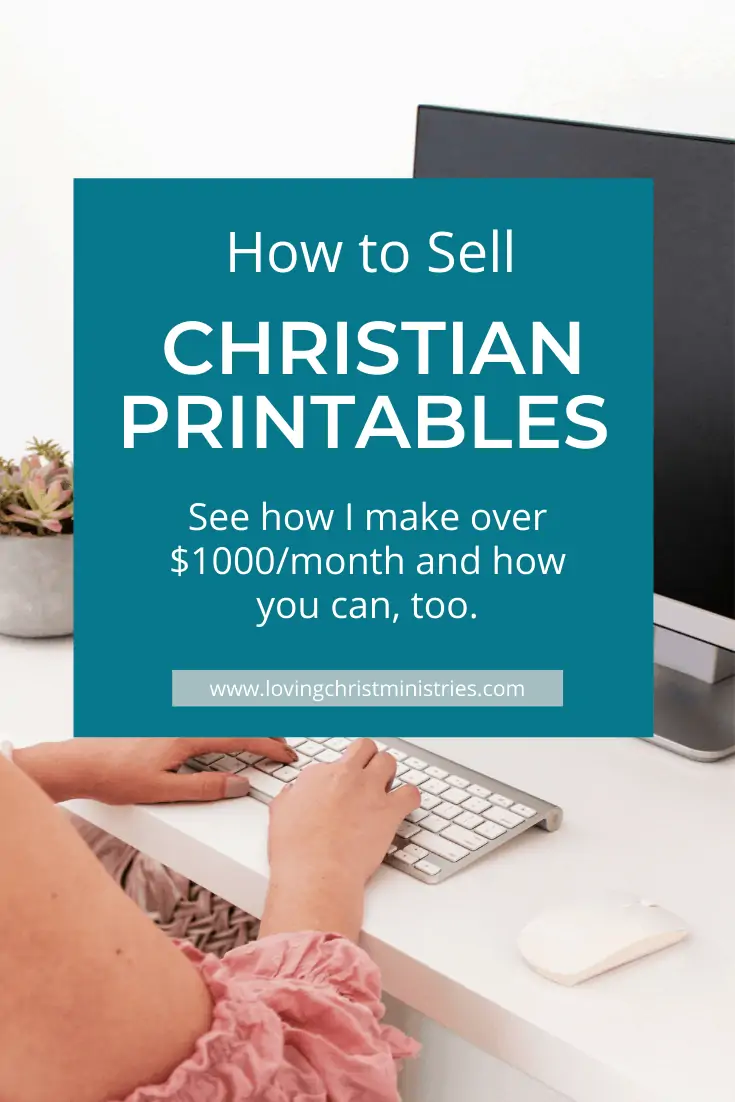 Here's How to Make Money Selling Printables
Why You Should Sell Christian Printables
When I first began blogging in 2014, I didn't really understand all the ways to make money. In fact, I didn't really know what I was doing at all.
I started my women's ministry blog and thought people would automatically flock to read my posts and purchase anything I suggested.
That wasn't the case, especially not in the beginning.
While going through Ruth Soukup's Elite Blog Academy in 2014, I learned how to bring people to my blog with helpful content. Then, I began learning how and what to sell to my readers.
Having big-ticket items like courses or physical products can bring in more income per sale, but it didn't take me long to realize that printables actually brought in as much money and were so much easier.
Printables are best because:
They're easy to create.
They don't take very much time to make.
You don't have to stock inventory.
Customers don't need to pay shipping, so costs stay low.
New customers/readers are more willing to buy a lower priced item until they get to know you better.
Decide What Types of Printables to Sell
A printable is something a reader can download immediately and print at home. They'll only want to pay for a printable if it provides value to them. As Christian bloggers, we want to share Jesus' love with others and help women walk in their faith daily.
Consider how you can most effectively help women grow in their faith.
Examples of printables could include scripture prayer cards, meeting resources, ministry theme bundles, prayer checklists, sermon notes, quotes or wall art, etc.
Before you can do anything else, you need to know what kinds of printables you want to sell. What do you feel God is calling you to share? What do you know about that will help someone else?
And don't say nothing!
If you have a blog or website, brainstorm ideas along your niche that will help your readers.
If you don't have a website but plan to sell printables another way, you'll still need to figure out what topics you want to help others with and which types of printables will help them most.
What Programs to Use to Make Printables
The best thing about about making printables is that you can use many different programs to create them.
Odds are you already know how to use one of these programs. The programs I've used to create printables are:
Microsoft Word (create printable and save as a PDF)
Microsoft Publisher (create printable and save as a PDF)
Google Drawings (free – create printable and download as a PDF)
Canva (free – create printable and download as a PDF)
Adobe Illustrator (part of Adobe Creative Cloud – can be costly but the quality is top-notch)
As you can see, you can create in any of these and then simply save your file as a PDF. These can then be saved and delivered to your customer after purchase.
Both Google Drawings and Canva are free to use which really helps!
I'm sure there are many more programs you can use to make printables. Try a few out and see which you like best. I've begun creating most of mine in Canva simply because I find it easiest to create and use templates in order to expedite the process.
The best platform for selling printables
Once you've created your first printable, you'll need to know how to sell it to your customers and deliver it to them.
While there are many options, I'll share with you only the ones I have experience with. I'll cover every program I've used as I worked to build my printables inventory and sales.
E-junkie – E-junkie is the first platform I used to sell printables when I first began monetizing my blog in 2014. I sold scripture prayer cards and my cross coloring book.
There was a definite learning curve with E-junkie, and I am a tech teacher in my 'day job'. I also had trouble making my sales pages look nice. Because of that, E-junkie was just okay. I kept looking for other options.
Easy Digital Downloads – I switched to Easy Digital Downloads after leaving E-junkie. EDD is a free program for WordPress sites that was really very easy to use. I do recommend it if you're just starting out.
I moved from it eventually as I had so many printables I had trouble organizing, and I still didn't feel my sales pages looked professional enough.
SendOwl – Once I began using SendOwl, I stayed with them for a couple of years. SendOwl helped me finally feel that products were being presented and delivered in a professional manner.
This is a report from SendOwl. As I mentioned, I used to use SendOwl and did really like it. You can see that printables sold well with SendOwl. I only switched to Shopify in order to have a storefront once I had many products. Shopify makes it easier to manage multiple products.
I tried designing new sales pages on my own, but I ended up investing in LeadPages (try it free for 14 days with this link). What a great investment it was! With SendOwl and LeadPages working together, I definitely felt like a pro. Woohoo!
SendOwl does have a free option. However, I needed additional features and paid $9/month for a long time until I finally had to upgrade from there to the $24/month plan. I more than made back my investment.
LeadPages is pricey, but I wouldn't drop it now. I love it! I can make great sales pages, opt-ins, thank you pages, tripwire pages, and more.
I had to pay for two years up front, and it was a big commitment. The price actually works out to only $25/month. That's not bad but do be prepared to pay a bulk sum up front.
**NOTE: All that being said about LeadPages, you do NOT need LeadPages to use SendOwl. I simply added the info. here as I love the way it works with SendOwl (and Shopify).
Shopify – throughout all of 2019, I was part of a blogging mastermind group. The leader recommended Shopify to me several times because I had more printables than ever.
I hesitated (why???) but finally made the switch in August 2019. I use Shopify in conjunction with LeadPages as well. I love my Shopify store so much. You can see it here – Loving Christ Ministries Store
This is a report from Shopify. I shared it above as well but want to show it to you here since we're talking about Shopify:
Here are a few other recent months from my Shopify Analytics:
The nice thing about Shopify is that you don't have to have a blog to have a Shopify store. You can create a niche for your store and promote it.
My blog does help me generate traffic to the store, but I know some people do it without a blog or other website.
Etsy – I mentioned before I would only share platforms that I've used, but with Etsy I'm borderline.
What I mean by that is that I've only recently started an Etsy store, so I'm learning about it. I'm trying to decide if it's worth spending time learning about Etsy selling or if I should just keep on doing what I'm doing since Shopify is working for me. I go back and forth trying to decide.
You can see my Etsy brand new store here – JuliePfeiferLCM. I had a different store up and didn't do any promoting or marketing for it. I made 3 sales so far – woohoo! 🙂 I've just started putting my theme bundles in my LCM store just to see if I can reach more people.
I will let you know if it happens and how it goes!
Next Steps for Selling Printables
Here's a quick recap on what you need to do to get started selling printables to make some extra money:
Decide what type of printables to sell
Create 3-5 printables
Choose a platform, sign-up, and upload your printables. Write strong descriptions filled with keywords about your printables.
Let me know if you have questions along the way!