John in 30 Days | Beginner's Bible Study and Reading Plan
Welcome to the John in 30 Days bible study and reading plan for those of you just starting out in your journey to dig deep into scripture and learn not only what it says but how to apply it to your daily life.
When I wrote the Acts in 30 Days Beginner's Bible Study and Reading Plan, I never dreamed it would reach so many people. Knowing that thousands of people desire to know more about the details and events of the Bible and how to apply basic concepts to their daily lives in order to live a more fulfilling life in Christ, fills my soul.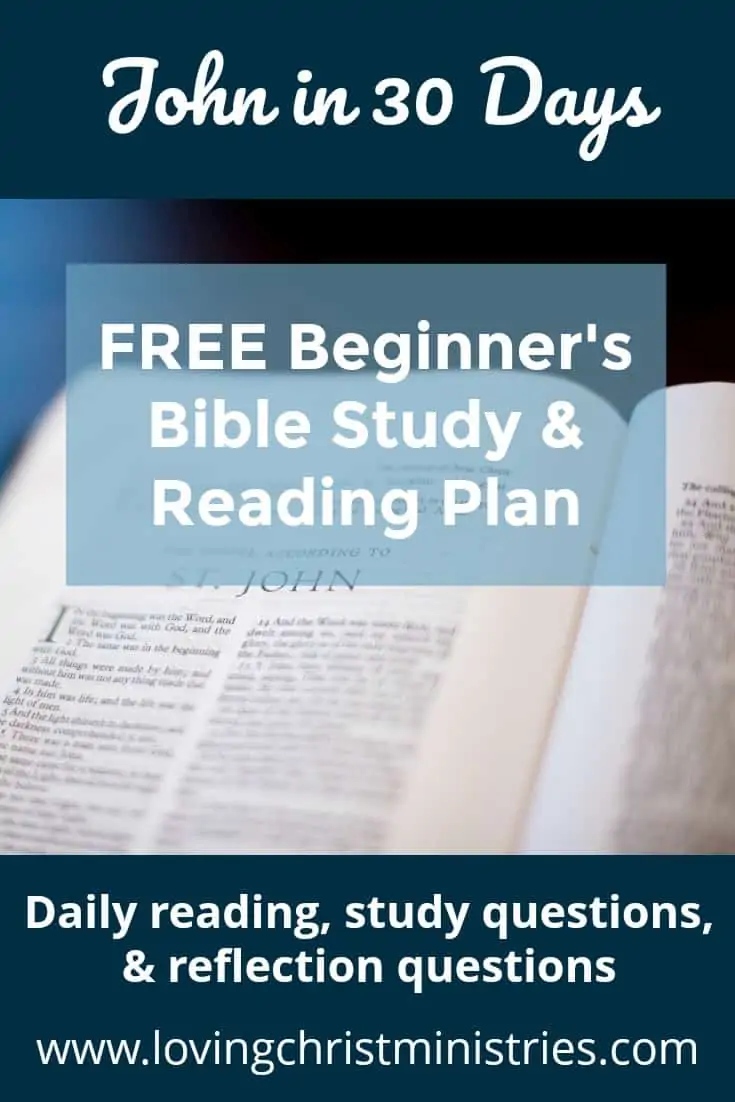 John in 30 Bible Study and Reading Plan
For 30 days, I will post a scripture reading goal for the day plus questions designed to learn factual information about the day's verses plus life-application questions designed to help you understand how these scriptures can guide you throughout your days.
While I've been a Christian my whole life and attended Bible studies through my church for many years, it wasn't until I added a more in-depth personal study that I came to truly feel I was learning the Bible.
Related Post: An Overview of the New Testament in 4 Parts
I don't mean to say that group studies aren't important. They are! Group studies give us the support and encouragement from others and helps us by allowing conversation over different perspectives.
However, to really learn more about what happened (and is happening) in each particular book of the Bible, we need to focus our study a little tighter on each specific book.
That's why I decided to do the 'in 30 Days' series. These series allow me to refresh my knowledge of the history and facts of each book plus I get to apply that knowledge to my every day life. I want to help you do the same.
I plan to write many more 'in 30 Days' series for the following reasons:
-to help you know where to begin in your desire to study the Bible
-to walk you through a focused reading plan
-to teach you what events happen throughout each chapter
-to guide you in reflection and the application of the Scripture for your life today.
The Gospel of John
John's Gospel differs from the others in several ways. John shares fewer parables and fewer miracles, but we get a broader sense of Jesus' daily life as we read about more conversations and personal encounters.
Jesus' 7 "I am" statements can be found in John.
These statements give us tangible descriptions of who the Son of God is.
Here are the statements (from the NIV version):
I am the bread of life. (6:35, 48, 51)
I am the light of the world. (8:12, 9:5)
I am the gate for the sheep. (10:7,9)
I am the good shepherd (10:11,14)
I am the resurrection and the life (11:25)
I am the way and the truth and the life (14:6)
I am the true vine (15:1)
Almost half of John tells about the final week of Jesus' life. John, who often refers to himself as 'the beloved disciple' or 'the favorite' is the only one who followed Jesus all the way to the cross.
The way he describes himself shows how awed he was at the very thought of Christ loving him. We can experience the same awe as we realize how much Jesus loves us, too.
John in 30 Days
What You Need
-Bible or Bible app (I use both an NIV and CEV physical bible and both the Olive Tree and Bible Gateway apps on my iPhone).
-Pen, Paper or a good note-taking app
-Printer for hard copies of each lesson (optional)
The Study's Objective
-Guide you through the Gospel of John a section at a time
-Develop and record factual knowledge of the people and events in John
-Relate present day, personal life events to the events within John in order to apply your own spiritual and emotional consideration to the Scripture.
Difficulty Level
-Designed for those new to bible study or those wanting to reinforce their understanding of the Gospel of John
How this John Bible Study works:
Access each day below as they become available or for your convenience, you can choose to sign up to have each day delivered to your email inbox over the next 30 days.
If you want all 30 days at once instead, that's okay, too. You'll be able to purchase the complete study if you want.
A Brief History of John
John answers the question of 'who is Jesus Christ' in the very first chapter. He calls Jesus the "Word" by which God created everything. I don't know about you, but every time I read the first chapter of John, I'm filled with such joy and gratitude. Oh, how marvelous it is!
In the Gospel of John, we're told about seven miracles that Jesus performs that are even more than miracles. Each of them is a sign that tells us something about Jesus as the Son of God.
John tells Jesus' story differently than the other Gospels. In all the conversations we read about that Jesus has with others about who He is and what God sent Him to do, we learn many important things including that He is the way, the truth, and the life.
In Chapter 20, Verse 31, John tells us he wrote this Gospel – "But these are written that you may believe[a] that Jesus is the Messiah, the Son of God, and that by believing you may have life in his name."
To get this study free, submit your name and email in the form below to have each day delivered to your inbox or scroll down to find direct links to each day.
If you'd like to purchase the entire study at once, click here or on the Buy Now image below (Bonus: 3 Free John Bookmarks when you purchase the study – you'll get a link to 3 free bookmarks in your welcome email):
John in 30 Days | Bible Study and Reading Guide
Have each day delivered directly to your inbox so that you can delve into the Word.
PLEASE NOTE:
The study was created using mostly the NIV translation of the Bible. I use both an NIV and CEV physical bible and both the Olive Tree and Bible Gateway apps on my iPhone. I also use Bible Gateway on my computer for study so that I have access to a variety of translations.
**If you purchase the complete study at once, it is a digital download which you will receive access to immediately. Because of this, there are no refunds. Please look through the sample days here before purchase. Thank you for understanding!
You can also click the links below the form to access each day of the study as they become available.
While this study is designed to read and study the book of John in 30 days, it's okay to take longer if you need. Some days, it might take a little extra time to reflect on certain verses.
I don't want you to think you can't or won't do it when life gets in the way and you miss a few days.
Just jump right back in and go from there.
I'll be praying for you!
WANT TO REMEMBER THIS POST? SHARE IT TO YOUR FAVORITE PINTEREST BOARD!
John in 30 Days | Bible Study and Reading Guide
Have each day delivered directly to your inbox so that you can delve into the Word.