Finding Joy in Jesus – FREE Women's Christian Retreat Theme
We often overlook what it means to have true joy in our lives. It's easy to confuse happiness with joy and then in hard times when we feel unhappy, we believe joy eludes us.
Knowing Christ gives us that joy we think we're missing. Joy comes from the depth of knowing how much God loves us and understanding what it truly means to have eternal life in Him.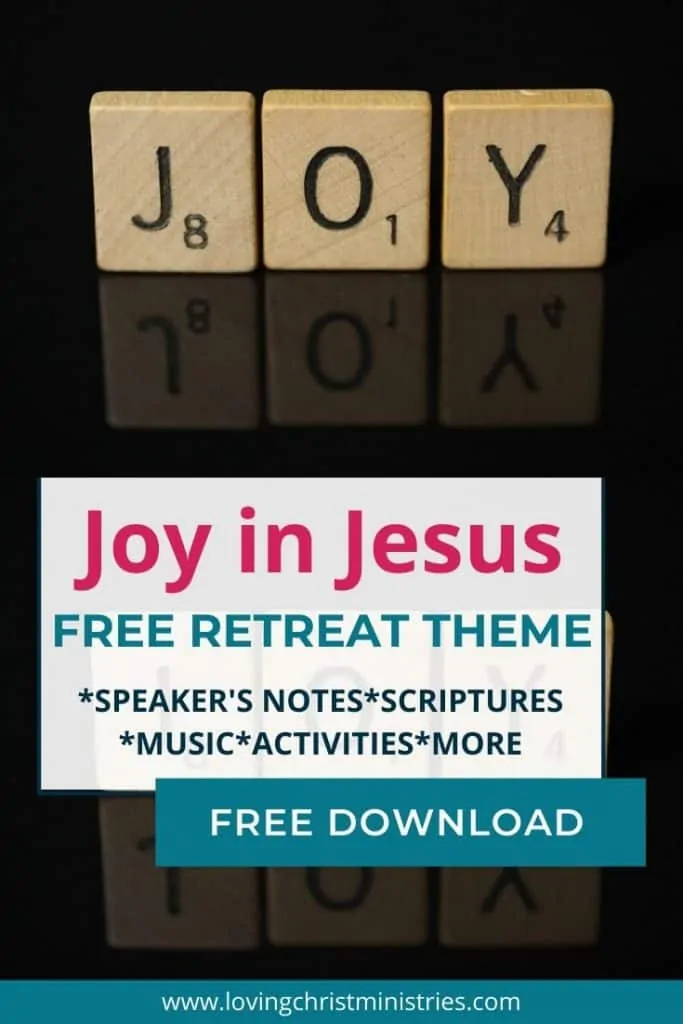 When joy like that remains seated within us, we're able to move forward even in difficult times.
Related Post: 10 Best Worship Songs about Joy
Joy in Jesus also enhances our daily lives. Perhaps it's not that we're unhappy; we simply are too busy to recognize Christ within us and around us.
So often we go through life mechanically completing this task and that task. We get caught up in the busyness of our days that we miss out on the simple joy that comes from the peace of Christ.
Subscribe to the Loving Christ weekly newsletter and get the free Joy in Jesus retreat theme speaker's outline, activities, and more:
Throughout this theme, we want to look at how Jesus gives joy to us in dark times, in indifferent times, and in blessed times. He constantly offers Himself to us, strengthening us, loving us, and teaching us so that we may not only know joy in Him but also live it every day.
The Foundation of Joy – Scriptures to Focus On
Psalm 94:19 When anxiety was great within me, your consolation brought me joy.
Ecclesiastes 9:7 Go, eat your food with gladness, and drink your wine with a joyful heart, for God has already approved what you do.
John 16:22 So with you: Now is your time of grief, but I will see you again and you will rejoice, and no one will take away your joy.
Romans 15:13 May the God of hope fill you with all joy and peace as you trust in him, so that you may overflow with hope by the power of the Holy Spirit.
James 1:2-3 Consider it pure joy, my brothers and sisters, whenever you face trials of many kinds, because you know that the testing of your faith produces perseverance.
Joy in Jesus Icebreakers
Use the I Am Blessed icebreaker from Icebreaker Ideas to warm-up the crowd, get them sharing, and help them begin to focus on the theme.
The Balloon Scriptures icebreaker is perfect for a Joy in Jesus theme as it highlights the message that even though Satan tries to 'burst our bubbles' we find hope and joy in Jesus' Word.
Retreat Games and Activities
Joy Coloring Sheet
I'm a middle school teacher, and one of my 7th grade students drew this for me to share with you. She drew it by hand for us. We add it to retreat folders/bags. Click here to immediately open and download it.
What is Joy to You?
This activity to help women define what joy means to them helps introduce any group activity. It allows them to reflect and promotes talking points.
The index card activity plus a follow-up suggestion for it is included in the free Joy in Jesus theme notes. I have a link to the free theme notes at the bottom of this post.
Small Group Discussion Questions
Give the ladies a chance to talk about the theme with a small group so that they might better connect with the message.
Small groups provide confidence and those who might not feel comfortable speaking up in a large group will talk when it's just to a few.
Suggested questions are provided in the free Joy in Jesus theme notes (link at end of this post).
Related Post: Free- Fall in Love with Jesus Women's Retreat Theme
Joy in Jesus Crafts
This simple craft gives the ladies a takeaway they can use daily as a reminder of the joy they can have in Jesus. This craft can be adapted to any theme, and JOY works perfectly with it.
This craft can easily be used for your Joy theme. Have the ladies have a 'Joy' scripture focus and then decorate in any way they like.
Try these river rocks for painting. You can usually find the right kind of rocks at Michael's, too.
Joy in Jesus Song Suggestions
Rejoice in the Lord Always
Trading My Sorrows – Darrell Evans
Hymns of Joy – Chris Tomlin
10 Best Worship Songs about Joy
Door Prize Ideas
Gift Certificates to Hobby Lobby or Michael's
Joy Mug and Coaster Set
CD – Joyful Worship to Lift Your Spirits
I pray these ideas give you the framework you need to hold a Finding Joy in Jesus Christian Women's Retreat. If you'd like more, get your copy of the Joy in Jesus Outline and Discussion Questions.
In it, you'll find directions for the index card activity and the small group discussion questions as well as a suggested speaking outline and ideas on what to talk about.
To get it (it's FREE), simply fill out the form below.
---