July printables for you to share with your ministry group are ready to go!
If you didn't have a chance to get the June printables, be sure to check them out. I know you'll still be able to use these in other months besides June.
I always have so much fun picking out patterns and colors that not only go with the season but that I think are fun and uplifting for you. These July printables should brighten up your ministry.
In this article, you'll find printables you can use for yourself or for your women's ministry group.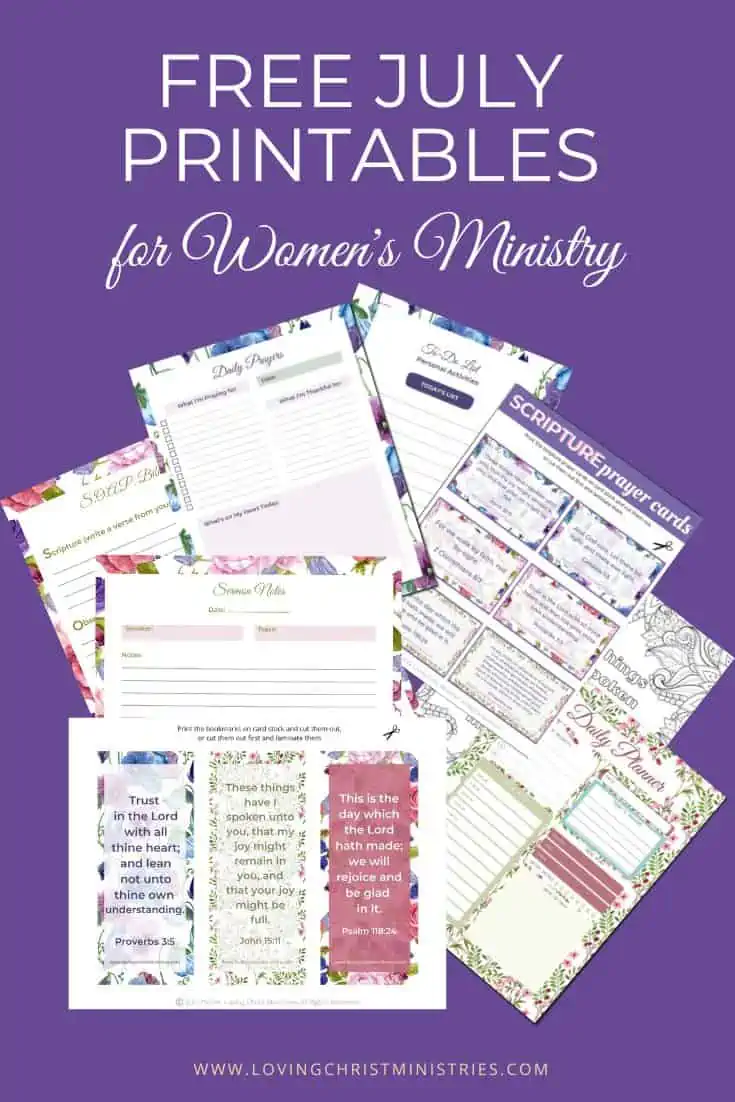 The Included July Printables for Women's Ministry are:
July Daily Prayer Worksheet
John 15:11 Coloring Page

July Purple and Pink Floral S.O.A.P. Bible Study Notes

July Purple and Pink Floral

Sermon Notes
Deep Purple and Blue Checked To-Do List
Summer July Scripture Prayer Cards
Summer July Scripture Bookmarks
July Daily Planner Page
As June comes to an end, I look forward to July, my birthday month, and time spent with family and friends.
We will camp and play games (have you ever tried Jackbox Trivia? It's SO much fun!).
And I'll spend these days on my summer break from teaching middle school creating as many resources for women's ministry as I can.
I love this time of year!
In fact, I've put together some more printables for you to use for your women's ministry.
Of course, you can use any of them for yourself personally. I just know that you leaders like to have something fun and useful to gift the ladies in your group.
Here are some of the women's ministry free printables I've made lately:
And, of course, I've created the resources here on this page for you this season, too.
Every printable is a direct download for your convenience. Simply click on the text link or the image to save your copies.
July Printables
Sermon Notes
Remember key points and inspiration during each sermon.
If you haven't taken notes during church before, start here with this cute July purple and pink floral Sermon Notes printable page.
Bible Study Notes
The S.O.A.P. Bible study method helps with retention and guides you to think more deeply about the passages you read.
Use this printable in your personal study time, and be sure to share a copy with the rest of your ministry group.
Prayer Journal Pages
Prayer Journaling is one of my favorite things! If you haven't ever used any of my prayer journal prompts, I highly recommend them! They're a great way to focus on prayer every single day!
Along with prompts, it's really nice to keep track of who and what to pray for. With this prayer journal page, you can keep track of those very things!
To-Do Lists
I can never have enough to-do lists. How about you? I keep my to-do lists in my planner which comes with me everywhere I go.
Use this page as an insert to your planner, in a binder with the other printables, or as a standalone.
Daily Planner Page
If you don't have a daily planner, use this page to help you stay organized and on track to meet your daily goals.
Bookmarks
Print these beautiful July bookmarks on card stock or print, cut out, and laminate. They are great for any book, but I really love to use them to mark special places in my Bible.
John 15:11 Scripture Coloring Page
Spend quiet time reflecting on scripture while creating a beautiful coloring page.
Beautiful July Scripture Prayer Cards
Scripture prayer cards are a great tool to use for living intentionally in Christ each day. Cut them out and place them around the house as reminders of Christ's presence. Use them as bookmarks, frame them and display them…there are so many ways you can use these pretty July beautiful scripture prayer cards.
How to use these Printables
Click on the text link or on the image. This will open your printable in a new window. Click the download button to save the PDF file to your device
Grab a 3 ring binder, hole punch your printable pages, and keep everything together. Here's a bonus printable that will give you a binder spine cover so you can keep things organized in your office space.
Have a warm, peaceful, soulful July!
You Might Also Like:
WANT TO REMEMBER THIS POST? SHARE IT TO YOUR FAVORITE PINTEREST BOARD!