Waiver and Liability Form for Christian Women's Retreats
Within this post, you'll learn about the importance of liability insurance and how to ensure you're covered. Plus, you'll get free access to a waiver and release of liability form template that you can customize to meet your needs.
Before diving too far into retreat planning, you'll want to consider how you're going to handle it if someone gets hurt at your retreat. Hopefully, that will never happen. If it does, though, you'll need to be prepared.
When I've been involved with retreats at or through my church, liability insurance wasn't something I needed to worry about.
The church carries its own policy, and that backing from them is sufficient for the retreat even when the retreat is held off-site.
Holding a retreat independent from a specific church can require individual/business responsibility.
When Loving Christ holds retreats, we carry our own liability insurance.
In addition to the insurance, we include a small disclaimer for the ladies to sign saying we aren't responsible for accidents. We also get permission via a yes/no checkbox to use their photos from the retreat in promotional materials.
Recently, I received an email from a retreat guide customer asking if I had a waiver and release of liability form she could use. While we hadn't used a specific form before, I knew having one was a good idea.
I researched and wrote and ended up with a template that you can customize for your own retreats. Keep in mind, I'm not a lawyer, so this isn't truly a legal document.
If you want to make sure you have something legally binding, be sure to discuss it with your lawyer.
However, if your goal is to make sure you have in writing that they understand any risks and responsibilities plus get permission for use of images, this template will help.
Free Liability Form Template
Get your free waiver and liability form template here —>>> Waiver and Liability Form for Women's Ministry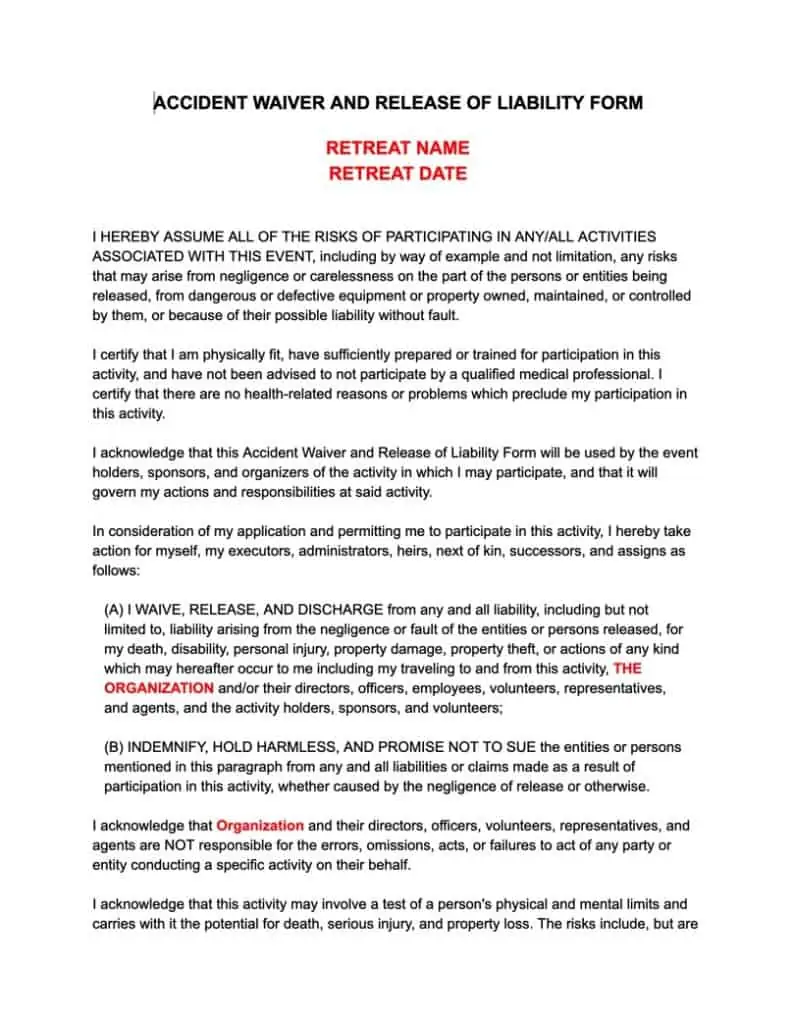 Remember, to ensure full coverage, have liability insurance and also talk with a lawyer. We had to shop around for a while to find an affordable policy, but we did find one.
If you're covered under your church's policy then the liability template can give you that little extra layer of protection by ensuring participants are aware of your policy.
For dozens more retreat resources, click here or on a specific post below:
101 Retreat Theme Ideas for Christian Women
The Ultimate Collection of Christian Women's Retreat Resources
Breakout Session Ideas for Christian Women's Retreats
WANT TO REMEMBER THIS POST? SHARE IT TO YOUR FAVORITE PINTEREST BOARD!