In the New Beginnings retreat theme, you'll find thoughts, ideas, recommended scriptures, activities, songs, and more.
Feel free to use the ideas you need and leave the rest…or use them all.
As always, if you have ideas to add, please comment in the comment section below the post or send an email to julie (at) lovingchristministries (dot) com.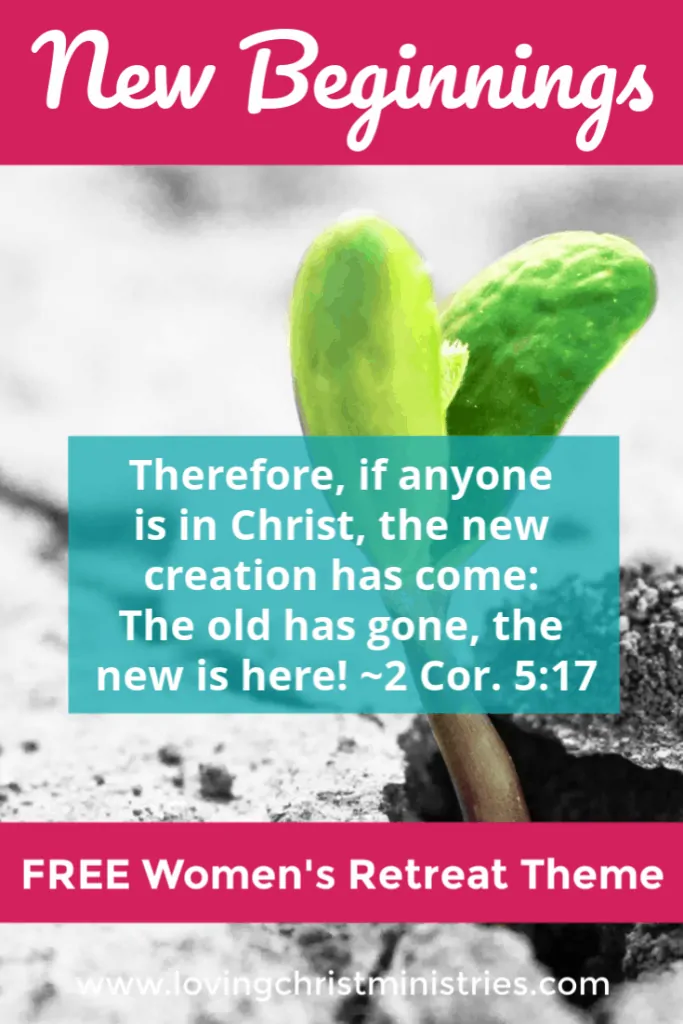 NEW BEGINNINGS NARRATIVE:
Many of us feel like we need a new beginning sometime in our life. Or, sometimes, a new beginning is forced upon us, such as going through a divorce or a death of a loved one who was a major part of who we defined ourselves to be.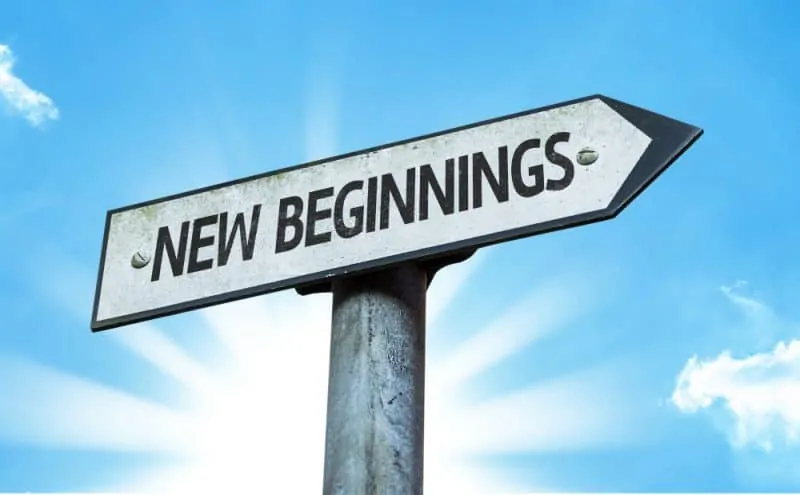 Life can be messy sometimes and that's an important time to know and believe that God is there for us, ready for us to cling to Him as He supports us through the changes and new beginnings in our lives.
Embracing the emotions and growing through those changes makes life more full.
NEW BEGINNINGS SCRIPTURES:
Ephesians 2:10 For we are God's masterpiece. He has created us anew in Christ Jesus, so we can do the good things he planned for us long ago.
Lamentations 3:22-24 Because of the Lord's great love we are not consumed, for his compassions never fail. They are new every morning; great is your faithfulness. I say to myself, '"The Lord is my portion; therefore I will wait for him.
2 Corinthians 5:17 Therefore, if anyone is in Christ, the new creation has come: The old has gone, the new is here!
Isaiah 65:17 See, I will create new heavens and a new earth. The former things will not be remembered, nor will they come to mind.
Ezekial 11:19 I will give them an undivided heart and put a new spirit in them; I will remove from them their heart of stone and give them a heart of flesh.
Click here to find more scriptures about New Beginnings.
NEW BEGINNINGS ICEBREAKERS/ACTIVITIES:
Icebreaker Question:
Go around the group of ladies and have them share their name and something personal about themselves such as where they live.
In addition, ask them to share one way they have experienced a 'new beginning' in their life. It can be light-hearted or serious, whichever they choose.
NEW BEGINNINGS RETREAT GAMES/ACTIVITIES:
Get In Order
The Get in Order activity requires communicating and getting to know a little more about each other. Perfect for a ladies retreat.
Block Buster
Here's a chance to go back to your childhood by using building blocks. If you do this Block Buster activity in teams, you can see who can build the tallest tower of blocks.
NEW BEGINNINGS SMALL GROUP DISCUSSION QUESTIONS:
1. Do you find it easy to embrace the new beginnings in your life no matter if they are chosen by you or forced upon you?
2. How can you have the most positive perspective if a new beginning is forced upon you?
3. Share helpful information on what you have experienced or learned about getting used to your 'new normal' as you have had new beginnings in your life. By networking and sharing things such as programs and support groups, you can be a part of making someone else's path a little less rocky.
NEW BEGINNINGS CRAFTS:
Here is a fun craft from the Frugal Girls website. Even if your retreat isn't held around Christmas time, you can still have a good time creating ornaments.
You can save them for Christmas or you can put magnets on the back and hang them on the fridge. You can tell the ladies in advance to bring special photos for this craft.
This unique craft from signifies that new beginnings can be beautiful.
NEW BEGINNINGS SONG SUGGESTIONS:
Who You Say I Am–sung by Hillsong Worship (listen to it on YouTube here)
Eye of the Storm–sung by Ryan Stevenson (listen to it on YouTube here)
Beautiful Day–by Jamie Grace (listen to it on YouTube here)
Click here to find more worship songs about New Beginnings.
NEW BEGINNINGS DOOR PRIZE IDEAS:
Hillsong Worship – There is More (Live)
Blue Butterflies Bible/Book Cover – 2 Corinthians 5:17
Vinyl Decal Wall Decoration – 2 Corinthians 5:17
NEW BEGINNINGS CLOSING PRAYER:
Dear Lord, new beginnings can be a joy and they can be a challenge. Thank you for loving us and guiding us through this path called life. Sometimes the path is clear and easy traveling and sometimes it is rocky and treacherous. Through it all, you are there sharing in our joy and in our sorrow.
Each day is a new beginning on its own. Keep showing us the way to embrace all that life has to give. Thank you for bringing these ladies together to praise you and draw closer to you and please provide safe travels home. Amen.
If you liked this post, you might like these others about Christian women's retreat themes:
101 Retreat Theme Ideas for Christian Women
Free – Joy in Jesus Retreat Theme
Free – Fall in Love with Jesus Retreat Theme
Want to remember this? Post this New Beginnings Retreat Theme to your favorite Pinterest board!