Our Cups Runneth Over Christian Women's Retreat Theme
In the Our Cups Runneth Over retreat theme, you'll find thoughts, ideas, recommended scriptures, activities, songs, and more.
Feel free to use the ideas you need and leave the rest…or use them all.
As always, if you have ideas to add, please comment in the comment section below the post or send an email to julie (at) lovingchristministries (dot) com.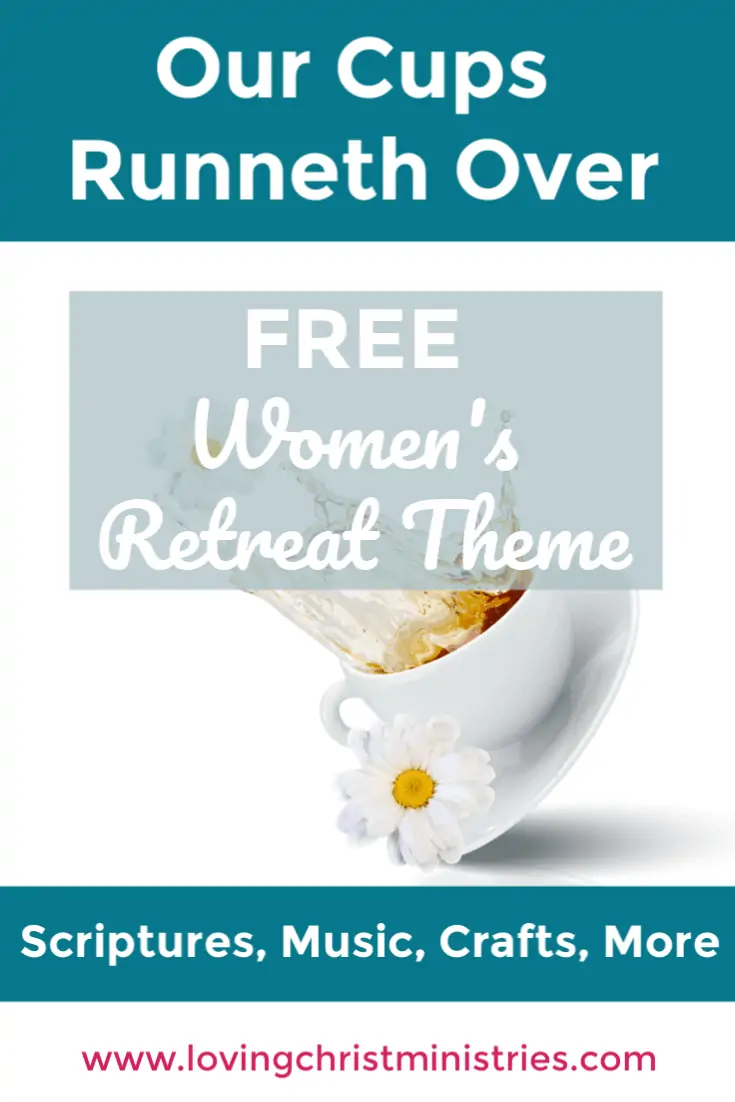 OUR CUPS RUNNETH OVER NARRATIVE:
Oh, fill my cup and let it overflow, let it overflow with love. What a beautiful song to express what God can do if we allow Him to fill our souls. It's a wonderful feeling to think about how 'our cups runneth over' with blessings. We have to be careful, though, to have a Godly definition of what that means.
Related Post: Cup Runneth Over Free Coloring Page
It does not mean having a large quantity of material things flowing into our lives. Blessings can come in all forms. Being able to acknowledge those blessings in challenging times as well as good times will open our hearts even wider so God can continue to fill us with His love.
OUR CUPS RUNNETH OVER SCRIPTURES:
Psalm 23:5 You prepare a feast for me in the presence of my enemies. You honor me by anointing my head with oil. My cup overflows with blessings.
John 6:35 Jesus said to them, "I am the bread of life; whoever comes to me shall not hunger, and whoever believes in me shall never thirst.
James 1:17  Everything good comes from God. Every perfect gift is from him. These good gifts come down from the Father who made all the lights in the sky. But God never changes like the shadows from those lights. He is always the same.
2 Corinthians 9:8 And God is able to bless you abundantly, so that in all things at all times, having all that you need, you will abound in every good work.
Philippians 4:19 And my God will meet all your needs according to the riches of his glory in Christ Jesus.
Our Cups Runneth Over Upgrade Bundle
Buy the Our Cups Runneth Over printable theme bundle. The bundle includes step-by-step directions, an opening prayer, a theme-specific speaker's outline, scriptures, table talk cards, small group discussion questions, individual reflection questions, and more: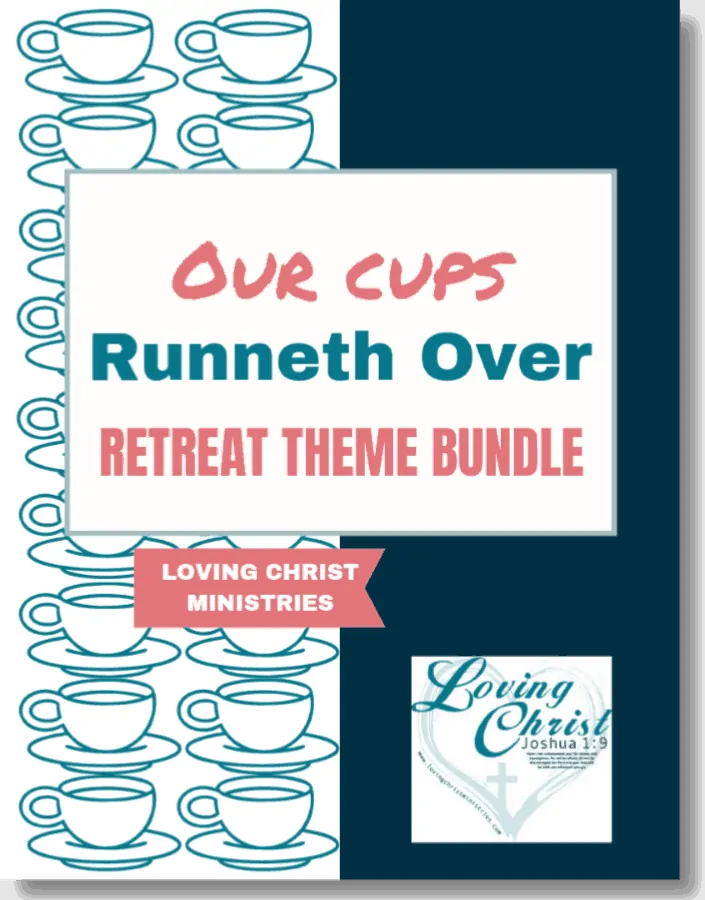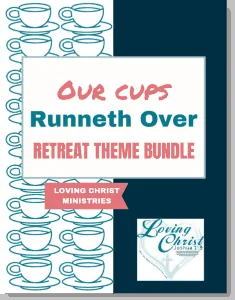 OUR CUPS RUNNETH OVER ICEBREAKERS/ACTIVITIES:
The Envelope Please:
Give each person 10 strips of paper and have them write a fact about themselves on each one. Then place strips in an envelope, one per person.
The group leader takes all envelopes, mixes them up, and then reads the facts from an envelope one by one. The other group members try to guess whose envelope is being read.
Would You Rather:
The group leader tosses a ball to someone in the group and asks a question such as "Would you rather be an astronaut or a zoo keeper?" After answering the question and explaining why, that person tosses the ball and asks the next question. Check out these 100 Would You Rather Questions.  
OUR CUPS RUNNETH OVER RETREAT GAMES/ACTIVITIES:
Get in Order:
The Get in Order activity from Our Pastimes is so much fun! Find the directions for this game and many others at their website. 
A Day in the Life:
A Day in the Life from Women's Ministry Toolbox website is a perfect activity to learn more about one another by finding out how each day is spent.
OUR CUPS RUNNETH OVER SMALL GROUP DISCUSSION QUESTIONS:
1.  In what one way does your 'cup runneth over'?
2. Thinking of a challenging situation in your life, how can you focus on the perspective that it is a blessing in disguise?
3. Share thoughts on ways you can help someone else's cup run over.
OUR CUPS RUNNETH OVER CRAFTS:
OUR CUPS RUNNETH OVER SONG SUGGESTIONS:
Count Your Blessings–sung by Guy Penrod (listen to it on YouTube here) I Will Enter His Gates–sung by Scripture in Song (listen to it on YouTube here) Fullness–by Elevation Worship (listen to it on YouTube here)
OUR CUPS RUNNETH OVER DOOR PRIZE IDEAS:
Gift card to a local restaurant
My Cup Runneth Over Wood Framed Wall Hanging
OUR CUPS RUNNETH OVER CLOSING PRAYER:
Dear Lord, thank you for filling our cups during this retreat.
At times, our experiences in life drain us emotionally. Realizing that you are always there wanting to pour your spirit back into our hearts is such a gift.
We are so grateful for all of the blessings you have provided for us, both joys and struggles.
We pray that you are pleased through this retreat as we have been reminded that all of those experiences make us who we are and that our cups runneth over through it all.
Please guide us as we go home, leading us to those who need to know you are ready to fill their cups too. Amen.
If you liked this post, you might like these others about Christian women's retreat themes:
101 Retreat Theme Ideas for Christian Women
Cup Runneth Over Free Coloring Page
Free – Joy in Jesus Retreat Theme
Free – Fall in Love with Jesus Retreat Theme
Our Cups Runneth Over Upgrade Bundle
Buy the Our Cups Runneth Over printable theme bundle. The bundle includes step-by-step directions, an opening prayer, a theme-specific speaker's outline, scriptures, table talk cards, small group discussion questions, individual reflection questions, and more: