Our Identity in Christ Free Retreat Theme
Welcome! The Our Identity in Christ retreat theme gives everyone a chance to learn about the ways God shows us the importance of connecting our sense of self to Him.
Believing and acting on the truth that God made us in His image gives us a foundation to be strong and confident and to follow the path of who we were created to be.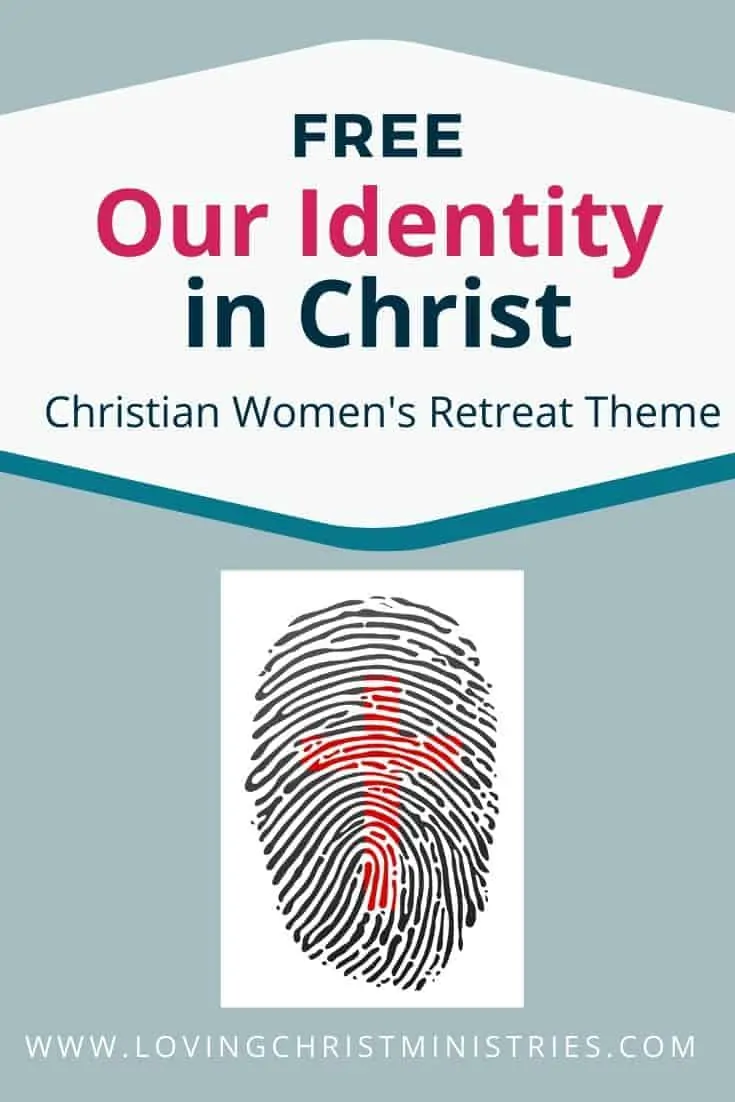 You'll find narrative, scriptures, discussion questions, and more in this retreat theme post.
OUR IDENTITY IN CHRIST NARRATIVE:
It seems to be a tendency in human nature to look to others in our circle of life to define our identity and worth. And then when the circle changes due to various circumstances, we can lose sight of who we really are.
Instead, it is important to look to Christ to discover the foundation of our identity. Giving him the power to hold our identity in His hands brings us a deep feeling of self-confidence and, thus, strength to overcome life's obstacles and to stay true to the path of who we are meant to be.
OUR IDENTITY IN CHRIST SCRIPTURES:
John 1:12 But to all who did receive him, who believed in his name, he gave the right to become children of God — children born not of natural descent, nor of human decision or a husband's will, but born of God.
Genesis 1:27 So God created mankind in his own image, in the image of God he created them; male and female he created them.
Colossians 2:9-10 For in Christ all the fullness of the Deity lives in bodily form, and in Christ you have been brought to fullness. He is the head over every power and authority.
1 Corinthians 6:17 But whoever is united with the Lord is one with him in spirit.
Ephesians 2:10 For we are God's handiwork, created in Christ Jesus to do good works, which God prepared in advance for us to do.

OUR IDENTITY IN CHRIST ICEBREAKERS:
52 Card 'Pick' Up:
Prior to the retreat, create a list of questions/actions that will be fun for the ladies.
Some ideas are: 'show us your best dance move', 'where are you from?', 'tell us your name backwards,' etc. Let your imagination go wild in creating your list.
Then individually tape each question/activity on the number side of the card.
At the retreat, let the ladies take turns picking a card from the deck and answering/doing what it says.
Common Pieces:
Divide into pairs and have the ladies discover five things they have in common. Once everyone is ready, continue pairing up with different people to learn about each other until the time allotted for this activity is over.  

OUR IDENTITY IN CHRIST RETREAT GAMES/ACTIVITIES:
Plaster Gauze Masks
This special activity, Plaster Gauze Masks, will probably be something unique for most of you. Try it out… it's definitely memorable!

Colorful Candy Confessions
This Colorful Candy Confession icebreaker continues to be one of our most popular games for our women's retreats. I tease the ladies that it's because they get to eat the candy afterwards.
20 Purposeful Activity Ideas:
In the post, 20 Purposeful Activity Ideas Shared by Women's Ministry Leaders, you'll find a wonderful variety of ideas for activities to use at your retreat. Enjoy glancing through the article and choosing the ones that you feel will work best with your theme.
OUR IDENTITY IN CHRIST SMALL GROUP DISCUSSION QUESTIONS:
What are three words that you would use to define your identity?
In what ways do you attempt to connect your identity to Christ?
Do you feel more self-confident when you base your identity in Christ or in others?
OUR IDENTITY IN CHRIST CRAFTS:
Decorative Containers
Provide canning jars (there are options with pretty designs on them), rolls of ribbon, decorate stickers, etc. Have the ladies decorate their jars with their own unique designs.
They can take them home and use them to store things in them, such as change, cooking utensils, sewing accessories, etc.
Beautifully Broken Things:
This unique craft, Beautifully Broken Things, signifies that new beginnings can be beautiful.
OUR IDENTITY IN CHRIST SONG SUGGESTIONS:
Who You Say I Am–by Hillsong Worship (listen to it on YouTube HERE)
What A Friend–by Chris McClarney (listen to it on YouTube HERE)
I Know Who I Am–by Israel Houghton & New Breed (listen to it on YouTube HERE)

OUR IDENTITY IN CHRIST PRIZE IDEAS:
OUR IDENTITY IN CHRIST CLOSING PRAYER:
Dear Lord, thank you for creating us in your image. Please help us refocus our mindset when we find ourselves giving the power of knowing our identity to someone other than you. When we truly embrace the connection of our identity to your unconditional, fatherly love, we gain the confidence to be our true selves. And, we can then give all credit to you and share our love for you with those in our circle of life. Amen.


More Resources for Women's Retreats
WANT TO REMEMBER THIS POST? SHARE IT TO YOUR FAVORITE PINTEREST BOARD!