Easy Steps for Making Polymer Clay Pens
Polymer Clay Pens for your next women's retreat!
I'm not very crafty. Thank goodness I have a network of friends willing to step up and lead crafts and breakout sessions at Loving Christ Ministries retreats.
Brooke and I are always looking to grow that network so if/when you have ideas to share for our next retreats, we definitely want to hear from you!
Despite not being incredibly creative, there's much to be said for completing something I've made from start to finish. There's just satisfaction in that, you know?
Now that I'm older, I don't even mind so much if any craft I complete doesn't turn out perfect. Still, it's nice to have something that's not only usable but cute, too. These polymer clay pens fit that bill!
For a longer weekend retreat, there's time to do extensive crafts such as plaster gauze masks and hands.
However, for a one-day retreat, a quick and easy craft like this works best.
When we designed and baked these at the Fall Refresh and Renew Retreat, all the ladies had fun working together, and they came up with gorgeous, useful takeaways from the retreat.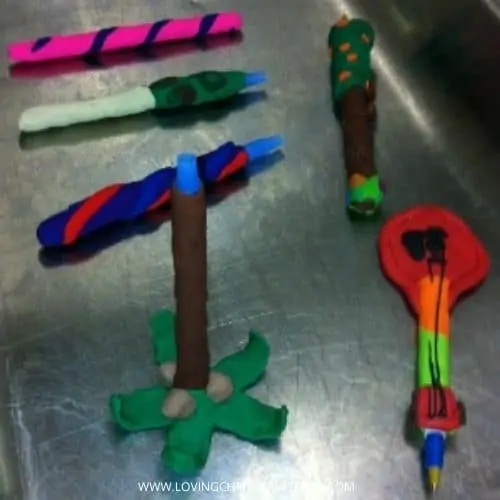 Here's what you need for these very simple but so much fun Polymer clay pens:
Supplies
Oven bake polymer clay (we used Sculpey which you can get on Amazon or at most craft stores)
Cheap BIC pens, the kind you can pull the ink cartridge from. I like Bic because the pens work. There's nothing more frustrating than making a nice polymer clay pen and then having the pen not work. (I'm not a Bic employee; I just think they're the best for this project)
Needle-nose pliers to pull out the ink cartridge (or you can use your teeth – ewwww…. or actually sometimes you can just pull them out. The pliers would help, though)
Cookie sheets
Rolling pins (if you want…we just smashed the clay)
Plastic knives
Access to an oven
When I researched information, I found many fancy directions where you cut the clay evenly and made everything super nice and neat.
You may certainly do that.
However, in our quest to have an even quicker and simpler craft, we managed to make beautiful pens by smashing and smushing and rolling; no one worried so much about everything being perfect.
As a result, they turned out that way anyway.
Once you gather all your supplies, here's what you need to do:
Pull the ink cartridge out of the pen.
Choose the clay colors you want to use and plan your design.
Smash, roll, shape your clay on and around your pen however you want.
You can include layers, too. It's okay to cover the top of the pen, but make sure you don't cover the tip.
You'll have to put the ink cartridge back in later.
When you're all through decorating, line the pens up on a cookie sheet (or two). 
Bake in a 275 deg F oven for about 15 minutes.
Let them cool, and then put your ink cartridge back in.
Have fun!
Looking for more posts with ideas for retreat breakout sessions? Try these:
Faithful Frames and Prayer Plaques
Want to remember this? Post this Polymer Clay Pens craft to your favorite Pinterest board!