Having meaningful door prizes at your women's retreats generates excitement and extra fun. Not that the ladies come for the door prizes, of course!
But still, don't you know they get just a little more attentive and energetic when their names are drawn?
I like to write about different icebreakers and breakout sessions for retreats, but I sure don't want to leave out the door prizes we hand out. Door prizes are so much fun!
We give out a couple of door prizes at the beginning and then again at the end of each large group session. This helped with timing and keeping things running smoothly.
The ladies hurried to start so they wouldn't miss out on prizes and stayed to finish. You can adjust this according to what works best for your retreat. I've been to a retreat where they gave everything out last. That certainly kept the ladies to the end.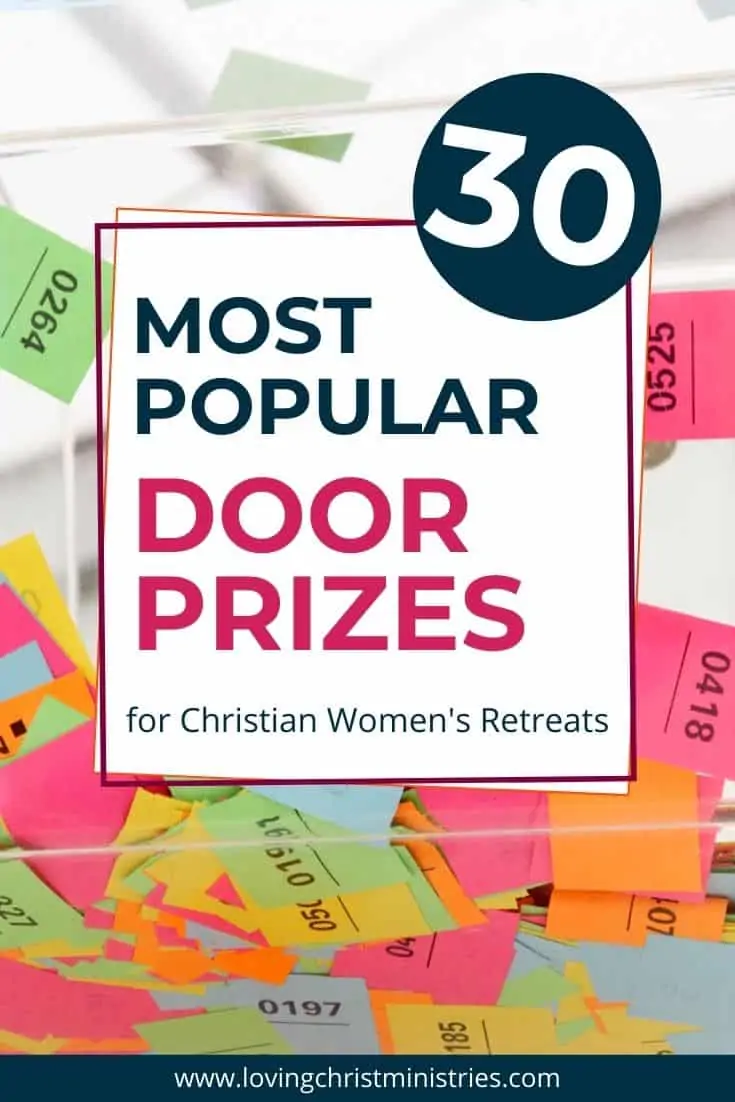 Here are the most popular door prizes we've given out:
1. Address book
2. Bath items (soaps, scrubs, gel, loofah)
3. Bible cover
4. Blanket throw
5. Bookmarks (buy them or make your own – try out this free tutorial showing you how)
6. Calendar
7. Candle
8. Chocolate
9. Cookbook (we LOVE the Pioneer Woman!)
10. Coffee Mug
11. Craft Items
12. Devotional book
13. DVD
14. Gift basket
15. Gift certificate
16. Journal
17. Keychain
18. Lip balm
19. Make up mirror
20. Nail polish
21. Novelty Items (figurines, inspirational photos in frames)
22. Picture frame
23. Potted plant
24. Serving Tray (love this beautiful scripture tray)
25. Specialty tea and coffee
26. Stationery and pen set
27. T-shirt (with church or ministry design or inspirational)
28. Windchime
30. Writing supplies (colored pens, notepads or sketchbooks)
Fun door prizes keep people coming to sessions and staying until the end. They offer a 'brain break' which makes for the best experience overall.
For variety, these party bag ideas would surely bring a smile to everyone's face.
There's just no doubt about it – when retreat-goers walk away with a special prize, they feel special.
Even those who don't end up winning seldom walk away upset. Just the excitement and the possibility of winning keeps the energy upbeat.
Whatever you decide to give the ladies will be perfect, I'm sure. Keep in mind that the more you give, the more excited they'll be. Have fun!
What are some of your favorite door prizes to give or to get? Let me know in the comments below.
Looking for more Christian women's retreat resources? You might like these:
101 Retreat Themes for Christian Women's Retreats
How to Plan a Women's Retreat (free checklist included)
Christian Women's Retreat Registration Forms
Popular Retreat Door Prizes
These retreat door prizes are some of the favorites, so we try to use them at each retreat. I'm sure you'll find some good ones here, too.
Want to remember this? Post 30 Most Popular Door Prizes to your favorite Pinterest board!