Putting Pieces Together Women's Retreat Theme
Putting pieces together of our life can be difficult, but God is always there with us, loving us and wanting us to reach for Him.
In the Putting Pieces Together retreat theme, you'll find thoughts, ideas, recommended scriptures, activities, songs, and more.
Feel free to use the ideas you need and leave the rest…or use them all.
As always, if you have ideas to add, please comment in the comment section below the post or send an email to julie (at) lovingchristministries (dot) com.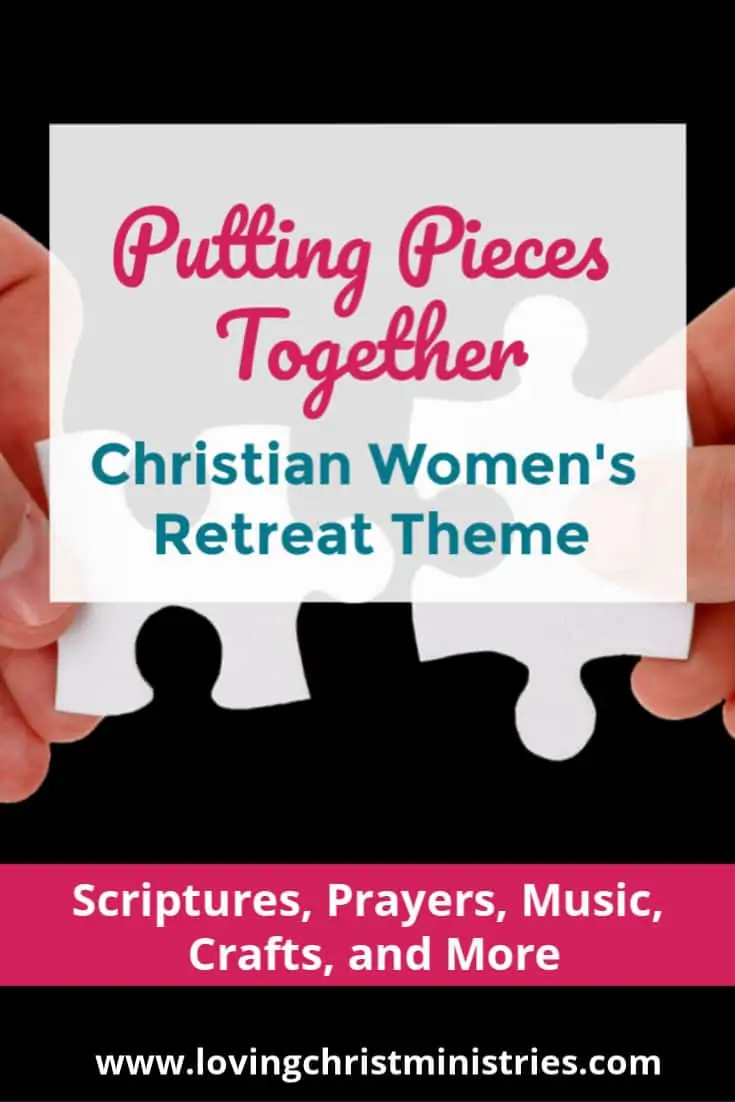 PUTTING PIECES TOGETHER NARRATIVE:
Life is like a puzzle with a variety of pieces interlocking to create a masterpiece. Sometimes the pieces look like they fit. You try to force them together, but it just doesn't work. They bulge and bend and sometimes even break.
When we try to force pieces of our life together that aren't meant to be, our hearts bulge and bend and sometimes even break.
When we find the pieces that do fit, the joy and ease of the flow of seeing the picture that emerges is beautiful. No matter how we put our pieces of life together, God is always there with us, loving us, encouraging us, and wanting us to reach for Him so that we know Him as our Father.
PUTTING PIECES TOGETHER SCRIPTURES:
Psalm 30:2 Lord my God, I called to you for help, and you healed me.
Proverbs 3:5 Trust in the Lord with all your heart and lean not on your own understanding.
Philippians 4:6 Do not be anxious about anything, but in everything, by prayer and petition, with thanksgiving, present your requests to God.
John 10:10 The thief comes only to steal and kill and destroy; I have come that they may have life, and have it to the full.James 1:2-3 Consider it pure joy, my brothers and sisters, whenever you face trials of many kinds, because you know that the testing of your faith produces perseverance.
Check back here for more scriptures that go along with the Putting Pieces Together theme.
Putting Pieces Together Upgrade Bundle
Buy the Putting Pieces Together retreat theme bundle. The bundle includes step-by-step directions, an opening prayer, a theme-specific speaker's outline, scriptures, table talk cards, small group discussion questions, individual reflection questions, and more: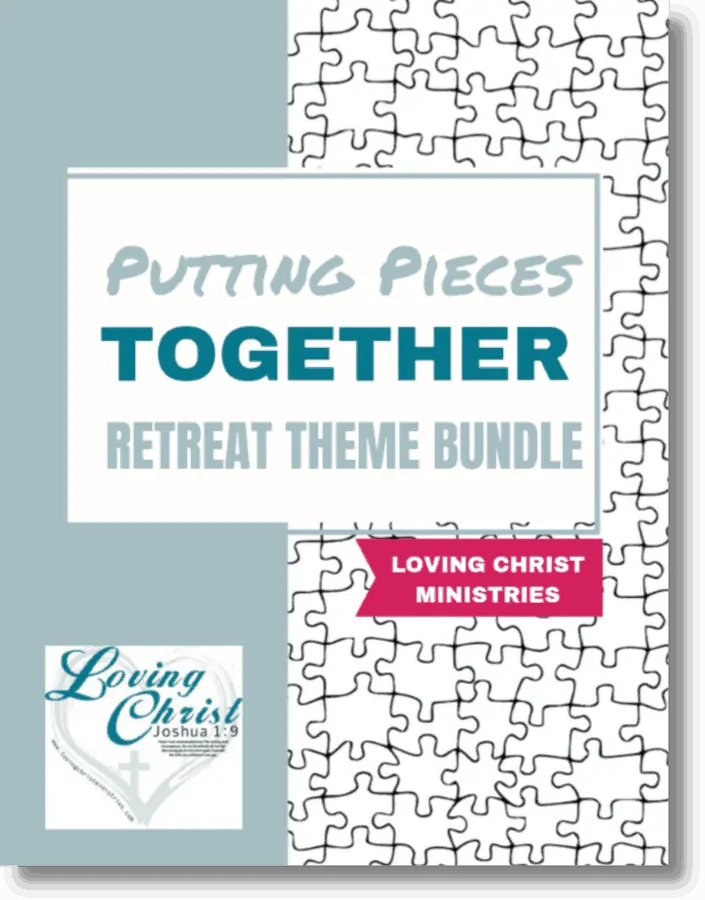 PUTTING PIECES TOGETHER ICEBREAKERS:
Getting to Know You Bingo:
This fun Getting to Know You Bingo icebreaker will help the women come together and know each other better through fun and laughter. Plus, it comes with free bingo cards!
Common Pieces:
Divide into pairs and have the ladies discover five things they have in common. Once everyone is ready, continue pairing up with different people to learn about each other until the time allotted for this activity is over.
PUTTING PIECES TOGETHER RETREAT GAMES/ACTIVITIES:
Prayers Are Powerful:
Praying for others is an important part of God's plan of putting our life pieces together. This Prayers are Powerful activity is a special way for the ladies to feel closer to one another throughout this retreat.
Life is Puzzling:
Divide the ladies into four groups. Provide four different puzzles and challenge each group to put their puzzle together. After a set amount of time, have them discuss the analogy of life being compared to the puzzle pieces.
PUTTING PIECES TOGETHER SMALL GROUP DISCUSSION QUESTIONS:
What is something that comes to your mind about the comparison of the pieces of life and the pieces of a puzzle?
How do you know when the pieces you are trying to put together don't really fit?
How can you focus on letting God put the pieces of your life puzzle together?
PUTTING PIECES TOGETHER CRAFTS:
Friendship Puzzle Necklace
This Friendship Puzzle Necklace craft is fun for all ages. You will use puzzle pieces and cord to create a necklace. Once the ladies return back home, it will be a nice reminder of the connection that was made at the retreat.
Make Your Own Personal Puzzle
Need: Squares of cardboard; glue; several large-piece puzzles; pictures of nature or ask ladies in advance to bring personal photos. Glue picture on cardboard and let dry; lay puzzle pieces on top of picture and trace around pieces; cut out pieces. The ladies will end up with a fun home-made puzzle.

PUTTING PIECES TOGETHER SONG SUGGESTIONS:
Pieces–by Meredith Andrews (listen to it on YouTube HERE)
The Broken Pieces–by Matthew West (listen to it on YouTube HERE)
Life Song–by Casting Crowns (listen to it on YouTube HERE)
PUTTING PIECES TOGETHER DOOR PRIZE IDEAS:
PUTTING PIECES TOGETHER CLOSING PRAYER:
Dear Lord, thank you for always wanting to put the pieces of our life puzzle together. Sometimes we get in your way, but you are patiently waiting until we are ready to give the control back to you, where it belongs. Having the opportunity to share this time with other ladies who encourage and support each other is a blessing. Thank you for all that we have learned here and help us to continue to listen to your Word as it guides our way. Please be with us as we go to our respective homes. Amen.
Want to remember this? Post this Putting Pieces Together Theme to your favorite Pinterest board!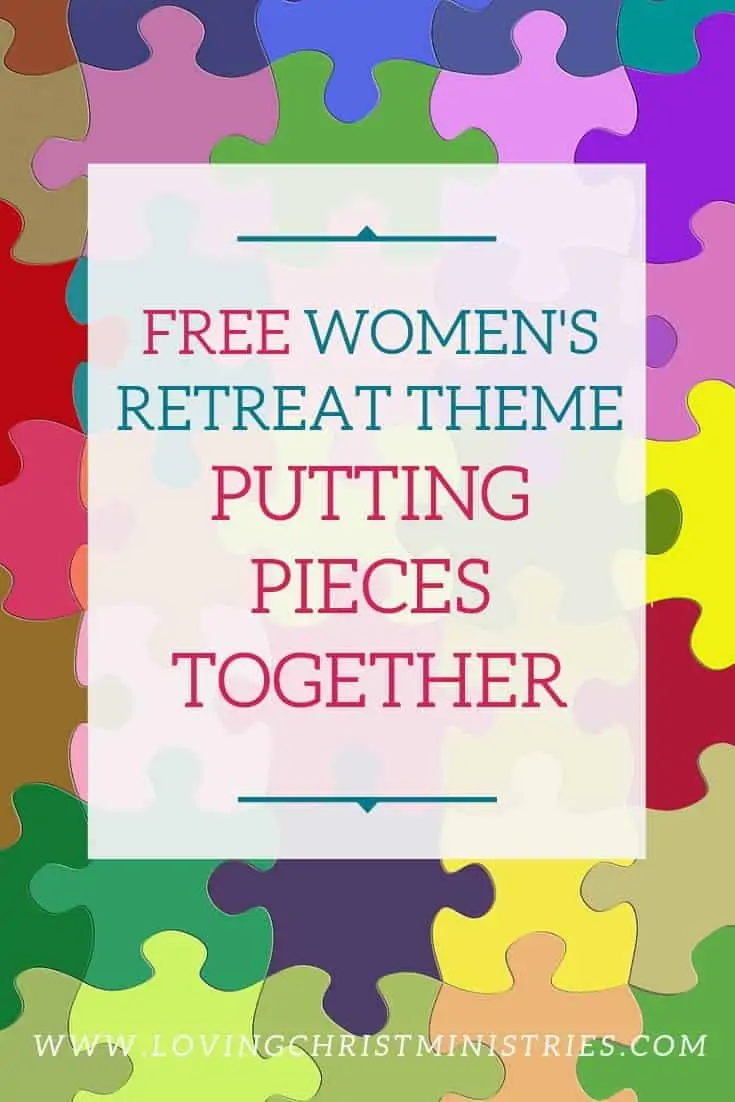 Putting Pieces Together Upgrade Bundle
Buy the Putting Pieces Together retreat theme bundle. The bundle includes step-by-step directions, an opening prayer, a theme-specific speaker's outline, scriptures, table talk cards, small group discussion questions, individual reflection questions, and more: