Knowing which retreat planning forms to start with makes the whole process of organizing so much easier! Start here to learn which forms you need from the very beginning.
Planning can be overwhelming, especially if you're just a 'regular' girl (albeit a grown-up girl haha) like me with no training and not much experience organizing women's ministry events.
Years ago, when I first heard God's call on my life to bring women together for support and encouragement in His name, I thought I surely must be mis-hearing Him. Why me? Weren't there so many others more qualified?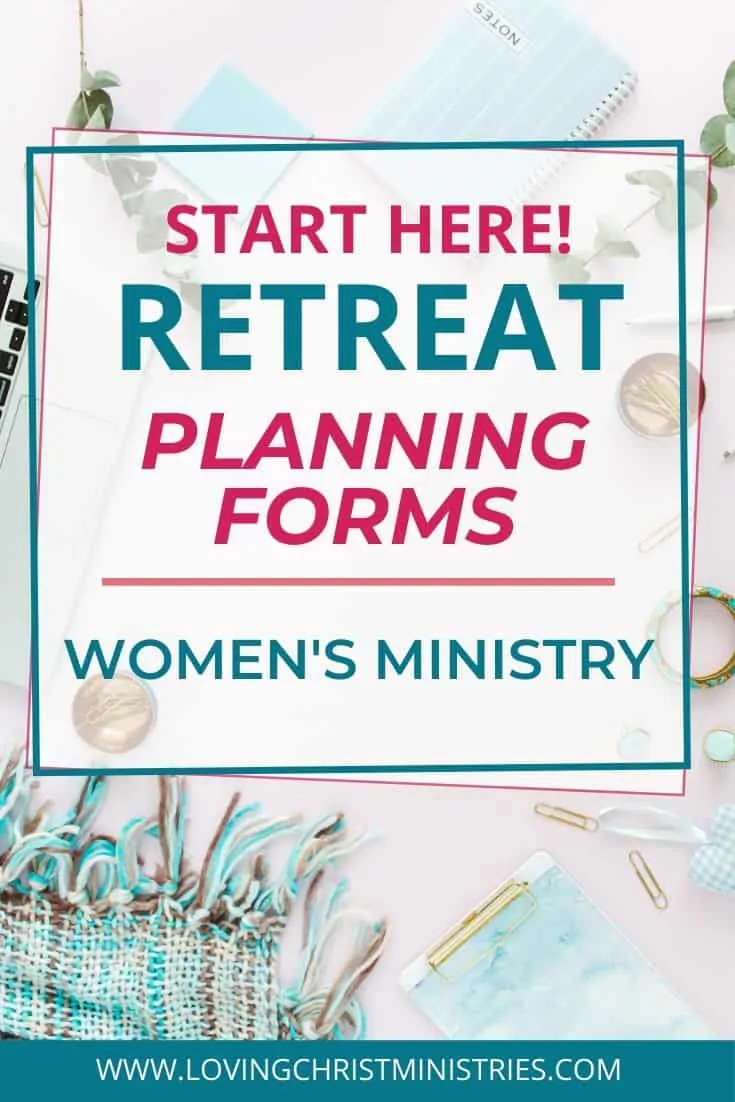 Retreat Planning Forms – Where to Start
Thinking back to how unsure I was that I could follow God's desire for me reminds me of Moses suggesting his brother, Aaron, to go instead of him. He knew Aaron was more qualified.
But as the popular saying goes, God doesn't call the qualified; He qualifies the called.
Getting through those fears took a little time, but I kept trusting God and pushing forward. After organizing several successful retreat and feeling such fulfillment in them, I knew that I could do more.
It also became evident to me that I had a way I could help others beyond holding retreats. As a computer teacher in my 'day job', creating forms and documents comes easily to me and I love to create digital documents.
Because I hadn't been able to find many resources to help me organize and plan, I created my own from the very beginning.
Women's ministry leaders from all over plan retreats on a regular basis.
What if I could help them prepare by creating templates of the forms and flyers they needed?
I know many people don't know how or simply don't have time to design and create everything. My forms could help!
I created Your Complete Guide to Planning a Christian Women's Retreat in order to give retreat leaders easy access to my entire process. If you want step-by-step guidance with me to help along the way, be sure to check out the guide HERE.
You can also find each individual form in the Loving Christ store.
If you'd like to simply create your own forms, let me help by showing you the five most practical forms you'll want to create. You can click through on most to see more ideas on what we include and how we use each form.
Before creating your forms, be sure to pick your theme so the title and graphics on your forms all go together and convey the purpose of the retreat.
Start with these 5 Most Practical Retreat Planning Forms
First, consider the promotion of your event. You'll want to create flyers to post around the church and at local businesses such as Christian bookstores and coffee shops.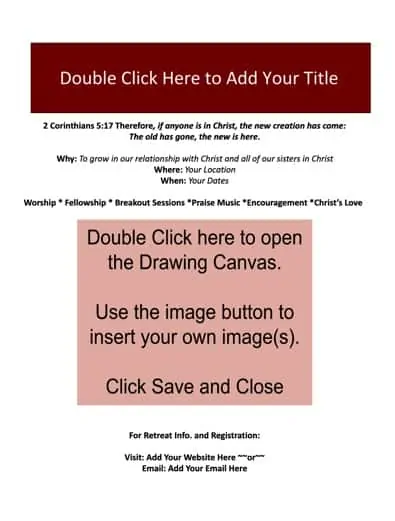 Next, you'll need to have a way for ladies to sign up for your retreat. You can offer printed forms, online forms, or both. For printed forms, use either a full page form or a tri-fold form. The easiest way I've found to make an online form is with Google Forms (plus, it's free).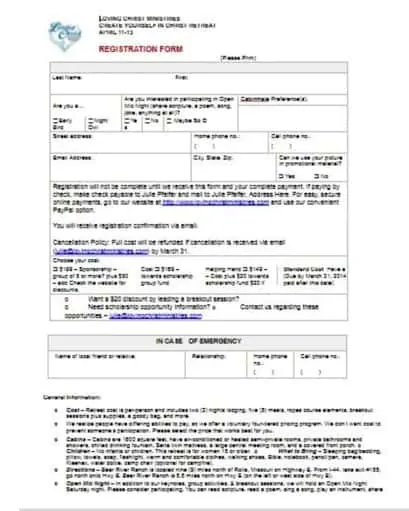 Brochures can be used for two purposes: promotion and registration. I like to hand them out at events to promote upcoming retreats.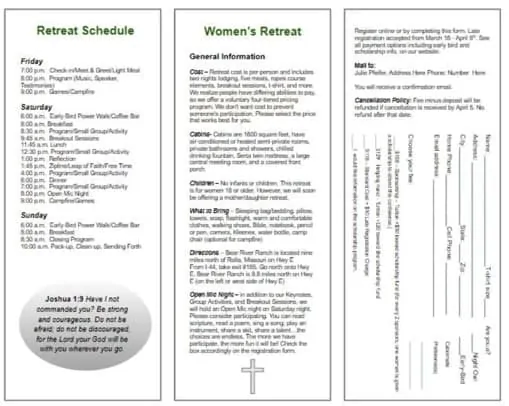 Having an itemized agenda will help both leaders and attendees. We also make two versions. One has a general outline with times for the attendees. The other has specific information such as leaders' names who are in charge of each section or activity.
It's important to get feedback in order to know what you did right and what you might want to change up the next time. We've received valuable feedback and some great testimonials through our exit surveys. You'll definitely want to have one.
Of course there are many more forms and resources you'll want but if you begin with these 5 retreat planning forms, you'll be off to a great start!
Don't forget to pick your theme so you can include the title and key scriptures on all your forms!
Practical Retreat Planning Forms
Start with these practical retreat planning forms when organizing a Christian women's retreat.
You might also like these retreat planning posts:
How to Plan and Organize a Women's Retreat
20 Activity Ideas for Christian Women's Retreats (from Ministry Leaders)
Our Most Popular Retreat Crafts
Planning Food for a Women's Retreat
7 More Teams for Retreat Planning
Want to remember this? Post this Start Here – 5 Practical Retreat Planning Forms to your favorite Pinterest board!