Christian Women's Retreat Registration Forms
You wouldn't think retreat registration forms would be difficult to figure out, but I struggled with what all to include and how to format everything.
Many of the older ladies in my church didn't have access to or didn't know how to use online forms.
Because of that, I wanted to make sure to provide printed forms for them.
Related Post: Sample Retreat Agendas
However, online forms make registration so much easier to collect and organize the data.
I manually enter printed forms into my spreadsheets and with the online forms, especially since I've begun using Google Forms, it all enters automatically. Whew! I love this time saver.
So, you have to find the fine line between making sure you have registration available for all women and also ensuring you won't have to spend hours of your valuable time doing data entry just to get your registration information organized.
Related Post: How to Plan a Women's Retreat (checklist included)
Customizable Registration Forms
In the Loving Christ Ministries shop, you can get customizable form templates.
You'll be able to tweak them, save them as PDF, and share them with your potential retreat participants.
You do have to have a Google account to customize these templates, but it's free.
Click here to purchase —>>> Registration Custom Templates
Here's what you'll get:
Full-page registration form template to customize
Tri-Fold registration form template to customize
Online registration form to customize
Click here to purchase —>>> Custom Templates
Free Registration Form to Download and Print
If you don't need anything fancy, you might want to simply download this free registration form.
There aren't any bells and whistles, but it should work well for basic information.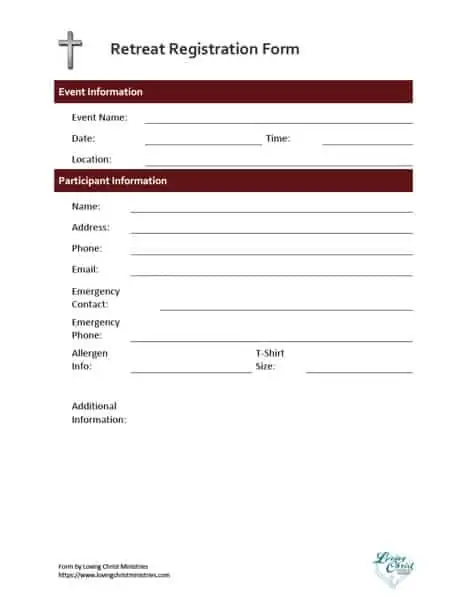 Want to remember this? Save these Registration Forms for Women's Retreat to Your Favorite Pinterest board.