Scriptures to know our identity in Christ help direct us along our way. Being able to pull away from the labels the world puts on us isn't easy. We need reminders we can cling to in order to live a life that show who we are in Him.
It took a long time for me to figure out who I am. I wish I hadn't taken so long to understand that once I'm Christ's child, He defines me. I thought I was the only one who didn't 'get it' from the start, but I've come to learn that many other women struggle to know their identity.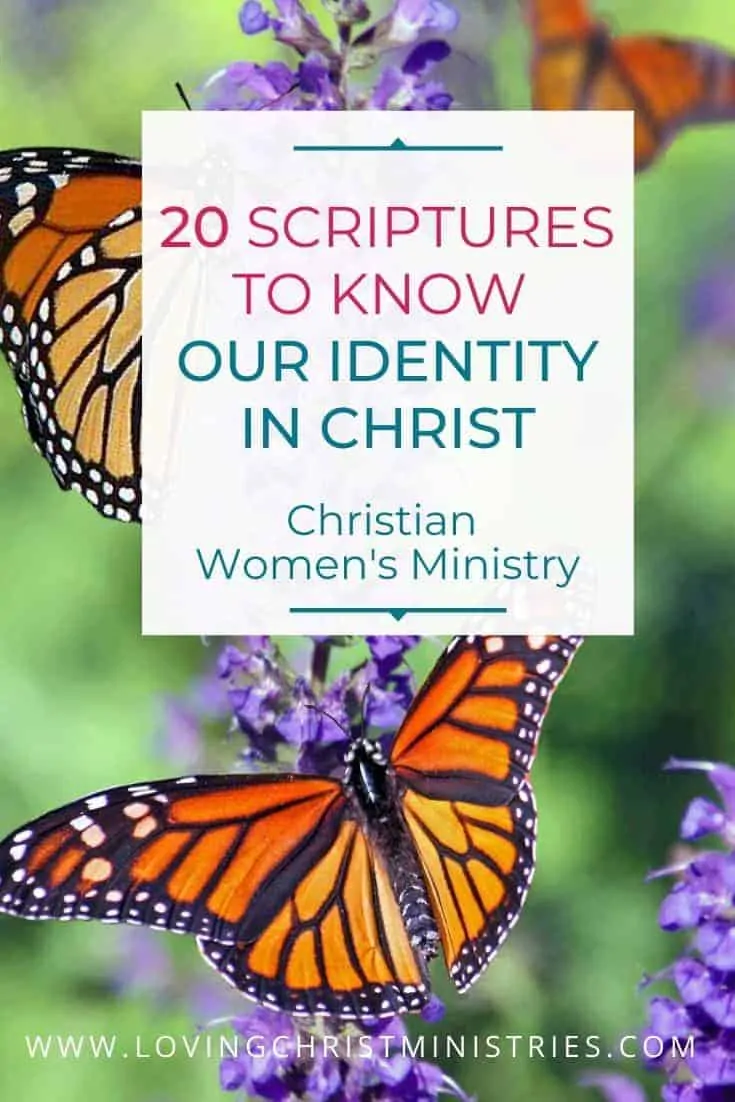 After all, the world tells us so many things, and the world is LOUD. It's in the quiet moments with God that we begin to truly understand our true identity and what that means for us and for His Kingdom.
I've put together this list of scriptures to help you know when God speaks to you. They go perfectly with the Our Identity in Christ theme, and you might also like to keep them handy as reference for yourself. You'll find a link to print them at the end of this post.

How to Know Our Identity in Christ Scriptures
John 1:12 But to all who did receive him, who believed in his name, he gave the right to become children of God — children born not of natural descent, nor of human decision or a husband's will, but born of God.
Romans 15:7 Accept one another, then, just as Christ accepted you, in order to bring praise to God.
Colossians 2:9-10 For in Christ all the fullness of the Deity lives in bodily form, and in Christ you have been brought to fullness. He is the head over every power and authority.
1 Corinthians 6:17 But whoever is united with the Lord is one with him in spirit.
Romans 6:6-7 For we know that our old self was crucified with him so that the body ruled by sin might be done away with, that we should no longer be slaves to sin because anyone who has died has been set free from sin.

Genesis 1:27 So God created mankind in his own image, in the image of God he created them; male and female he created them.

Jeremiah 1:5 Before I formed you in the womb I knew you, before you were born I set you apart; I appointed you as a prophet to the nations.

1 Corinthians 12:27 Now you are the body of Christ, and each one of you is a part of it.

1 John 3:1 See what great love the Father has lavished on us, that we should be called children of God! And that is what we are! The reason the world does not know us is that it did not know him.
Colossians 3:1-3 Since, then, you have been raised with Christ, set your hearts on things above, where Christ is, seated at the right hand of God. Set your minds on things above, not on earthly things. For you died, and your life is now hidden with Christ in God.
Romans 8:28 And we know that in all things God works for the good of those who love him, who have been called according to his purpose.

1 Corinthians 6:19-20 Do you not know that your bodies are temples of the Holy Spirit, who is in you, whom you have received from God? You are not your own; you were bought at a price. Therefore honor God with your bodies.

Ephesians 1:7 In him we have redemption through his blood, the forgiveness of sins, in accordance with the riches of God's grace.

John 15:16 You did not choose me, but I chose you and appointed you so that you might go and bear fruit—fruit that will last—and so that whatever you ask in my name the Father will give you.

1 Peter 2:9 But you are a chosen people, a royal priesthood, a holy nation, God's special possession, that you may declare the praises of him who called you out of darkness into his wonderful light.

Galatians 2:20 I have been crucified with Christ and I no longer live, but Christ lives in me. The life I now live in the body, I live by faith in the Son of God, who loved me and gave himself for me.

Ephesians 2:10 For we are God's handiwork, created in Christ Jesus to do good works, which God prepared in advance for us to do.

Romans 8:37 No, in all these things we are more than conquerors through him who loved us.

Psalm 139:14 I praise you because I am fearfully and wonderfully made; your works are wonderful, I know that full well.
1 Corinthians 5:17 Therefore, if anyone is in Christ, he is a new creation; old things have passed away; behold, all things have become new.
What Happens When We Learn Our Identity
We Understand How Much We're Loved
People typically look to others for love and can have a skewed concept of what love actually is.
We Acknowledge Our Blessings and Strive to Bless Others
Being able to view all of our blessing in the obvious and in the not-so-obvious, opens up a whole new avenue for us to allow Christ to live through us. Through our faith and our actions, Christ blesses others.
We Recognize Our Worth because of Christ Within
No matter what we do in our daily lives, if we don't understand our worthiness from Christ within us we won't be open to allowing Him to work through us.
Ways Knowing Our Identity in Christ Changes Us
We no longer regret the past.
We are a new creation in Christ and can begin looking forward to the future rather than back at past trials.
We no longer fear the future.
When Christ lives in us, we have no need to fear anything on this earth.
We don't need to compare ourselves to others.
When we know our identity in Christ and seek to please only Him, there's no need for us compare ourselves to anyone. What a weight lifted!
More Scriptures for Women's Retreats:
101 Retreat Theme Ideas for Christian Women
20 Inspiring Scriptures for When You Dare to Dream
16 Scriptures about Joy
20 Scriptures to Know God Speaks to You

More Scriptures for Women's Retreats
WANT TO REMEMBER THIS POST? SHARE IT TO YOUR FAVORITE PINTEREST BOARD!