Slow Cooker Baked Potatoes | Perfect for Large Groups
If you decide to offer meals at your next retreat or group gathering, these slow cooker baked potatoes will be a huge hit.
We love to serve them as a side and often have them close to our salad bar.
The ladies can top them with all kinds of salad bar goodies plus we add a few more condiments on the side for them.
These potatoes make a great main meal, too. They can be topped with our slow cooker shredded chicken or taco meat for a delicious, filling meal. Yum!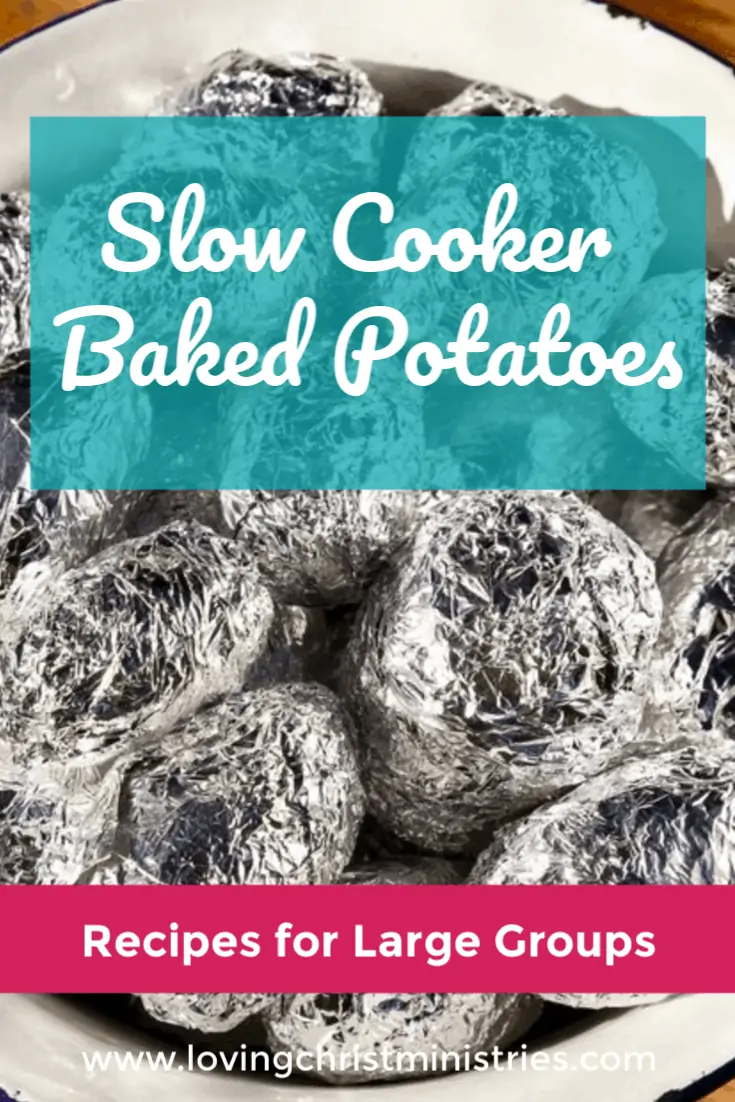 Here's how to make these slow cooker baked potatoes:
Ingredients
-6-8 small to medium baked potatoes per slow cooker
-salt
-olive oil
-aluminum foil
Directions
Prick each potato multiple times with a fork. Rub olive oil on each potato and lightly salt. Wrap each one tightly in foil and place in slow cooker. Cook on high for 4 hours or low for 8 hours.
That's it!
Be careful removing them from the slow cooker. They are hot! I use tongs to pull them out.
Since I only have one crockpot, I usually ask my retreat team to each bring one (if they have one) to the retreat/church kitchen when I'm setting up.
That way, everything is there and ready to go. I've even prepared the potatoes beforehand and then cooked them on the retreat day so they'd be fresh.
If you try this or if you have other ideas to share, I'd love to hear in the comments below!
Looking for more recipes for large groups you can use at your retreat or event? Try these out:
Simplest Slow Cooker Shredded Chicken
Slow Cooker Taco Meat for a Large Group
Hearty Vegetable Soup for a Group
WANT TO REMEMBER THIS POST? SHARE IT TO YOUR FAVORITE PINTEREST BOARD!