In the Something Beautifulretreat theme, you'll find thoughts, ideas, recommended scriptures, activities, songs, and more.
Feel free to use the ideas you need and leave the rest…or use them all.
As always, if you have ideas to add, please comment in the comment section below the post or send an email to julie (at) lovingchristministries (dot) com.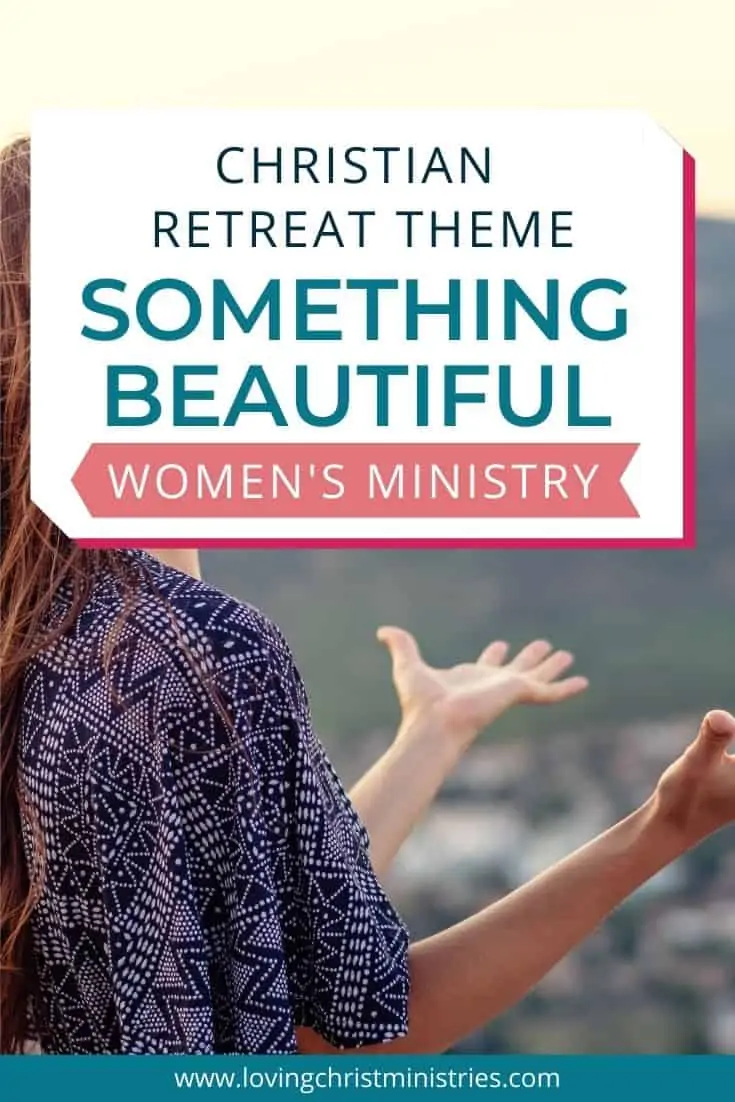 SOMETHING BEAUTIFUL: CHRISTIAN WOMEN'S RETREAT THEME
God makes something beautiful out of all of us. We are his children and He loves us.
Even though we may not feel beautiful at times in our lives, it is important that we are reminded of those facts daily. In Him and through Him, we are beautiful.
Staying close to our Christian friends, through our day-to-day activities as well as attending retreats such as these, are wonderful ways to achieve that goal.
SOMETHING BEAUTIFUL SCRIPTURES
1 Peter 3:3-4 Your beauty should not come from outward adornment, such as elaborate hairstyles and the wearing of gold jewelry or fine clothes. Rather, it should be that of your inner self, the unfading beauty of a gentle and quiet spirit, which is of great worth in God's sight.
Ephesians 2:10 For we are God's handiwork, created in Christ Jesus to do good works, which God prepared in advance for us to do.
Related Post: 101 Retreat Theme Ideas for Christian Women
Genesis 1:27 So God created mankind in his own image, in the image of God he created them; male and female he created them.
Isaiah 40:8 The grass withers and the flowers fall, but the word of our God endures forever.
Ecclesiastes 3:11 He has made everything beautiful in its time. He has also set eternity in the human heart; yet no one can fathom what God has done from beginning to end.
SOMETHING BEAUTIFUL UPGRADE BUNDLE
BUY THE SOMETHING BEAUTIFUL THEME BUNDLE BY CLICKING HERE OR ON THE IMAGE BELOW.
SOMETHING BEAUTIFUL ICEBREAKERS
I Am Blessed:
Have everyone stand in a circle. If you have more than 20 ladies, divide them into two groups. Have the ladies take turns going around the circle. They should introduce themselves and then complete the sentence, I am blessed because…
Icebreaker Question:
Ask the ladies to share one of their favorite hobbies.
SOMETHING BEAUTIFUL RETREAT CRAFTS/ACTIVITIES
DIY Photo Tile Magnets
These diy photo tile magnets on The Frugal Girls website will make a fun take-away from this retreat. You can let the ladies know ahead of time to bring pictures or you can provide magazines where they can select pictures out of those.
Floral Arrangements
Find a variety of bottles (such as soda bottles, vases, etc.) at your local thrift store or antique store and provide a variety of artificial flowers and accessories. The ladies can create their own 'something beautiful' out of these items.
DIY Indoor Wreaths
These beautiful wreaths are a perfect craft at a Something Beautiful retreat.
DIY Floral Centerpieces
Make these simple yet beautiful centerpieces for your retreat tables.
SOMETHING BEAUTIFUL SMALL GROUP DISCUSSION QUESTIONS
1. What is your definition of beautiful?
2. Do you feel beautiful? If so, please explain. If not, why not?
3. Tell us about a friend or family member who makes you feel beautiful?
SONG SUGGESTIONS:
Beautiful Things–by Gungor (listen to it on YouTube here)
Beautiful–by Mercy Me (listen to it on YouTube here)
Beautiful, Beautiful–by Francesca Battistelli (listen to it on YouTube here)
DOOR PRIZE IDEAS
Never lose an opportunity of seeing anything beautiful, for beauty is God's handwriting hoodie
DayDream Bath Salt/Epsom Salt with Frankincense, Jasmine, Cedarwood, Sandalwood, and Camomile Essential Oils
CLOSING PRAYER
Dear Lord, thank you for opportunities such as these to remind us that you make something beautiful out of us. You have created each one of us to be special in your image. Help us to always strive to nurture ourselves so that we may grow closer to you. And, please give us courage so that we can share our unique light in a way that glorifies you. As we head to our different homes, please help us to embrace our inner beauty and to encourage and uplift others in their journey. Amen.
If you liked this post, you might like these others about Christian women's retreat themes:
101 Retreat Theme Ideas for Christian Women
Free – Joy in Jesus Retreat Theme
Free – Fall in Love with Jesus Retreat Theme
Where Friends Gather – Free Retreat Theme
SOMETHING BEAUTIFUL UPGRADE BUNDLE
BUY THE SOMETHING BEAUTIFUL THEME BUNDLE BY CLICKING HERE OR ON THE IMAGE BELOW.
WANT TO REMEMBER THIS POST? SHARE IT TO YOUR FAVORITE PINTEREST BOARD!