50+ Summer Fellowship Ideas for Women's Ministry
If you're looking for summer fellowship ideas for your women's ministry, look no further.
In this article, I'm sharing with you more than 50 ideas for fellowship. Some of these are activities that I've done in the past with my group and others are ideas sent in by other women's ministry leaders.
Both busy schedules and miserable temperatures make it difficult to find fellowship ideas. However, you're sure to find at least one (and probably more) activities you can put together here that'll take little prep and keep everyone cool.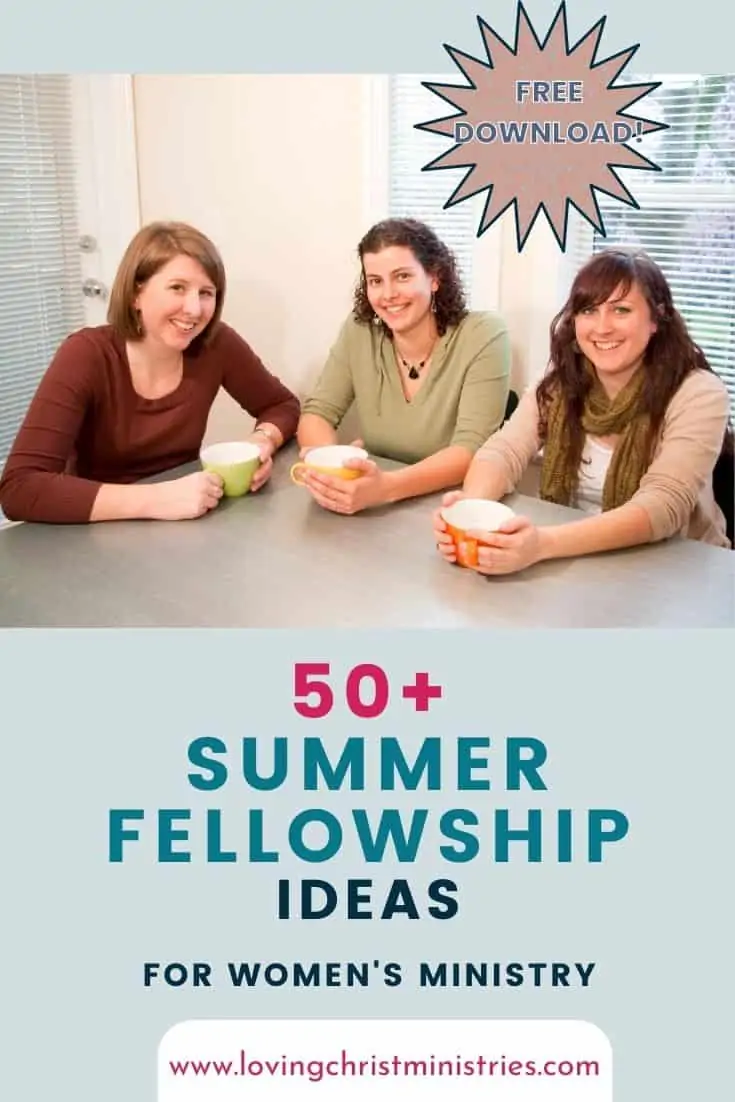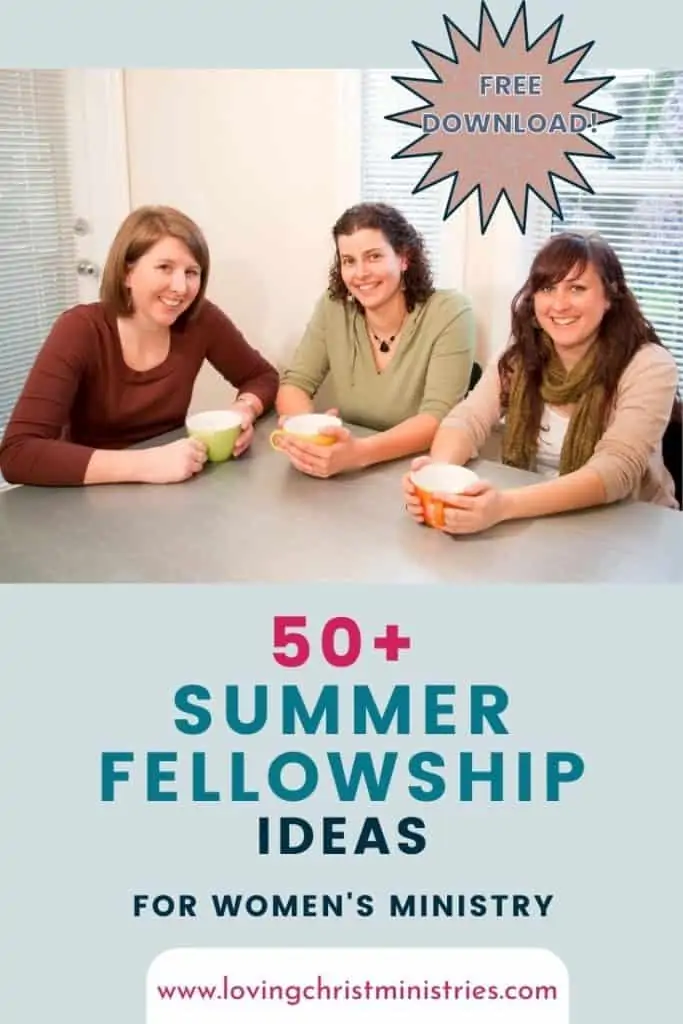 How to Use this List
The quick way to use this list is to scan through and choose an idea or two for your group.
But wait! I have a suggestion that will make your fellowship more interested (and fun!)!
Scroll down to the end of the list and find the instant download of the ideas. Save and print. Then, cut out the ideas into strips, fold them in half, and place them in a jar.
Get everyone involved and choose one person to draw out an activity. This will be your first (or next) summer fellowship activity.
Related Post: Outdoor Activity Ideas for Summer Retreats
50+ Summer Fellowship Ideas
Pot-luck brunch
Meet for coffee
Short (4 week) Bible study
Movie night indoors
Movie night outdoors
BBQ/Cookout
Game night
Pool party
Beach day (or lake, river, etc.)
Garden tour
Make homemade dog treats for your local animal shelter
Exercise club
Walk and talk
Meet for lunch
Mall shopping
Water park
Amusement park
Sightseeing
Spa day
Prayer club
Crochet/Knit club
Talent show
Afternoon tea
Cookie exchange
Attend a concert
Escape Room
Farmer's market
Summer book club
Summer fun choir
Ice cream social
Paint rocks
Sip lemonade and talk
Nature walk
Feed the ducks
Visit the library
Scavenger hunt
Take a painting class
Outdoor yard games
Play tennis
Play golf
Play pickleball
Paint each others nails
Have a prayer meeting
Volunteer in the community together
Bake together
Clean and straighten the church library
Printable Summer Fellowship List
Get the printable version of the summer fellowship ideas. Cut out the ideas in strips, fold, and place in a jar. Choose one idea and go with it!
There are so many fellowship ideas so that you and your ministry family can stay close over the summer.
Nothing you do has to be intricately planned or any big to-do. Keep the focus simply on being together.
What fellowship activities do you plan in the summer time? I'd love for you to share in the comments below!
WANT TO REMEMBER THIS POST? SHARE IT TO YOUR FAVORITE PINTEREST BOARD!