30 Summer Scripture Prayer Cards – Free Downloads
The idea of creating summer scripture prayer cards came to me as I sat in prayer asking God how I can best help women's ministry leaders.
While I do have the Loving Christ shop where I love selling large package resources for retreats and other ministry events, I knew that you didn't always need the 'big' things.
Sometimes it's nice just to have something small and special to gift both the ladies on your ministry team and the ones you minister to.
Printable Gifts for You and Your Ministry Group
The SVG cut files I've been making have been downloaded over 1,000 times so far! That makes me so happy.
Whether you use those files as images to add to worksheets and handouts or as cut files to decorate mugs or shirts, I'm thrilled to see so many people find value in them.
If you haven't had a chance to see them yet, visit these links:
Free Jesus and Prayer SVG Cut Files
Free Scripture Wreath SVG Cut Files
Elegant Floral Wreath SVG Cut Files
Our monthly printable freebies have been popular, too. Each month, I create new designs of several printables you will find helpful both personally and as a ministry leader.
You can find those here:
February Printables for Women's Ministry
March Printables for Women's Ministry
April Printables for Women's Ministry
May Printables for Women's Ministry
Why I Decided to Create these Prayer Cards
I will keep making the SVG cut files and the monthly printables, but I knew I wanted to create more for you!
That's when I heard God tell me which direction I needed to go next.
Our scripture prayer cards are THE most popular printable we have. Unique prayer cards are included in all of the theme bundles and in the monthly printables.
Seasonal cards popped into my head, and that's how I got the idea to create these summer scripture prayer cards.
Of course, I will do them for each season as well.
I hope you enjoy using them as much as I enjoy making them!
How to Download the Summer Scripture Prayer Cards
All 30 prayer cards are below. They come six to a sheet. Click on the text link or the image to immediately open and save/download the cards.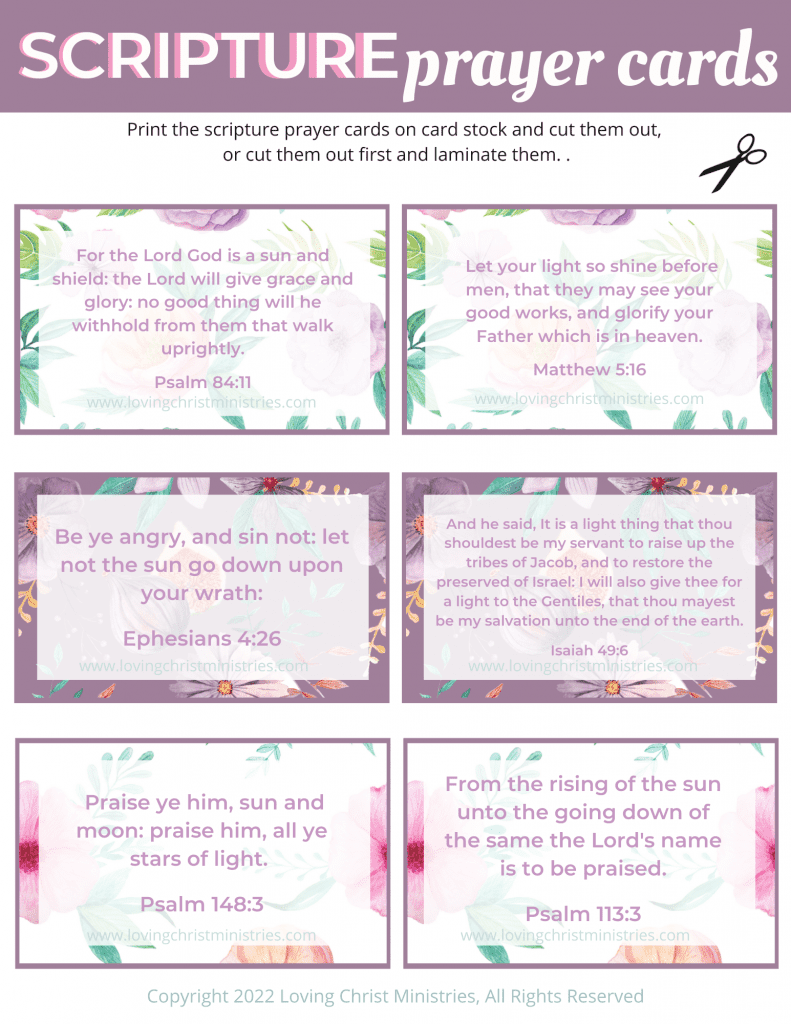 Ideas for Using the Scripture Prayer Cards
Read all about ways you can use scripture prayer cards as a ministry leader or personally in the article, Meaningful Ways to Use Scripture Prayer Cards.
Here are a few ideas for use here:
For Use as a Ministry Leader
Print on card stock or laminate them to give to each event participant
Add cards to retreat folders
Print one set per table
Have ladies choose one card and spend quiet time praying and reflecting on the verse.
For Personal Use
Scatter around the house and when you come upon one, stop and pray.
Read each scripture aloud. Pray and thank God for His guidance.
Shuffle the cards and choose the one best for your current situation.
Use as bookmarks to keep God's Word close.