Outdoor Activity Ideas for Summer Christian Women's Retreats
With summer here, it can be difficult to find outdoor activities for your women's retreats.
While it's certainly okay to spend a one day retreat inside in the air conditioning, it's still good to get the ladies up and moving.
Being outside and if possible, in nature, helps us filter out daily distractions and connect closer with God.
Obviously, your retreat venue makes a difference, but even if you're in a city, hopefully you have access to a park, small yard, or garden area to give your ladies quiet outdoor time.
No matter what your theme, if you can get those ladies outside for even 10-15 minutes, they'll benefit.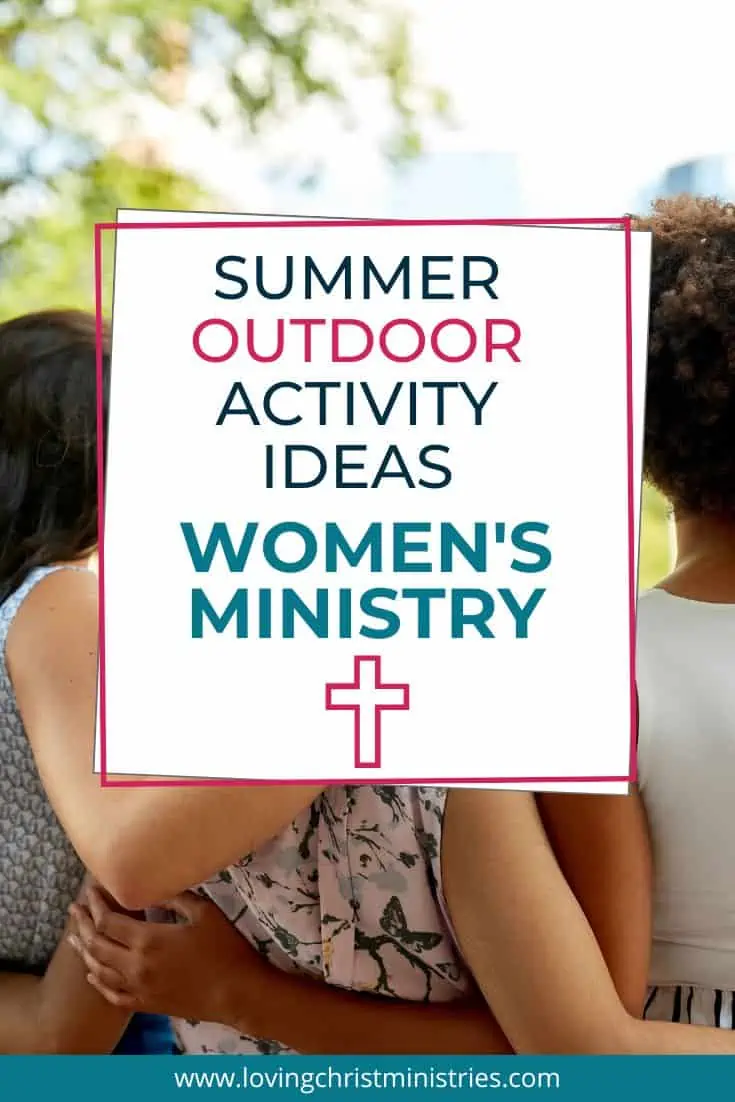 Outdoor Activity Ideas for Summertime Christian Women's Retreats
One Day Retreats
Late morning, have the ladies take their bible and their retreat notes and find a cool spot outside in the shade to read and reflect on the retreat message. Send along extra reflection questions.

Break the ladies in teams and send them on an outdoor scavenger hunt. When they return, be sure to 'reward' them with cold drinks and an ice cream bar.

Take a short nature walk together

Plan one of your icebreaker activities for out on the lawn. Take out some folding chairs for any of the ladies who may need to sit.
Whatever you decide, make sure you just have the women out in the heat for a short time. Try to plan to be in an area where there's plenty of shade.
Related Post: 50+ Summer Fellowship Ideas for Women's Ministry
Multi-Day Retreats
Schedule more outdoor reflection time throughout the day in 10-15 minute chunks of time. This helps break up the lessons and gives the ladies time to connect with God on their own. Be sure to assign a purpose for their reflection time so that they have a goal in mind on what to think and pray about.

Take a nature walk early in the morning. At our weekend retreats, we have an early-bird nature walk scheduled and anyone who wants to go meets at the designated time and place to all go together.

Even in the summer, a late evening campfire/fire pit can be a great way to enjoy the outdoors. In Missouri, it typically drops down cool enough where we aren't miserable outside after dark. However, in southern Oklahoma, the nights were too steamy, so take your own location into consideration.

Plan a few water activities. Many ladies don't want something so extreme as to have to wear their bathing suit, but I was pleasantly surprised by the moms and even grandmas who got a kick out of a water balloon toss game and out of squirt guns. I know that sounds silly, but the water cooled us off without getting us soaked and the laughter brought everyone closer together.
Summer retreats don't have to be limited to indoor activities. Just always remember to provide plenty of water, water breaks, and time to cool down. Your ladies will love getting a chance to connect with God and with each other through time spent together outdoors.
---
You might also like these women's retreat icebreakers:
Get to Know You Icebreaker (with free printable)
Colorful Candy Confession Icebreaker
WANT TO REMEMBER THIS POST? SHARE IT TO YOUR FAVORITE PINTEREST BOARD!