What Do You Do at a Women's Retreat?
If you've ever asked the question what do you do at a women's retreat, you're not alone. So many times, I've heard women ask what lessons will be taught, what activities will be included, and so on.
Until you've actually attended a retreat, you won't really know how they work and what you can expect.
That's why I've put together this article to let you know the usual answers to the question of what do you do at a women's retreat.
In this post, you'll get the answers to these questions and more:
What do you do at a women's retreat?
What can I expect at a women's retreat?
What activities are included in the retreat?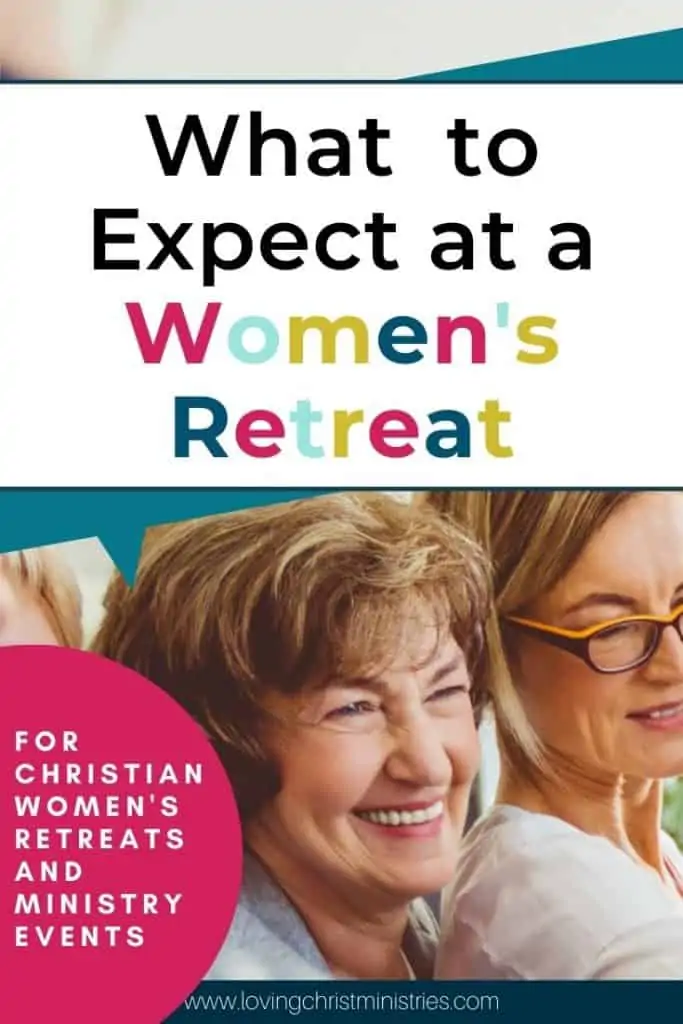 Welcome and Purpose
Typically when you first arrive, you'll find a check-in table. There, you will sign in, get a name tag and usually some kind of program.
You might receive a folder with paperwork and at some retreats you may get a 'goody' bag with various kinds of small items to help you stay comfortable.
We usually include a pen, small notebook, trial size hand sanitizer, pocket pack of tissue, a pack of gum, a few mints, and any coupons we've gathered from local businesses.
Icebreakers/Games
The types of icebreakers and games you play at the beginning of the retreat may depend on how well you know one another.
Of course, the whole object of an icebreaker is to get to know the other participants. But if you're on a retreat with a church group you've been with for years, you have a different relationship than a group of strangers.
If you're with ladies you don't know well, then a light-hearted icebreaker works the best. The further you get into a retreat, the deeper you can get with icebreaker questions.
Many retreats offer various icebreakers and games throughout the whole event. They work very well to provide fun and laughter which develops an unrivaled closeness among the participants.
A few of our favorite icebreaker activities are:
And if you are looking to get into deeper icebreaker questions, you might like Deep Icebreaker Questions for Women's Retreats.
Sermon/Message/Theme
Every Christian women's retreat has a theme and the message plus all activities will center around that theme.
Usually, there will be a main or keynote speaker who shares a sermon or message. They may speak once or several times throughout the retreat, and they often share their testimony.
Sometimes, other women may be asked to speak to the full group and share their testimonies, too.
I strongly believe that hearing each person's individual story is one of the most effective ways to share Christ with others.
In our post, 101 Retreat Theme Ideas for Christian Women's Retreats, we give ideas for groups to use in their events.
I'm in the process of building out all of the theme title suggestions with additional resources. You can find the ones that have complete bundles with everything needed in the theme section of the Loving Christ shop.
Breakout Groups/Small Group Sessions
Not every retreat has breakout groups or small group sessions, but many do.
I like small groups because they sometimes seem a 'safer' place to share our testimonies and discuss our own trials and celebrations.
We can learn so much from each other and having the chance to share in a smaller group helps us do that plus brings us closer together.
Find some of our ideas for Breakout Session groups in Christian Women's Retreat Breakout Session Resources.
For simply small group discussion, every theme bundle comes with group discussion questions based on a particular theme.
Crafts/Activities
Many retreats have some kind of craft or other activity sessions. These may be with the whole group or in smaller groups depending on the activity and the number of participants.
It's fun to create something to have a take-away that reminds you of the retreat. Our most popular retreat crafts include polymer pens, faithful frames, and several others.
Here are some more crafts and activities we have done at our retreats:
28 Fall Crafts for Women's Retreats
20 Purposeful Activity Ideas for Christian Women's Retreats
Prayer and Quiet Time
Each retreat you attend may give you time to be alone with God. There may be quiet times for you to pray, read the Word, or simply breathe.
Sometimes, the prayer time is shared with others but only if they want.
You'll usually have the option as to how you spend your quiet time.
For group prayer, we have done this Powerful Prayer Activity more than once. It's very popular. You may have something like it at the retreat you attend.
Wrapping Up the Answer to What Do You Do at a Women's Retreat
Every retreat is different, and what I write about in this article may not cover all that you do at your next event.
However, knowing these points will help you understand a little better what to expect at a women's retreat.
WANT TO REMEMBER THIS POST? SHARE IT TO YOUR FAVORITE PINTEREST BOARD!