When Waters Rise – Peace in Difficult Times
When waters rise in our lives and it feels we're overwhelmed, there are four truths for us to remember.
This devotional encourages women and is perfect to share at a retreat or women's ministry meeting.
In fact, When Waters Rise works perfectly as a virtual devotional. During the difficult times we face now, use this devotional to encourage your women's group.
Meet online through programs such as Zoom or Google Meet and share the encouragement and the peace this devotional brings.
When Waters Rise Scripture Reading: Isaiah 43:2 (NIV)
When you pass through the waters,
I will be with you;
and when you pass through the rivers,
they will not sweep over you.
When you walk through the fire,
you will not be burned;
the flames will not set you ablaze
Look around you. Go ahead, I'll wait. Look at what is around you. No, not the laundry piling up or the stack of work that needs to be done. That stuff is always there. Look at the circumstances around you.
Do you feel like the waters are rising in your life?
Does it seem that the waves are crashing in over your head? Are the trials by fire getting closer and hotter? Are you overwhelmed by what life is throwing at you during this season of your life?
Notice two things: you are not alone, and you are not alone.
First, you are not alone because there are many people who are also going through the struggles of life that make it difficult to press on.
Second, you are not alone because according to Isaiah 43:2, the Lord promises to be with you through whatever comes in life.
The verse you just read has some truths to teach us about what we can do when the difficulties of life are growing moment by moment and becoming unmanageable. Some of those truths are merely factual while others are incredibly encouraging. Let's pull this verse apart and see what it teaches us.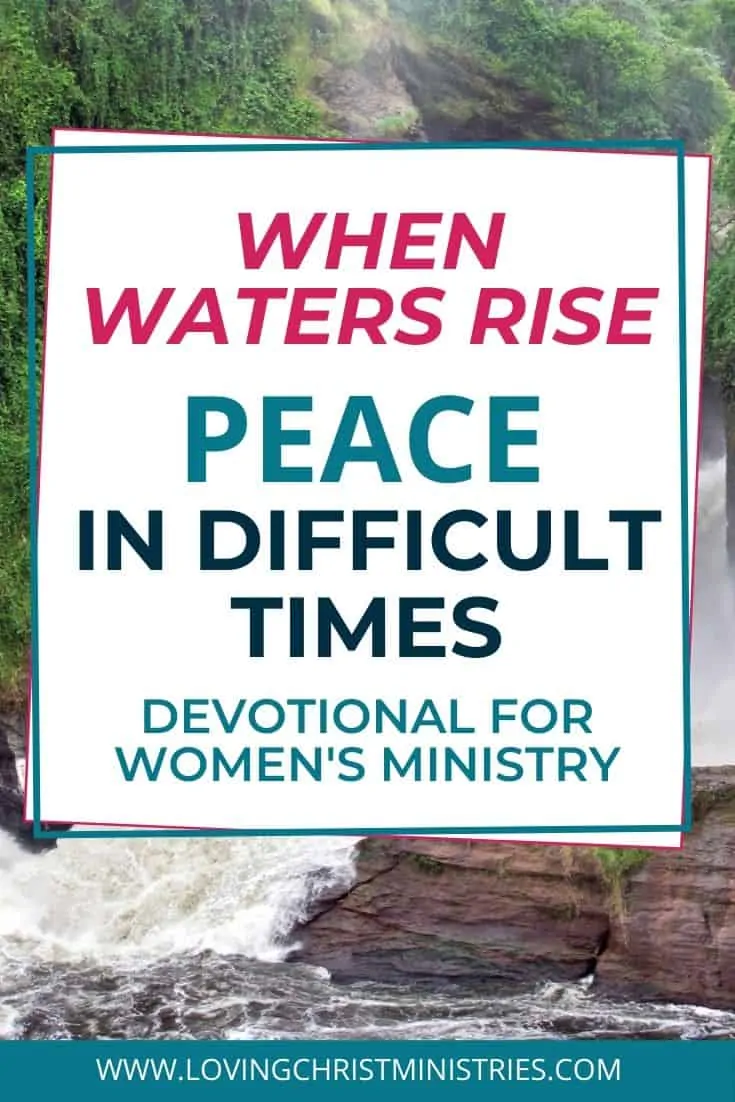 Four Truths to Remember when Waters Rise
Truth #1: Tough times are coming.
Everyone you know is in one of three places. They are in the middle of tough times, coming out of tough times, or moving toward tough times. Some of life is filled with incredible joy and happiness running amok.
There will be seasons in your life when everything is going great and life could not be better. But, it will not be that way all of the time. At other times you will be facing the trials that test your patience and strengthen your faith. Isaiah 43:2 says it three times: "when you pass through the waters," "when you pass through the rivers," and "when walk through the flames."
Notice it is a "when" not an "if." If you are not experiencing struggles now, hang on, they are coming.
Truth #2: Tough times will not last forever.
Though tough times will come, they will also come to an end, or at least become more bearable through God's presence. With each description of the struggles, Isaiah says that you will "pass through" and "walk through."
You are not going to stay there. You are not going to pitch a tent and camp out for a while. Or worse, build a house to stay permanently. You are only passing through this season of struggle.
Truth #3: The Lord will be with you.
God says this: "When you pass through the waters, I will be with you." What a promise! What a word of encouragement! What a truth to hang on to! No matter what you go through, you never have to go through it alone. The Lord's presence will strengthen and sustain you. He will comfort and direct you. He will not leave you to work through it by yourself. He will be with you.
Truth #4: Because of God's presence, you will not be overcome.
When it comes time to pass through the rivers of uncertainty and life becomes such a blur that you cannot keep up, those rivers of doubt and the rapids that thrash you about will not overcome you. You will not be swept away.
When it comes time to walk through the fires of life where the pressure is mounting and the heat is rising in life, you will not be set ablaze. In fact, you will not even be burned. The fire may get hot but the Lord will shield you, protect you, uplift you, and empower you.
Through the flames, you will emerge. Those victories are won because of the Lord's presence. He wins those. He protects you during that season of your life. He is the power that pulls you through the times when the flames erupt.
Sometimes it is hard to grab hold of the promises that God makes to us, especially when it seems like everything in life is going against us. But these promises are what brings sanity when everything goes crazy. They bring refreshment when we walk through the dry and parched desert of life. You can make it through these tough days. With God's presence and His strength, you can make it through. Grab hold of that promise and never let it go.
Prayer to Pray When Waters Rise:
Dear Father,
Sometimes life is tough — way too tough for me to handle on my own. The waters rise, the rivers sweep by, the flames erupt. I need You always. But I especially need You when times are tough. Thank you for always being there. Help me not to miss You. Amen.
More Resources for Women's Retreats
WANT TO REMEMBER THIS POST? SHARE IT TO YOUR FAVORITE PINTEREST BOARD!