Women's Ministry Fall Activities and Games
As the autumn season approaches, you might be looking for fresh ideas to spice up your women's ministry events. Fall is a perfect time to gather together and engage in activities that inspire, enlighten, and strengthen your relationships with one another and with God.
This article will introduce you to a variety of women's ministry fall activities and games that will make your gatherings a memorable experience for everyone involved.
There's something magical about the changing leaves, the crisp air, and the anticipation of the holiday season that brings a unique energy to your women's ministry events.
Whether you're planning a Bible study, a fellowship evening, or a retreat, implementing a combination of thought-provoking games and meaningful activities can create an atmosphere that encourages spiritual growth, connection with others, and personal reflection.
To help you plan and execute a successful event, we'll explore a range of fall-themed activities and icebreaker games designed specifically for women's ministry gatherings.
These ideas will not only provide fun and fellowship but also create lasting memories and deepen the bonds between members of your ministry. So, embrace the autumn season, and let these women's ministry fall activities and games inspire and enrich your events.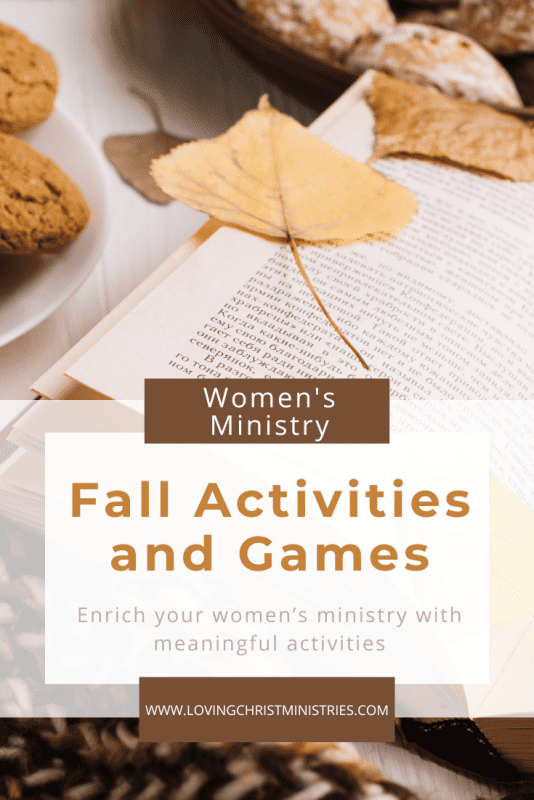 Importance of Women's Ministry
Participating in a women's ministry can significantly contribute to your spiritual growth and foster a sense of community among Christian women. It offers you a unique space where you can learn, share, and reflect on your faith journey with other like-minded ladies.
When you engage in a women's ministry, you get to experience the power of fellowship. As you come together to study the Bible, pray, or celebrate, you connect with others on a deeper level. This connection helps create a strong support system built on mutual understanding, love, and trust.
One crucial aspect of women's ministry is that it encourages reflection. By attending gatherings or retreats, you have the opportunity to focus on your spiritual life and evaluate the areas that need improvement. This time of introspection can lead to personal growth and a renewed commitment to your faith.
A well-rounded women's ministry also offers various fun-filled activities and games. These enjoyable events not only help to break the ice between participants but also create long-lasting memories.
Participating in games allows you to unwind, relax, and build camaraderie with your fellow Christian women.
Also, women's ministry serves as a platform for sharing blessings and edifying one another.
Whether it's through giving a helping hand, a word of encouragement, or mentorship, as a part of women's ministry, you can impact the lives of others positively and strengthen the bond between the participants.
Fall Activities for Women's Ministry
Small Group Activities
Gather your group and enjoy some fall-themed games to bring everyone closer together. Try playing a game of Bunco, which is perfect for a cozy indoor setting. For more casual fun, host a football game watch party for your small group. Incorporate some fall table talk cards to stimulate conversation and get to know each other better.
Retreat Ideas
Fall is a terrific time for a women's retreat, surrounded by vibrant foliage and a refreshing atmosphere. Schedule engaging craft sessions or organize a road trip to a nearby place of interest, like a museum or art gallery. Don't forget to bring along some fun icebreakers to foster connections among attendees.
Nature-Focused Activities
Embrace the beauty of the season by planning nature-focused activities. Take a nature walk or hike through the local parks to admire the changing leaves and crisp autumn air.
A corn maze is an excellent option for team building and light-hearted fun. Once the sun sets, gather around a bonfire for some s'mores and heartfelt conversations, creating lasting memories with your women's ministry group.
Bible Study Activities
Sunday School Activities
Looking for something fun and engaging for your women's ministry this fall? Engage your women's Bible study group with activities that explore the captivating lessons and stories from the Bible, such as Esther and Ruth.
You can enhance your study sessions with creative, printable games that bring out the teachings and wisdom from these biblical characters. Create a fun Bible trivia game based on your chosen study and have women play online or in-person.
Another exciting option is organizing a fall scavenger hunt for your ministry event. These activities can be both enjoyable and offer an opportunity to share personal experiences and connections with the Bible.
Reflection and Prayer Walk
Sometimes, stepping outside and embracing nature can be a wonderful way to bond with your small group. A prayer walk is a peaceful and reflective activity for your women's ministry this fall season.
Choose a calm, outdoor location such as a park or nature trail and invite your group to join you for a walk. Encourage each person to take a moment to share their thoughts, reflections or prayer requests at designated spots along the way. You can even designate specific areas for personal prayer or scripture reading.
During the prayer walk, focus on building relationships and connections within the group. Share stories, reflect on memorable moments, and bond over your favorite fall activities. Using fall table talk cards can help facilitate conversation and sharing among group members.
Food-Centered Activities
Thanksgiving Preparation
As fall approaches, there's no better way to celebrate the season than preparing a Thanksgiving feast with your women's ministry group. Collaborate on menu planning and have each member volunteer to bring a dish or ingredient for the meal.
This way you can share your favorite recipes with one another. As you come together to cook and enjoy the fruits of your labor, it's also an opportunity to express gratitude for the friendships formed in your ministry.
You could also extend your food-centric activity to your community by organizing a potluck-style Thanksgiving dinner.
Invite other church members and local residents to bring a dish and join the celebration. Don't forget to include a variety of pies and desserts to finish off the meal on a sweet note.
Baking and Dessert Making
Fall is the perfect time to indulge your sweet tooth and gather your women's ministry group for a baking and dessert-making session.
Whether it's pies, cookies, or other seasonal treats, there's nothing like the aroma of freshly baked goods to evoke a sense of warmth and togetherness.
If you're looking for a creative and engaging way to bond with your ministry group, consider organizing a progressive dinner event.
A progressive dinner involves having each course of a meal at a different group member's home. For a dessert-centered progressive dinner, each member could prepare one dessert recipe at their home, and the group would move from house to house, enjoying tasty treats while spending quality time together.
Fun and Games
Scavenger Hunts
Scavenger hunts are always a hit at women's ministry events and can be tailored to any theme or season. For the fall season, you may like our selection of fall scripture scavenger hunts.
One fun idea for a fall-themed scavenger hunt is a Christmas Light Scavenger Hunt. Gather your ladies and divide them into teams. Provide each team with a list of various Christmas light displays to find around the town. The team that finds the most displays within a set time limit wins!
Another fun scavenger hunt idea is a High School Memories Bingo. Create bingo cards with different high school memory prompts or experiences for each square.
Participants will need to search the room to find someone who has experienced that memory, then have them initial the corresponding square.
The first person to get a "bingo" wins. This game is a great way to bring back nostalgic memories and encourage fun conversations.
Crafts and DIY Activities
Clothing Swap
Organizing a clothing swap can be a fun and budget-friendly way to bring your women's ministry group together this fall. Encourage participants to bring gently used clothes that they no longer need or want.
This way, everyone has the chance to refresh their wardrobes while also decluttering their closets. Make sure to provide space for people to try on clothes and ensure that any leftovers are donated to a local charity.
Crafts Night
A fall crafts night is a fantastic opportunity to bond with other members of your women's ministry group while creating beautiful fall-themed projects. Here are a few craft ideas that can be easily incorporated into your event:
No-sew fleece blankets: These warm and cozy blankets make great handmade gifts or donations to local shelters. To start, simply select two complementary colors or patterns of fleece fabric. Cut the fabric into equal-sized rectangles, and then trim a square from each corner. Next, cut fringe along the edges and tie the top layer to the bottom layer, knotting your way around the entire blanket. Voilà! You've created a snuggly no-sew fleece blanket for the chilly fall season.
Crafty fall decorations: Get creative by using seasonal materials like colorful leaves, pinecones, and acorns to make festive fall décor. For example, fashion a beautiful fall leaf garland to hang in your home, or craft a stylish pumpkin topiary to grace your front porch.
Remember to keep a casual atmosphere during your event and enjoy the opportunity to connect with others while working on your crafty projects!
Thanksgiving Celebrations
Thanksgiving is a special time to gather with loved ones and reflect on the blessings in your life. As you plan your women's ministry activities for this fall season, consider incorporating some Thanksgiving-themed games and discussions that will engage your group members, encourage gratitude, and deepen relationships within your ministry.
Begin your celebration with an icebreaker game, like Christian IF Questions, that encourages group members to reflect on their favorite Thanksgiving traditions and share their personal experiences of giving thanks. This will help everyone feel more at ease and connected with one another.
During your event, provide time for group members to list their blessings on a beautifully decorated "Gratitude Wall" or a communal "Blessing Basket." This activity allows everyone to visually see the abundance of blessings in their lives and serves as a beautiful centerpiece for your gathering.
If you have a fall-themed fellowship event, include some fun fall games or activities. Try a pumpkin decorating contest, or have a friendly competition where group members bring their best homemade pies and everyone votes for their favorite. These lighthearted activities can bring joy and laughter, helping to create a warm, welcoming environment for your Thanksgiving celebration.
Lastly, set aside time for everyone to share personal stories of gratitude. Use fall table talk cards as conversation starters or simply prompt your group members to reflect on a time when they were particularly grateful. Invite group members to pray together in gratitude for God's abundant blessings and their sisterhood within the ministry.
Remember, it's important to create a casual atmosphere where everyone feels comfortable sharing their thoughts and experiences. Thanksgiving celebrations within your women's ministry are an excellent opportunity to foster a spirit of gratitude and togetherness. Enjoy planning this special event for your group!
End Remarks
As you plan your women's ministry fall activities and games, remember to focus on fostering connections and building relationships among the group members.
Try incorporating some icebreakers to inject fun and lighten the mood when starting your gatherings.
Don't be afraid to think outside the box when selecting fall activities. Seasonal favorites like visiting pumpkin patches, apple picking, and hosting bonfires can serve as great bonding experiences. Be sure to introduce some engaging games during your events to promote conversation and laughter.
Looking for some creative inspiration? Check out Lifeway Women's ideas for kicking off fall Bible studies and our list of purposeful activity ideas shared by women's ministry leaders. Incorporate these resources to make each gathering meaningful and enjoyable.
Remember, your goal is to create an inviting atmosphere that encourages fellowship and spiritual growth.
Find creative ways to explore how faith intertwines with everyday life. By offering a variety of activities, you'll create valuable experiences and lasting memories for your group members.
WANT TO REMEMBER THIS POST? SHARE IT TO YOUR FAVORITE PINTEREST BOARD!